January Employee of the Month
Our January Employee of the Month is Emerald Garcia!!!
Emerald is recognized for showing a positive attitude and is always happy to help fellow employees and our residents. Thank you for all you do!!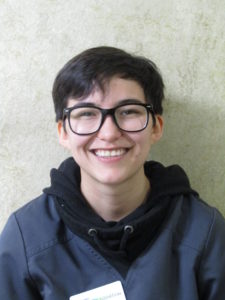 Albin Grade School Performance
A huge thank you to the Albin Grade School for doing a Christmas performance for us!!! And also for making Christmas cards to give to the residents! A group of young men even went around to resident rooms to sing to the people who didn't come to the main event! We are so blessed to have such amazing kids around the area!!!!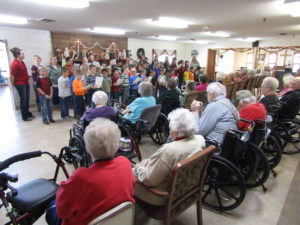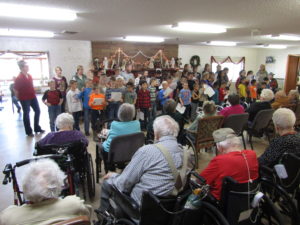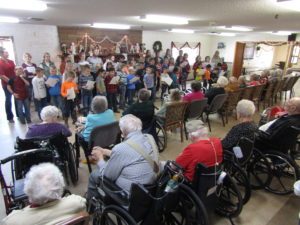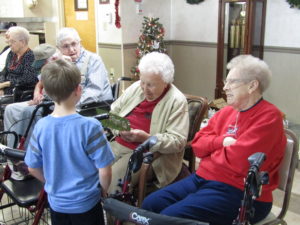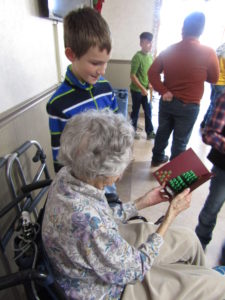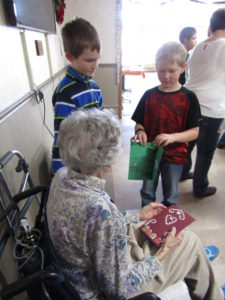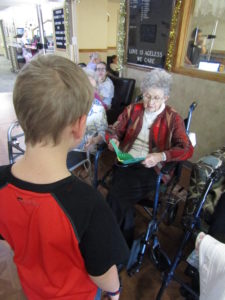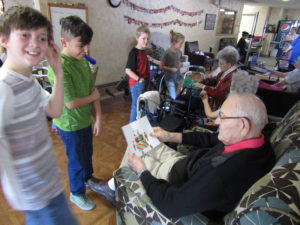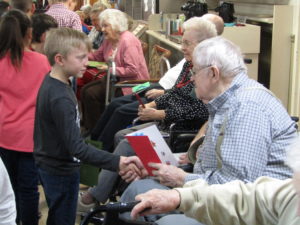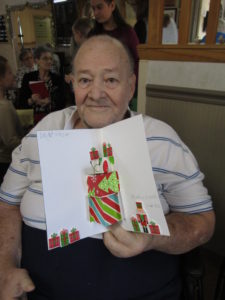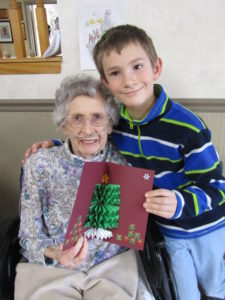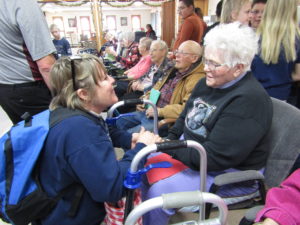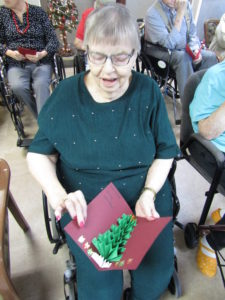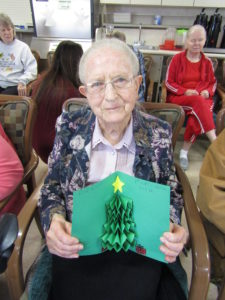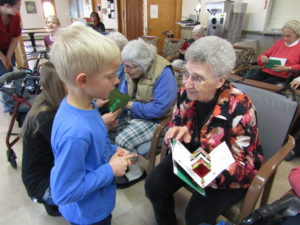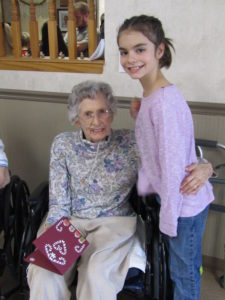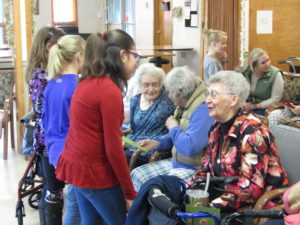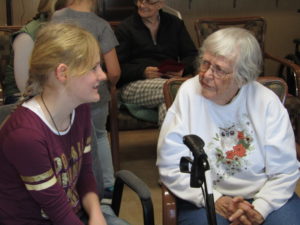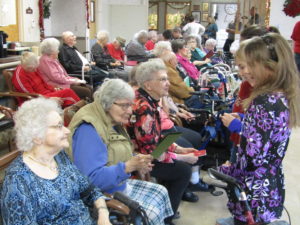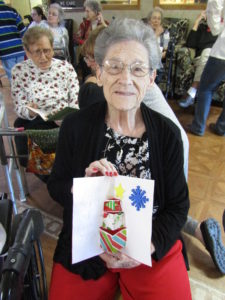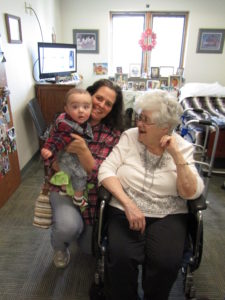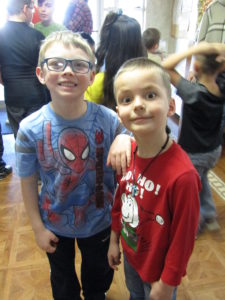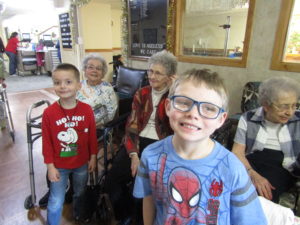 Kimball Grade School Performance
Thank you to the Kimball Grade School for coming over and performing their Christmas songs for the residents!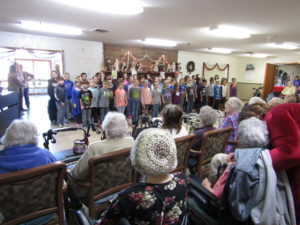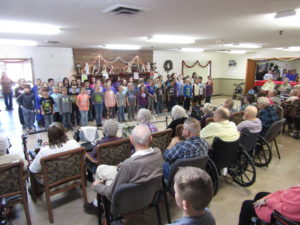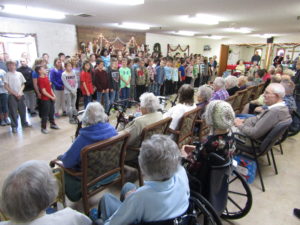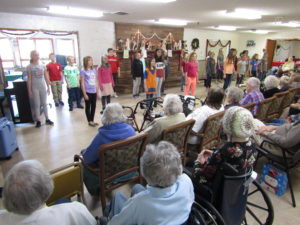 Bowling
The residents enjoyed an afternoon of bowling!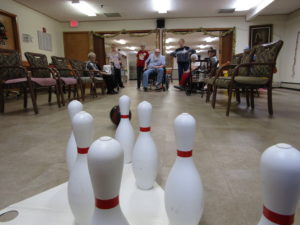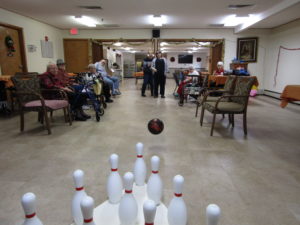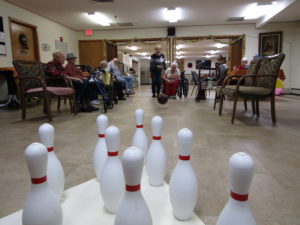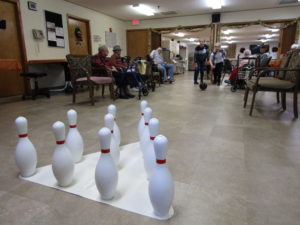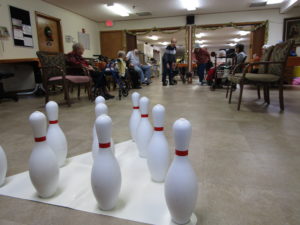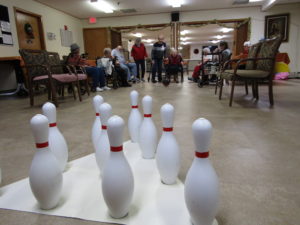 Assisted Living Christmas Present Opening
Thank you so much to the Kimball Lions Club for giving gifts to our Assisted Living residents!!! We appreciate your kindness!!!!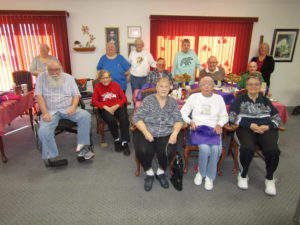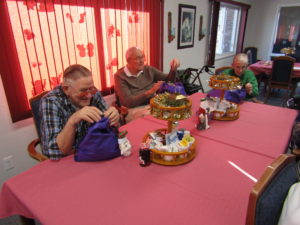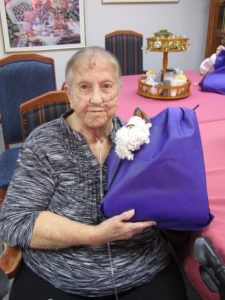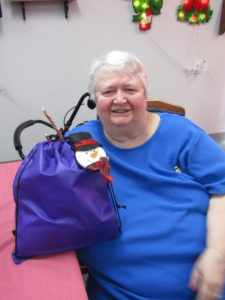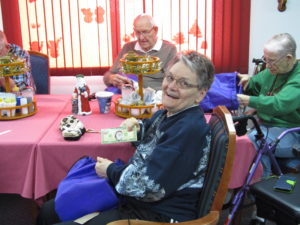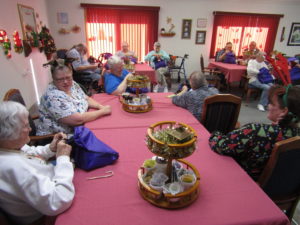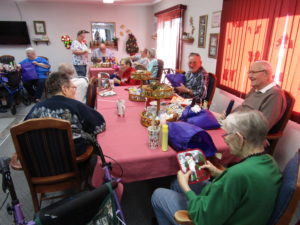 Christmas Present Opening
The residents enjoyed opening their Christmas presents from the Happy Red Hatter group! We thank all the ladies who are part of that group and all of the community members who donated money to the cause. We appreciate the thoughtfulness of our community!!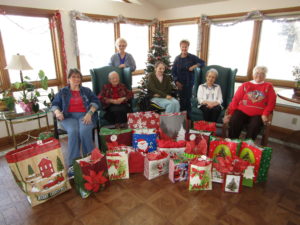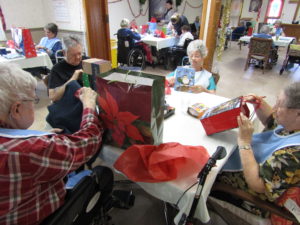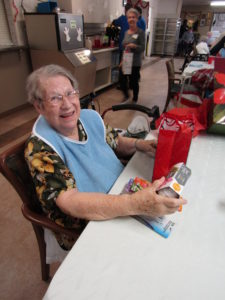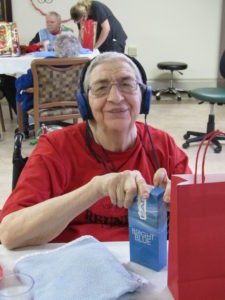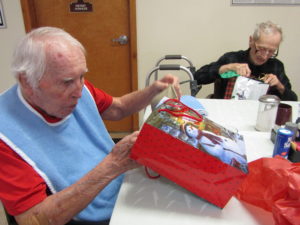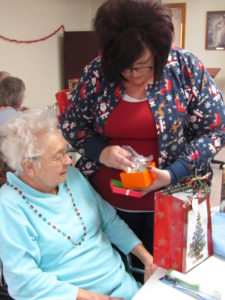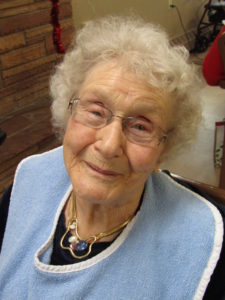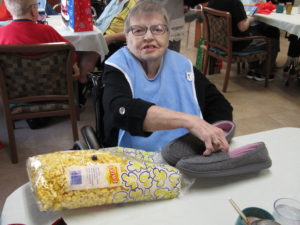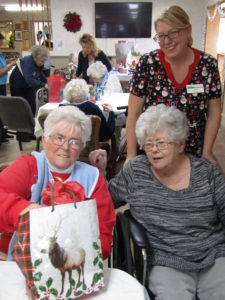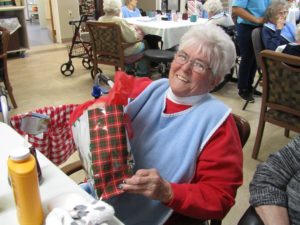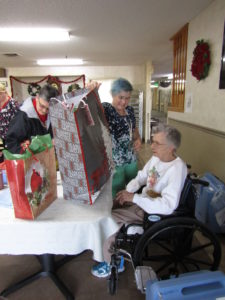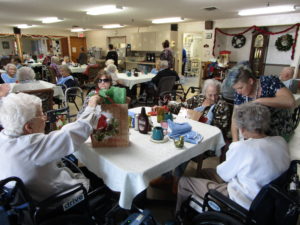 Assisted Living Candy Cane Wreath Making
The residents in Assisted Living were excited to make wreaths out of candy canes! They turned out wonderfully!!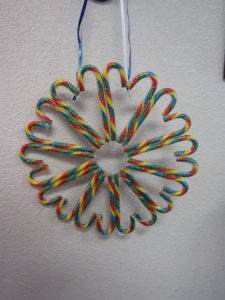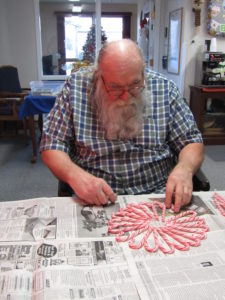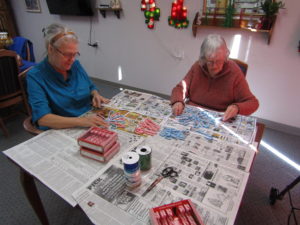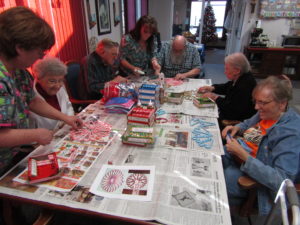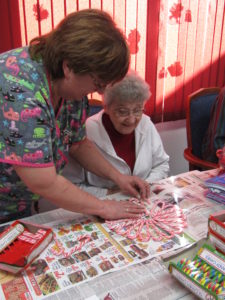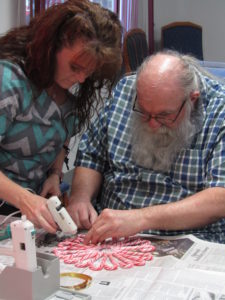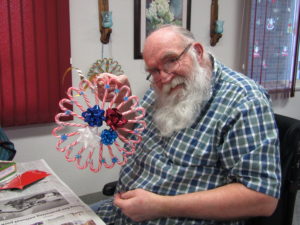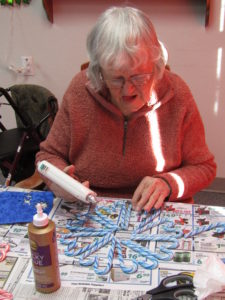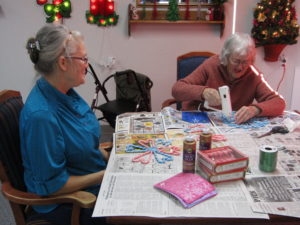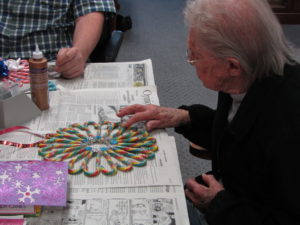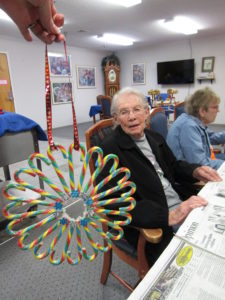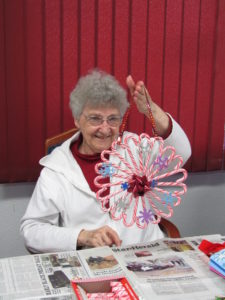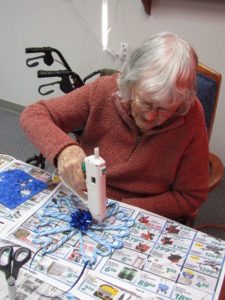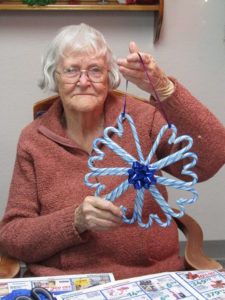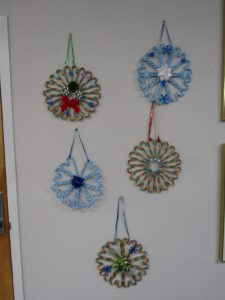 Soup Supper 2018
Thank you to all the family who were able to come join us for the Annual Resident and Family Soup Supper in December! We enjoyed hearing Katie Warner sing and Leta Liesch and Margaret Williams play piano. We also were so excited to see Santa come in with chocolate bars for all the residents!!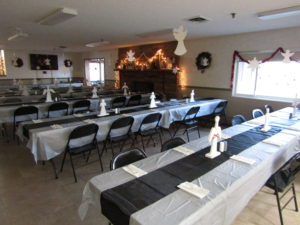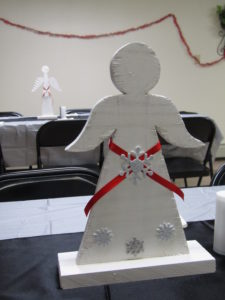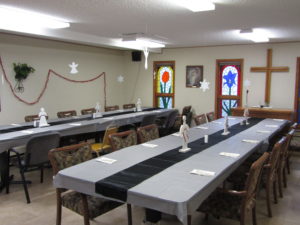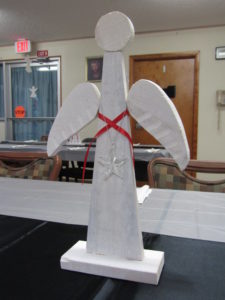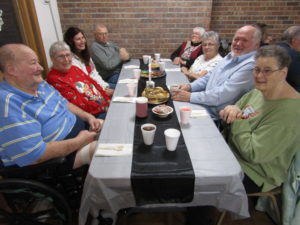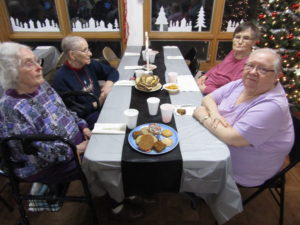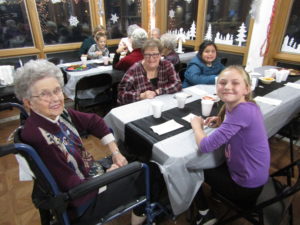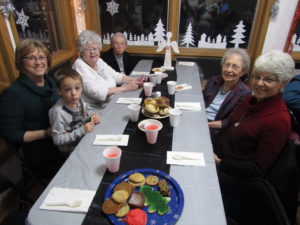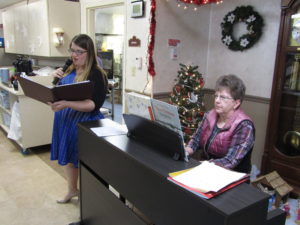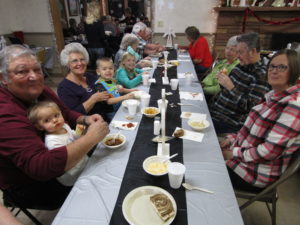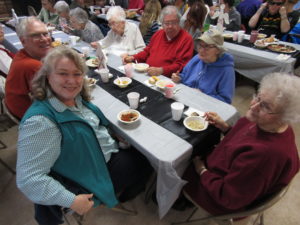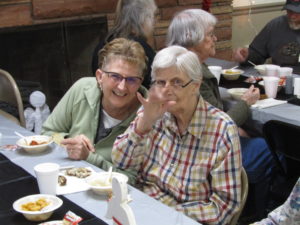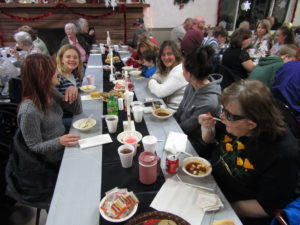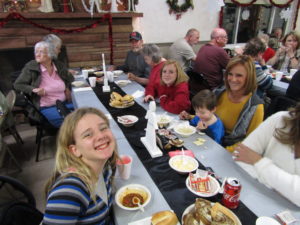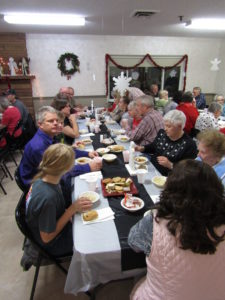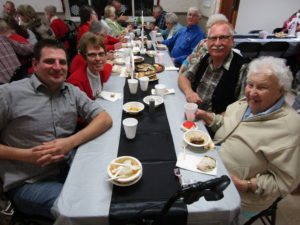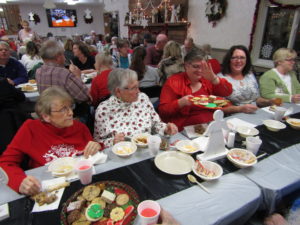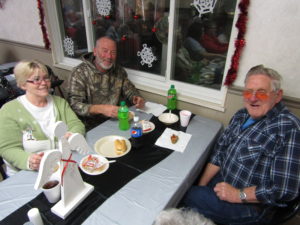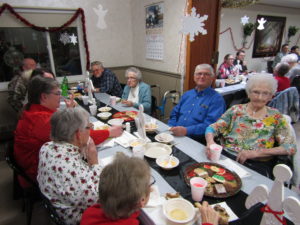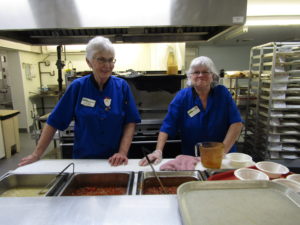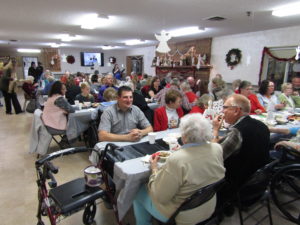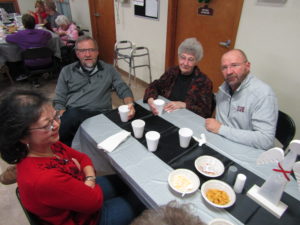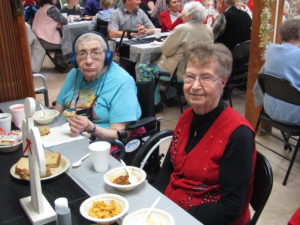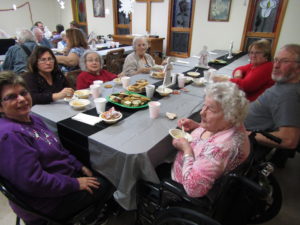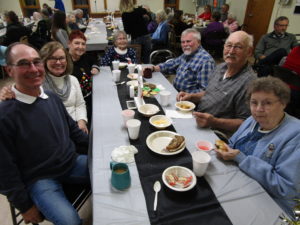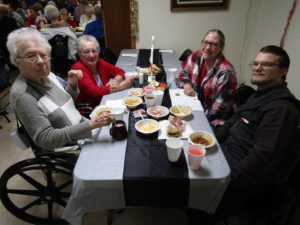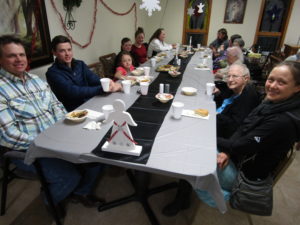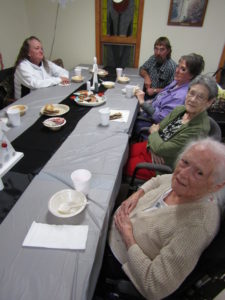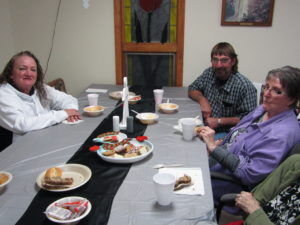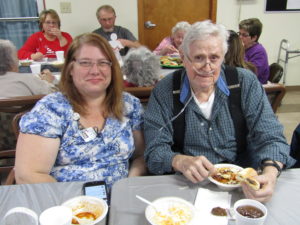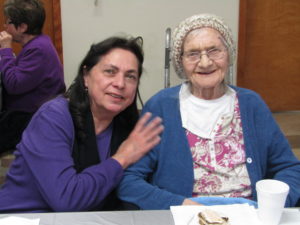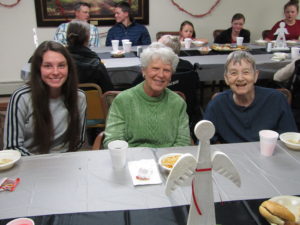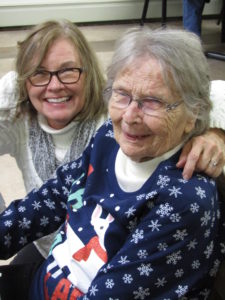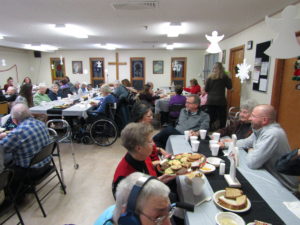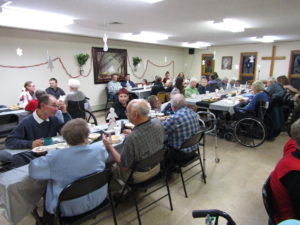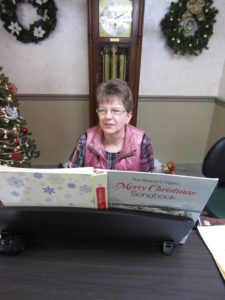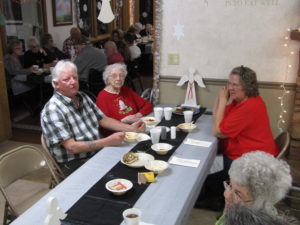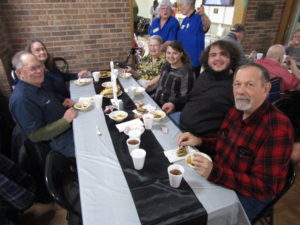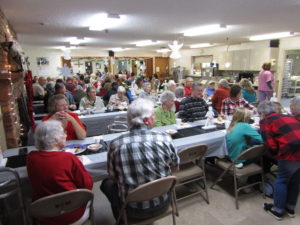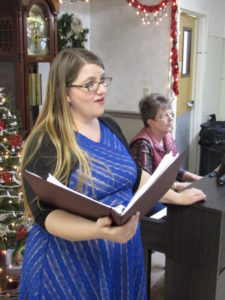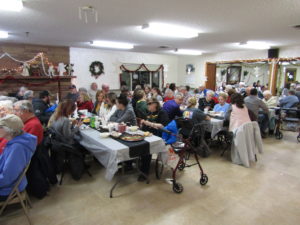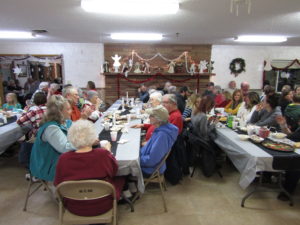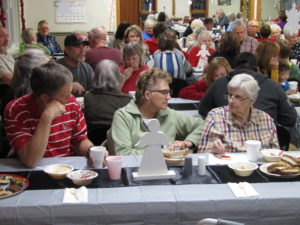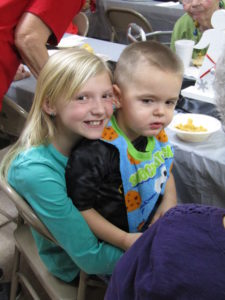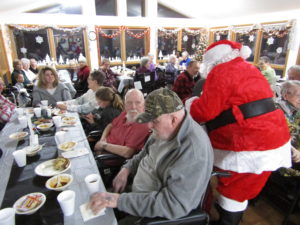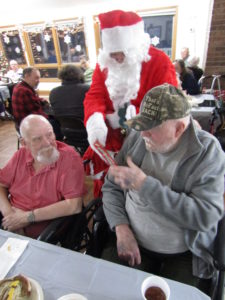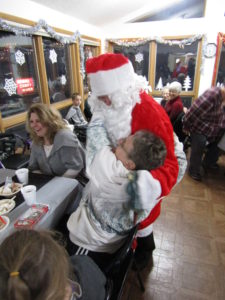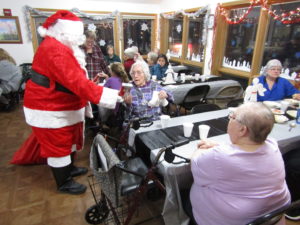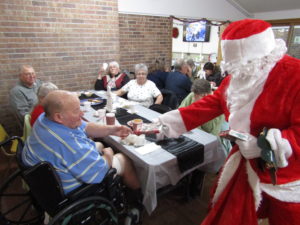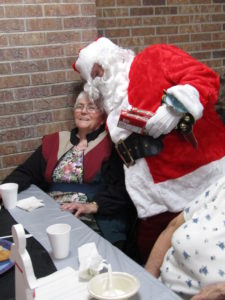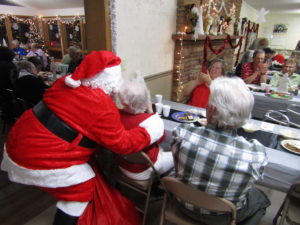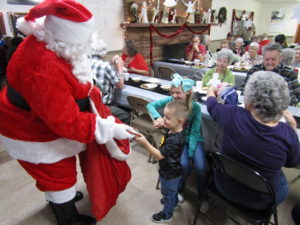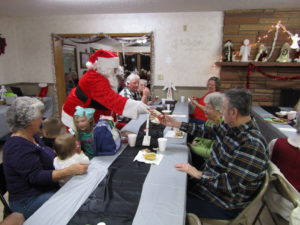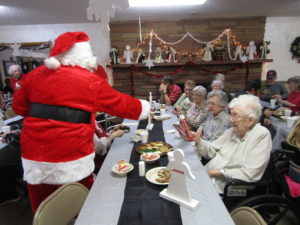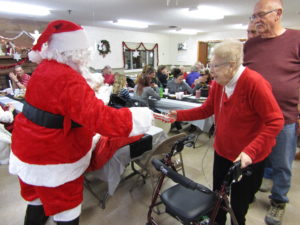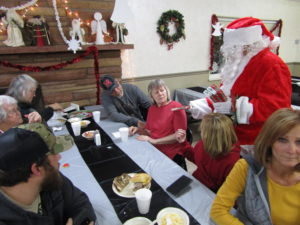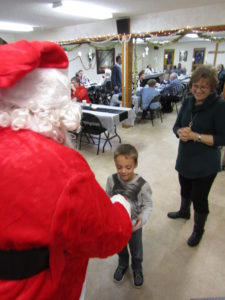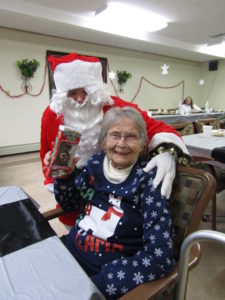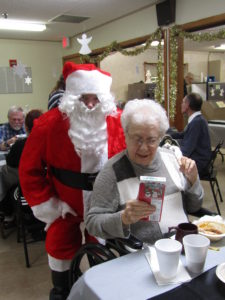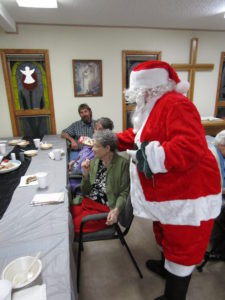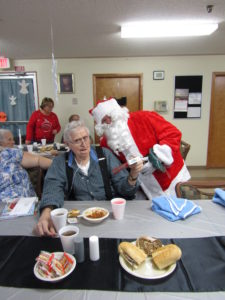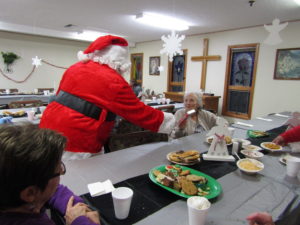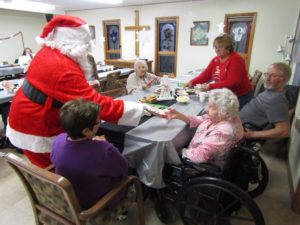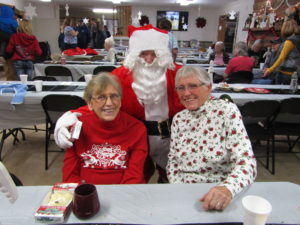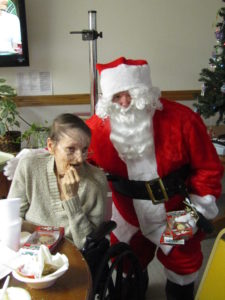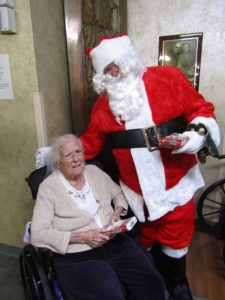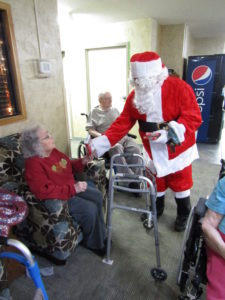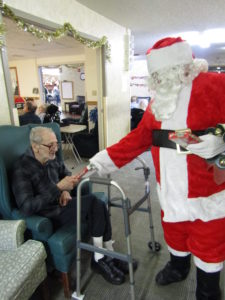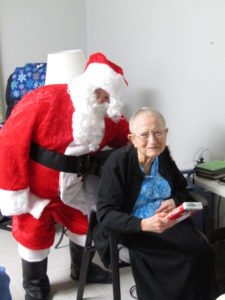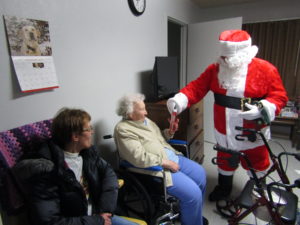 Ornament Making
The residents enjoyed making Christmas ornaments with the Art Class from Kimball High School!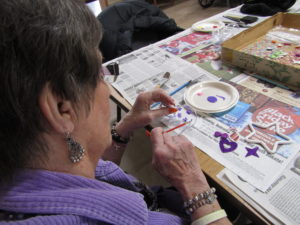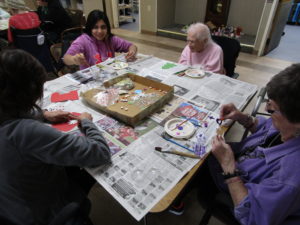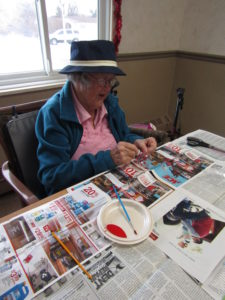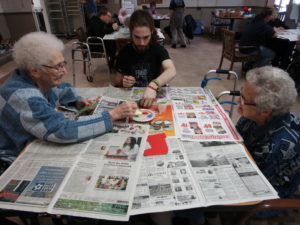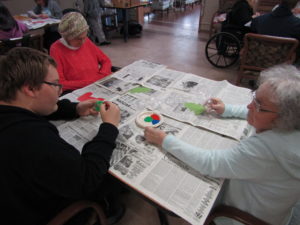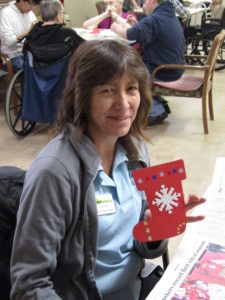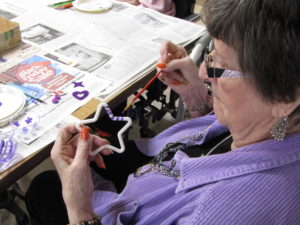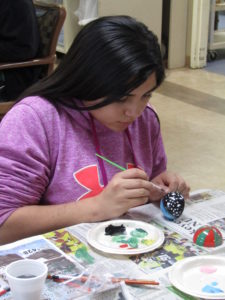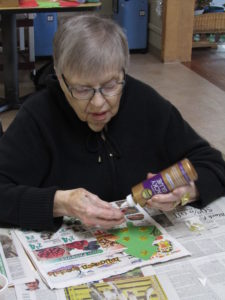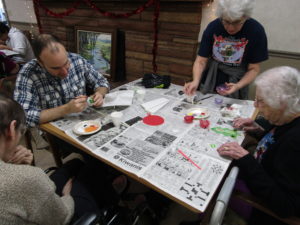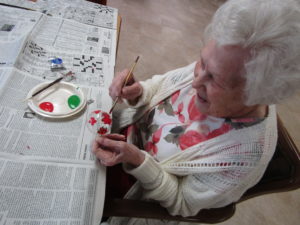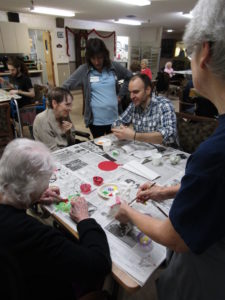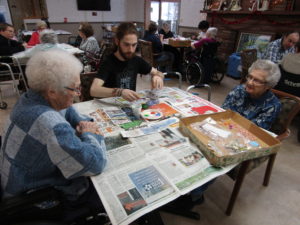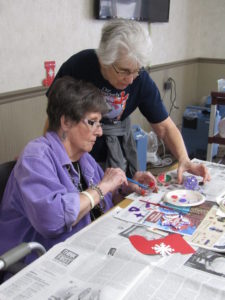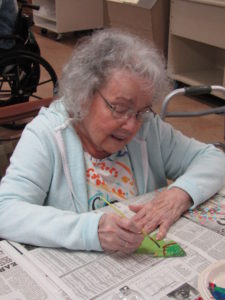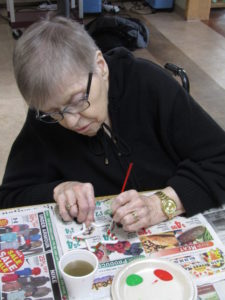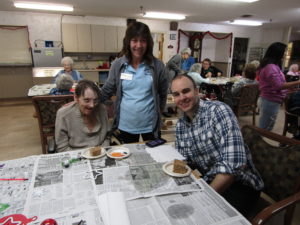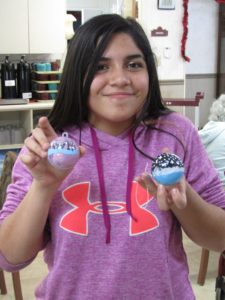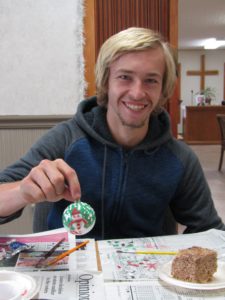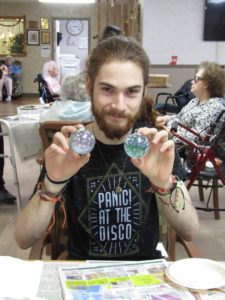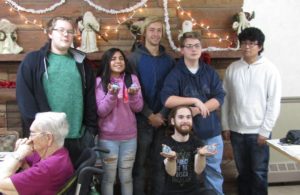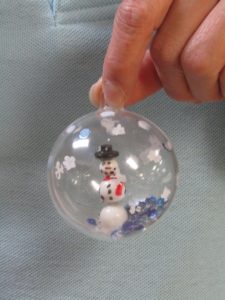 December Employee of the Month
Our December Employee of the Month is Angelika Drake!!
Angie works in Housekeeping and is being recognized for great attendance, carefully attending to all her tasks, and encouraging others to do the right thing for the residents.
Thank you Angie for all you do for the Kimball County Manor!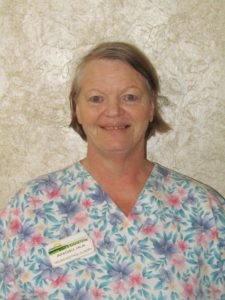 Assisted Living Snowflake Making
The Assisted Living residents enjoyed making snowflakes to hang around the facility!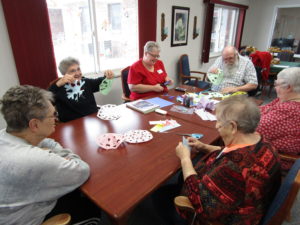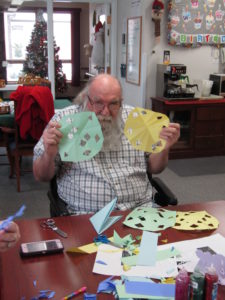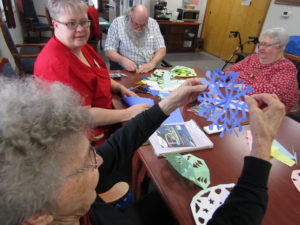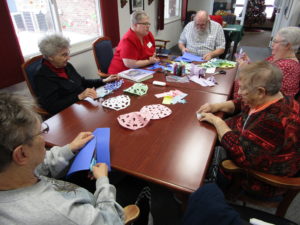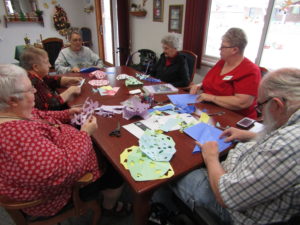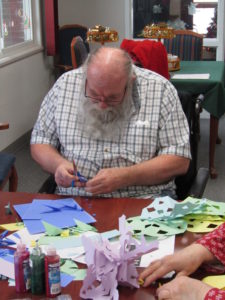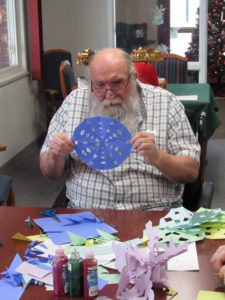 Pet Therapy - November 2018
Thank you again to Eileen Merchant for bringing in animals for the residents to love on!!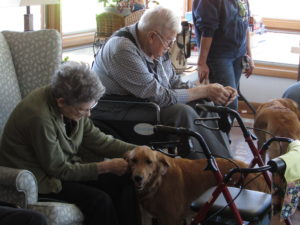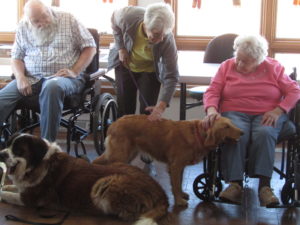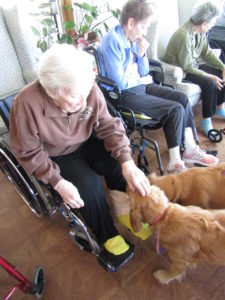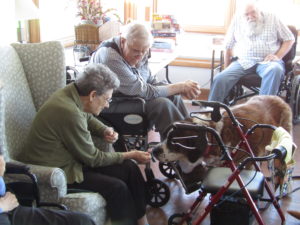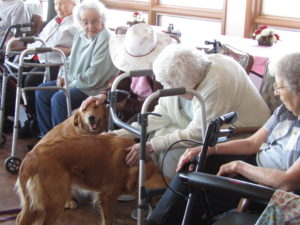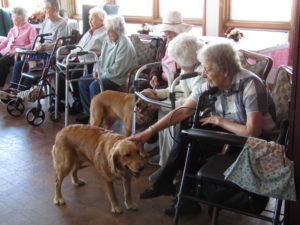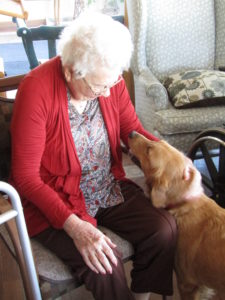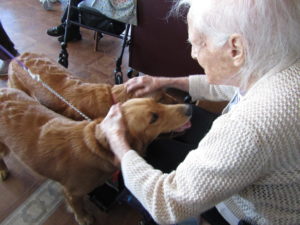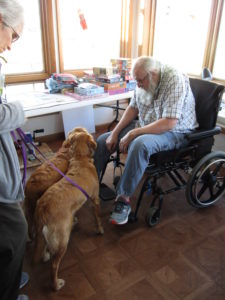 Noodleball
Another fun round of Noodleball in the books!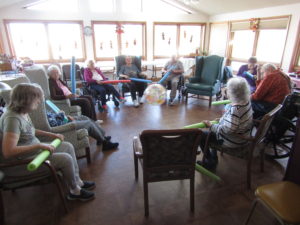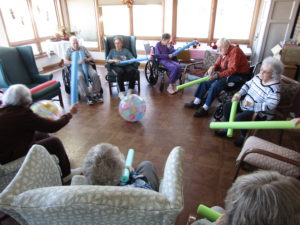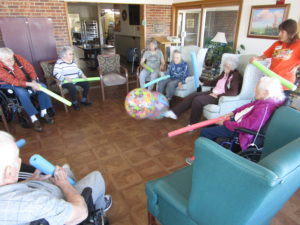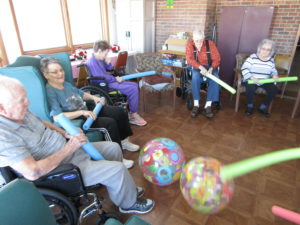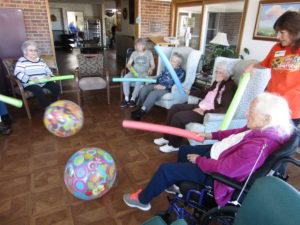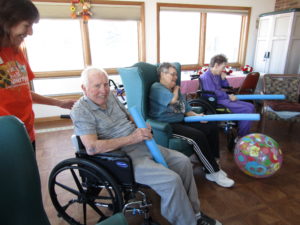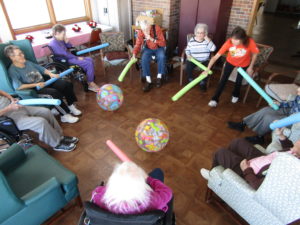 Lila & Lew's Music
We enjoyed listening to Lila & Lew's Music in November! They always play well known songs that all the residents can sing along to!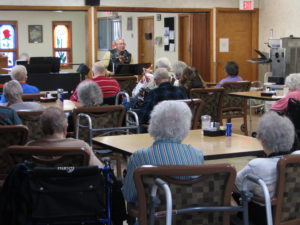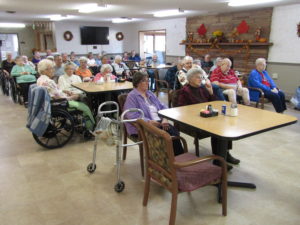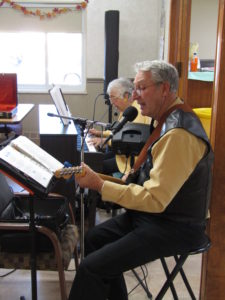 November Craft Time!
The residents had a great time making dream catchers for our November craft time!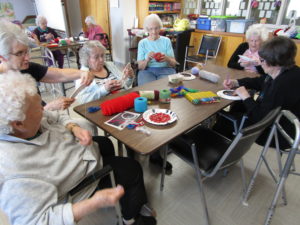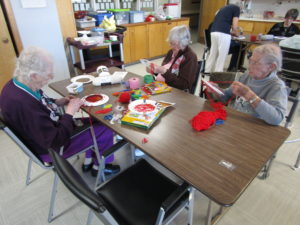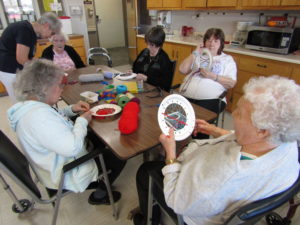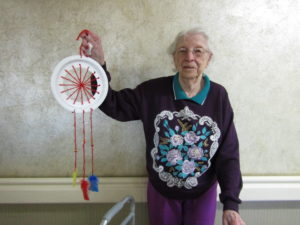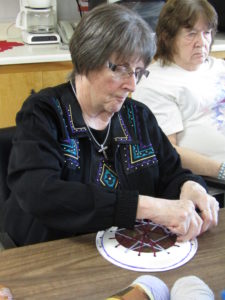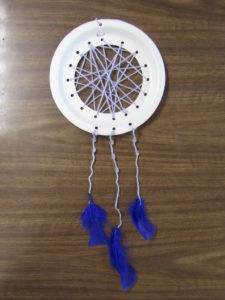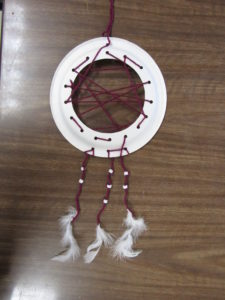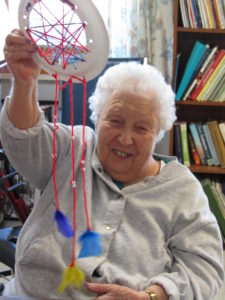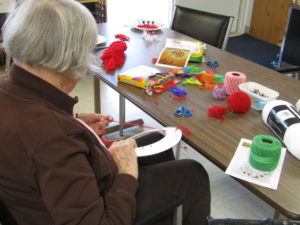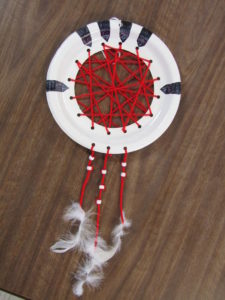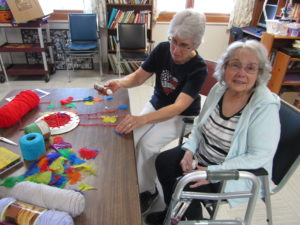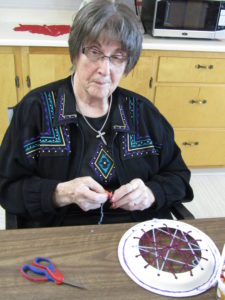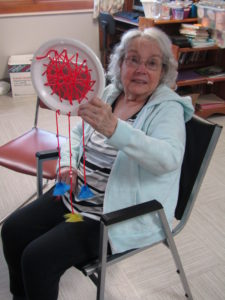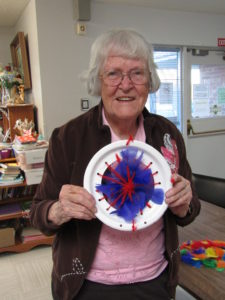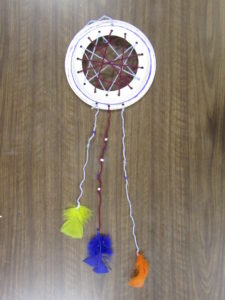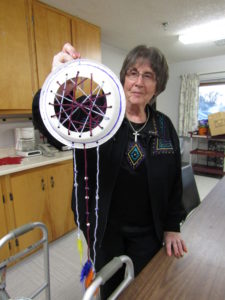 Piano Recital
Thank you to the students of Pat Fletcher for coming in to perform for the residents! We love hearing your talent!!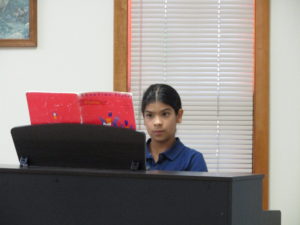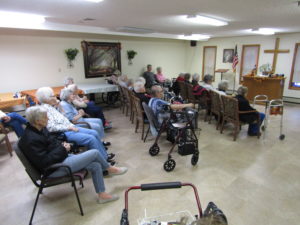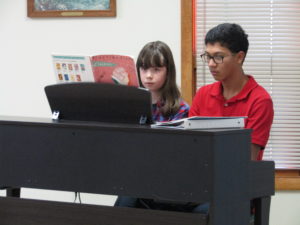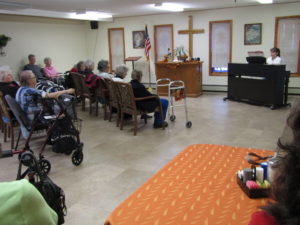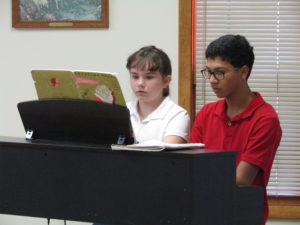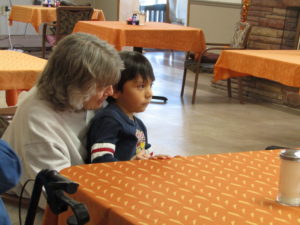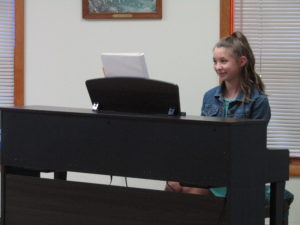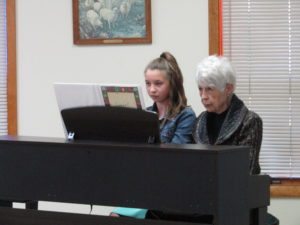 Bean Bag Toss
The residents enjoyed playing Bean Bag Toss!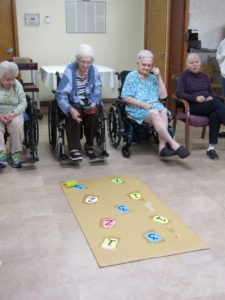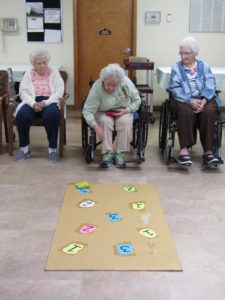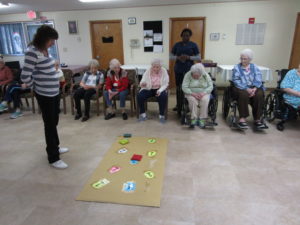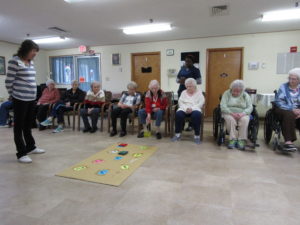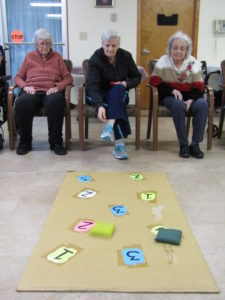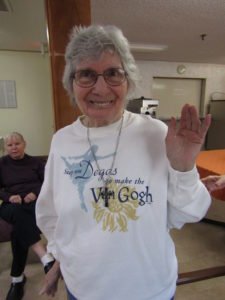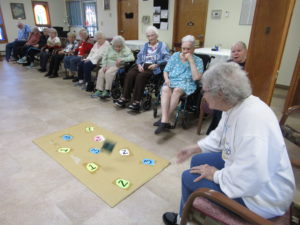 Portraits
We enjoyed taking new portraits of the residents and some family members!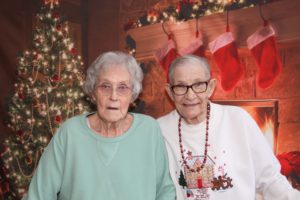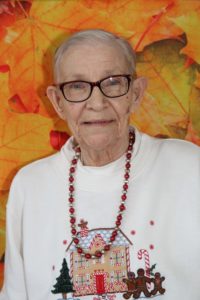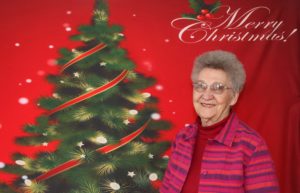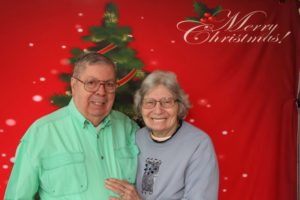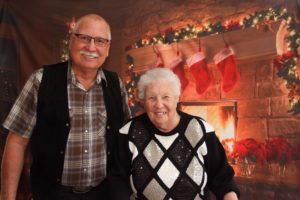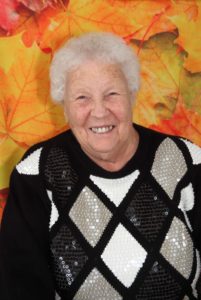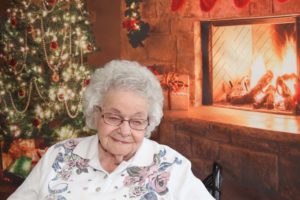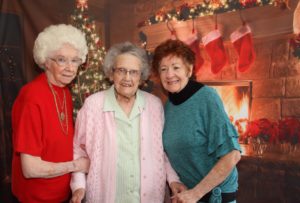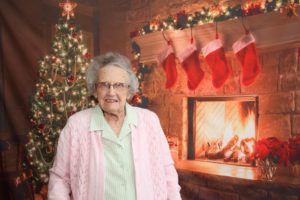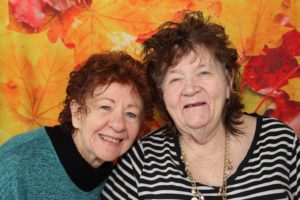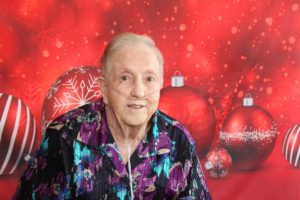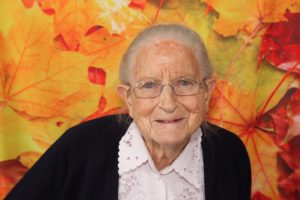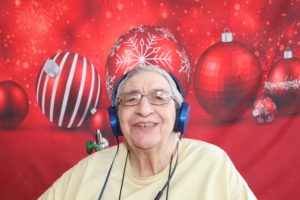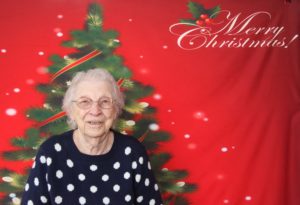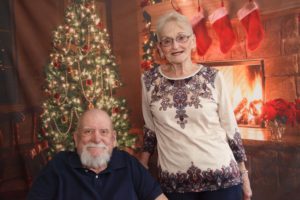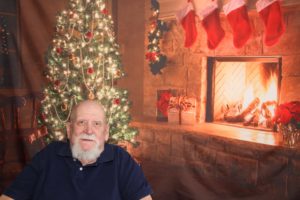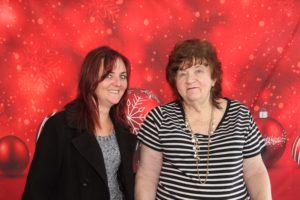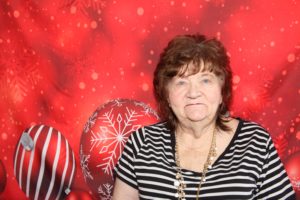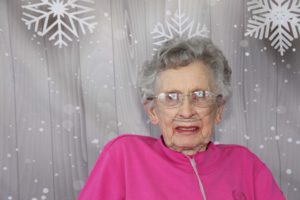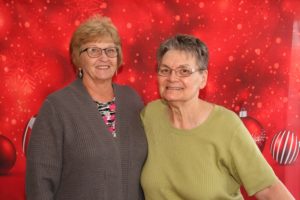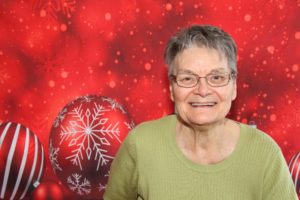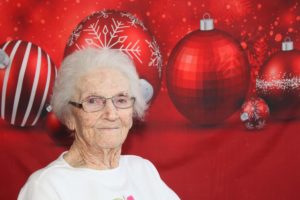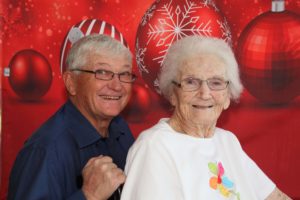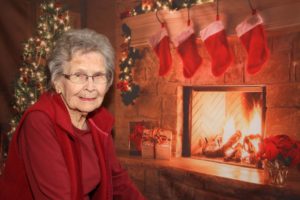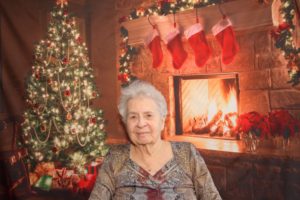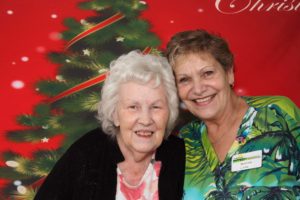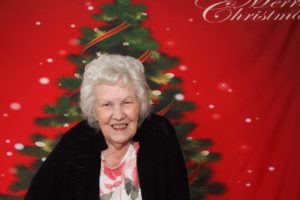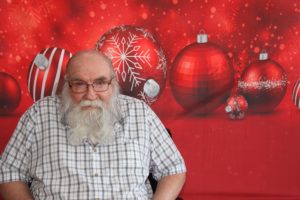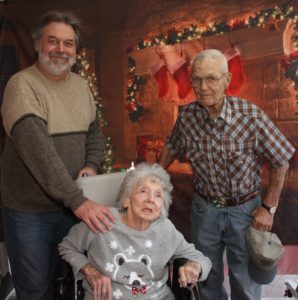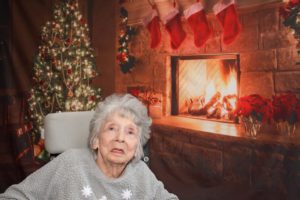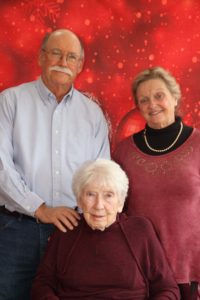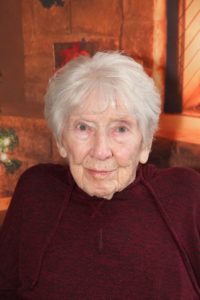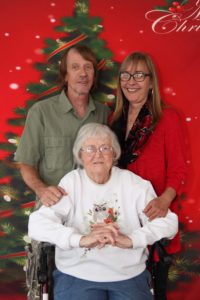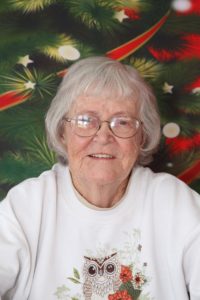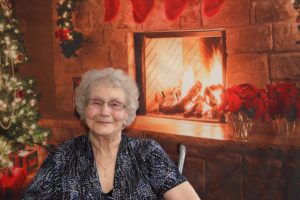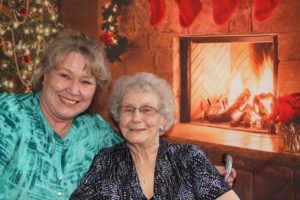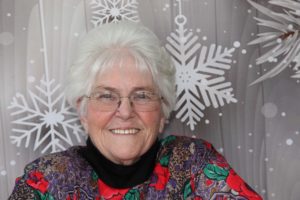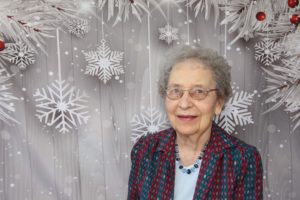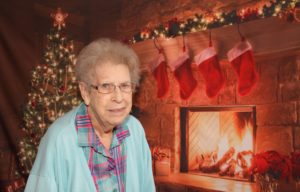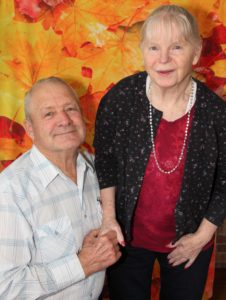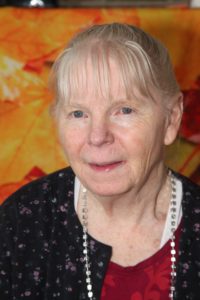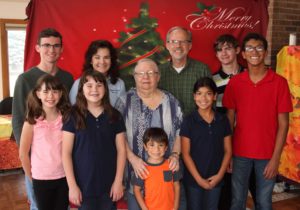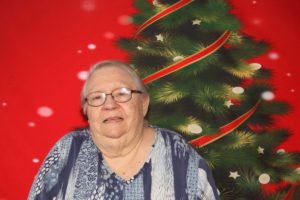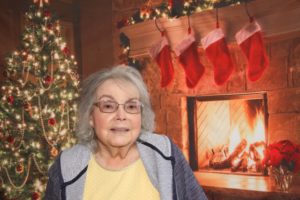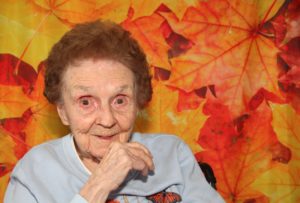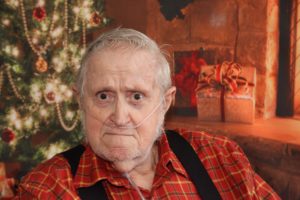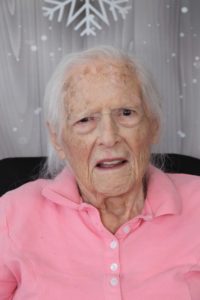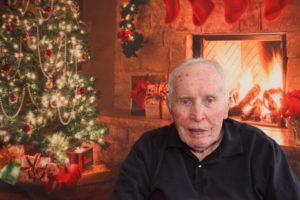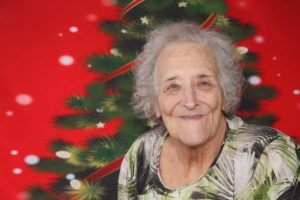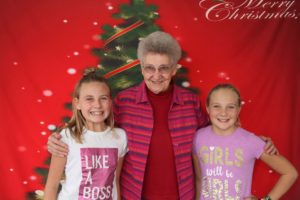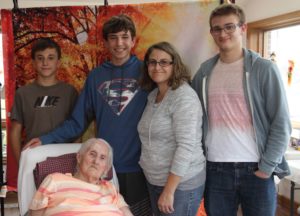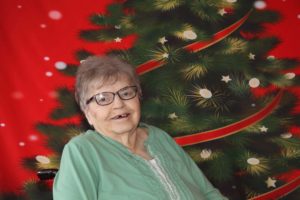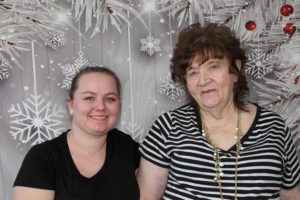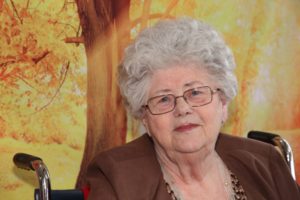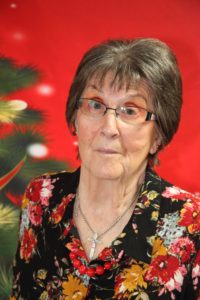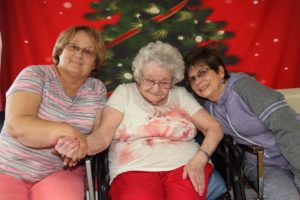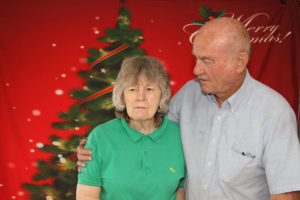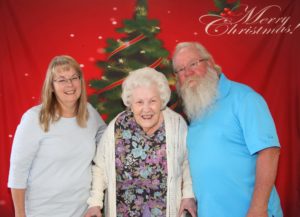 November Employee of the Month
November Employee of the Month
Congratulations Briana Gray!!
Briana is a CNA and Med Aide and is recognized for 'being an asset to her team, going the extra step to help where help is needed, and always wanting to learn in order to better serve our residents and her team'. Thank you for all you do Briana!!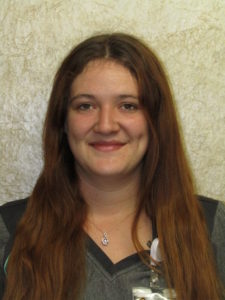 Halloween Party
We enjoyed some sweet treats and punny jokes at the Halloween Party! We started the party by drawing a Spooky Halloween Scene with our eyes closed. It was quite entertaining!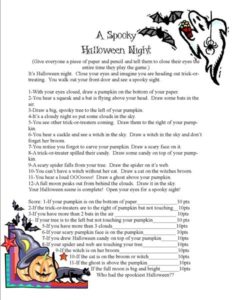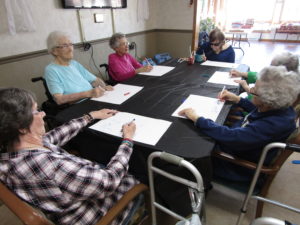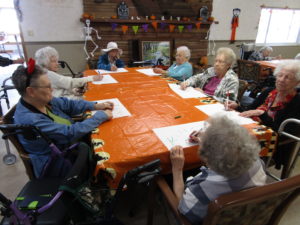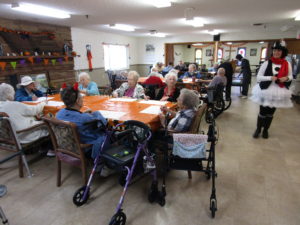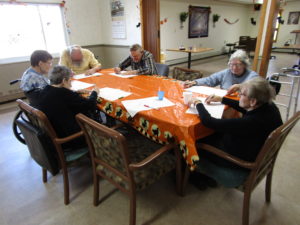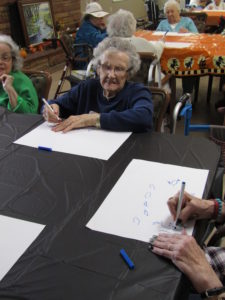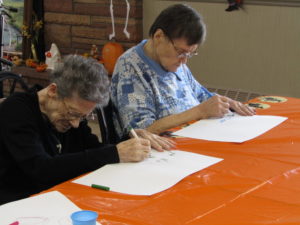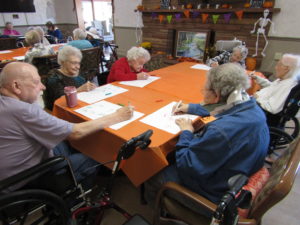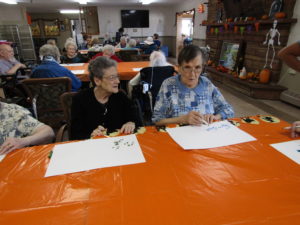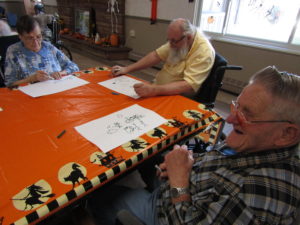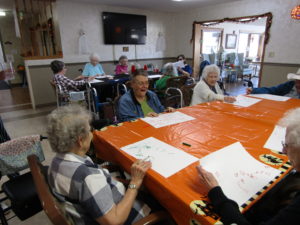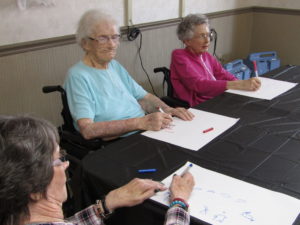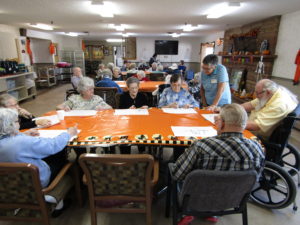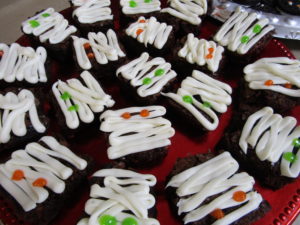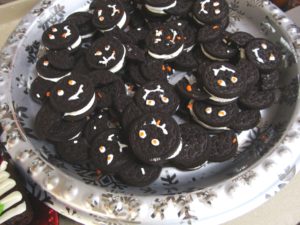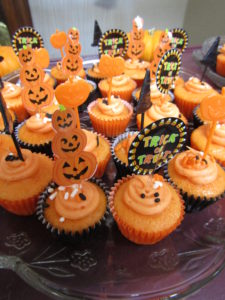 Pumpkin Painting
The high school art class came to paint pumpkins with the residents!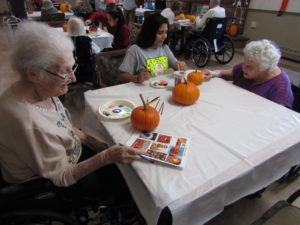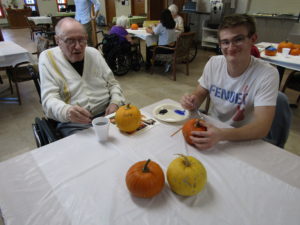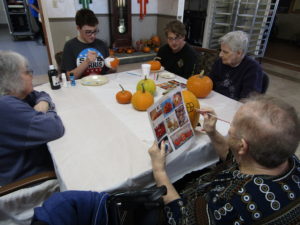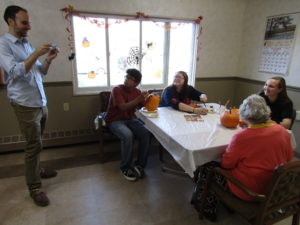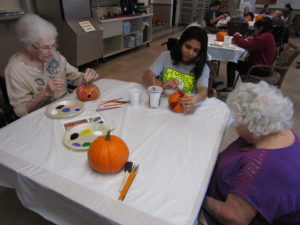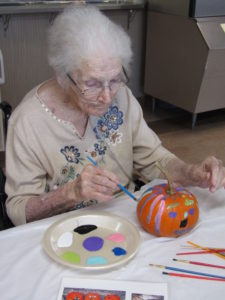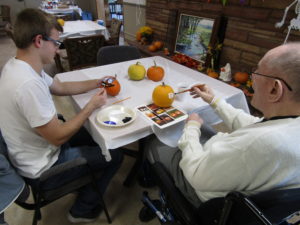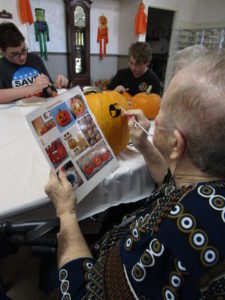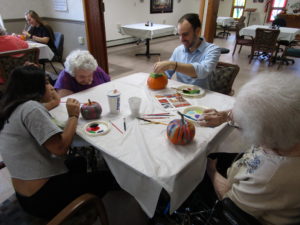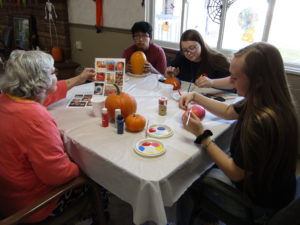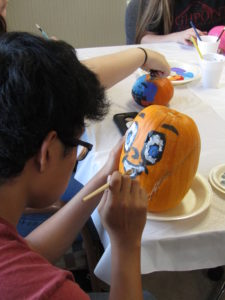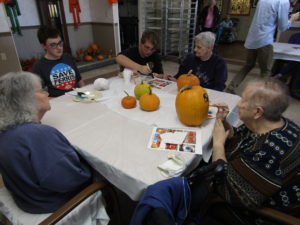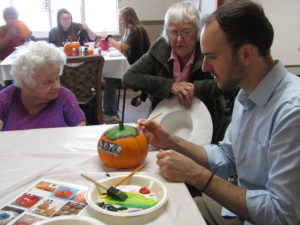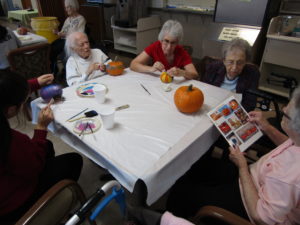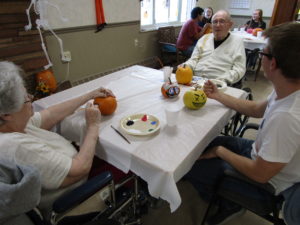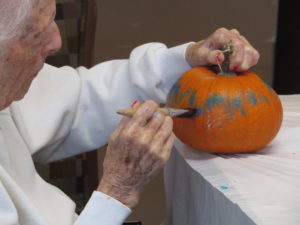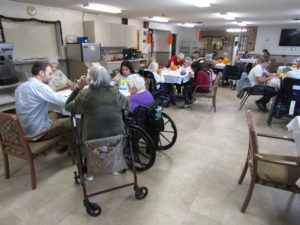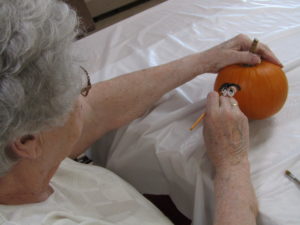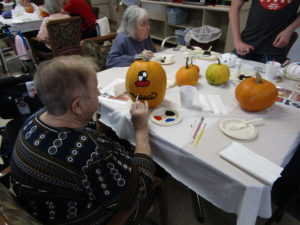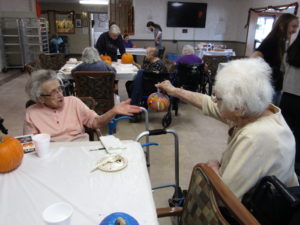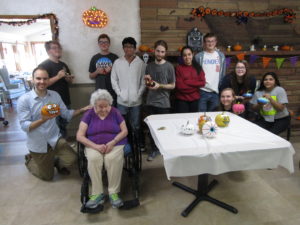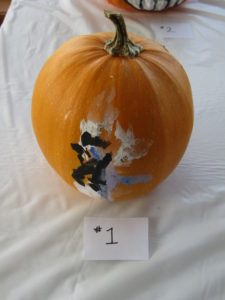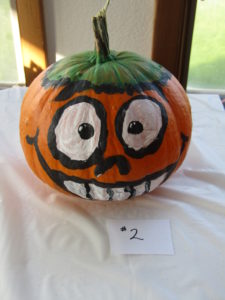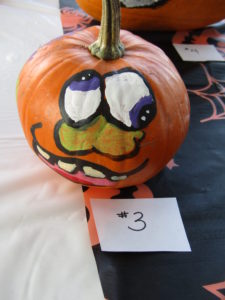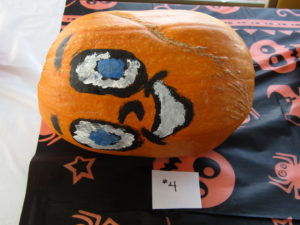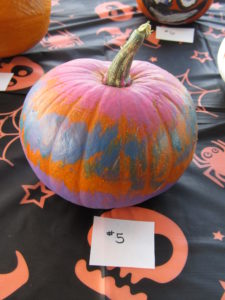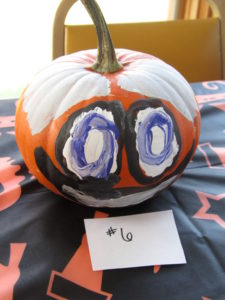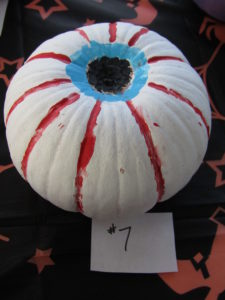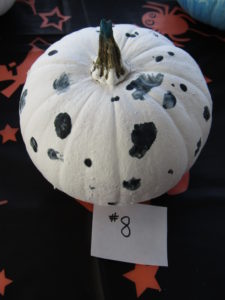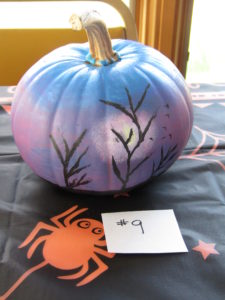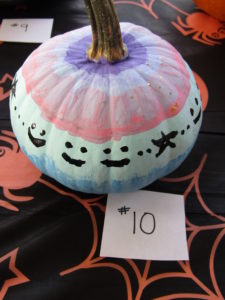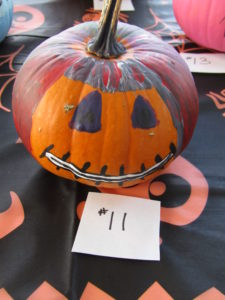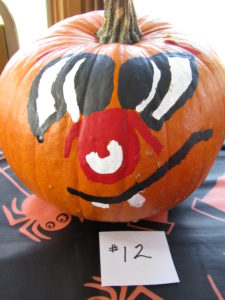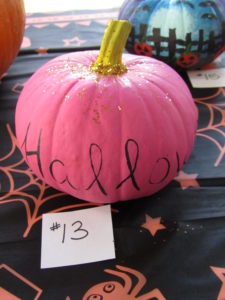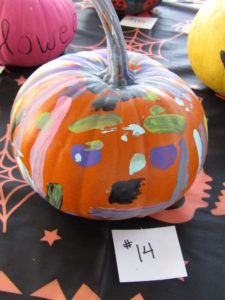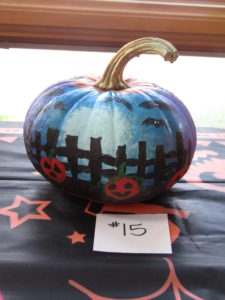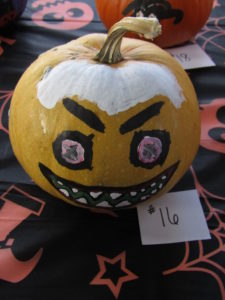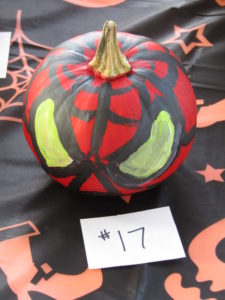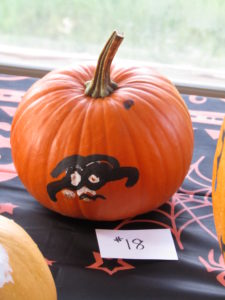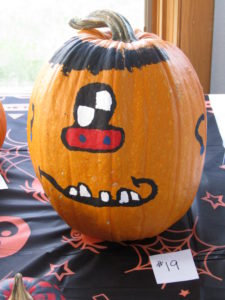 Cookie Decorating
The residents enjoyed decorating (and eating) cookies!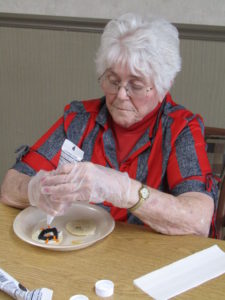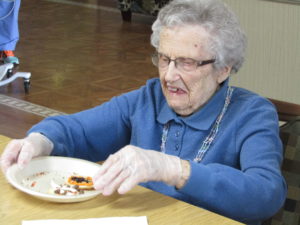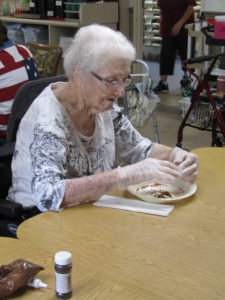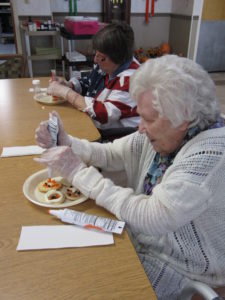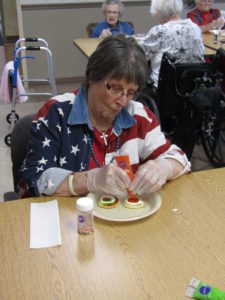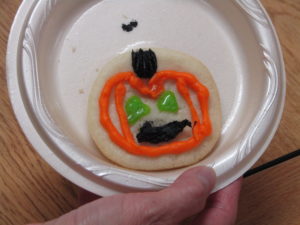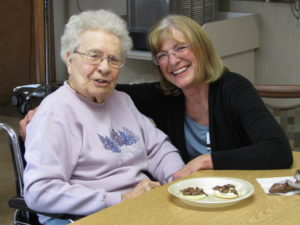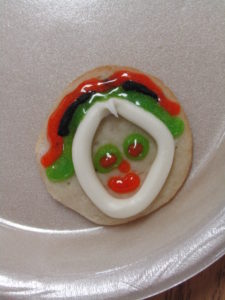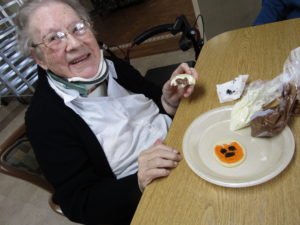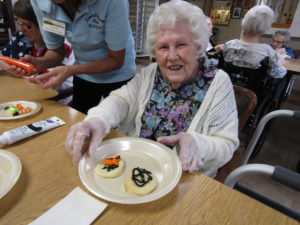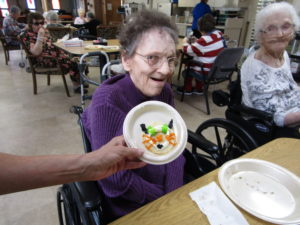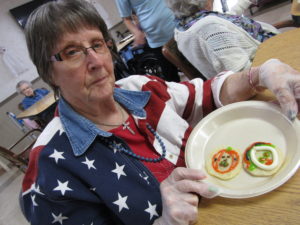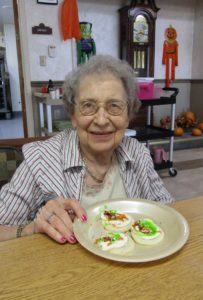 AL Halloween Craft Time
It was 👻 Halloween craft day for the Assisted Living residents🎃 It was a 🎃 Spooktacular👻 time!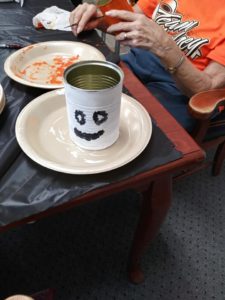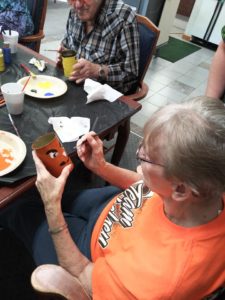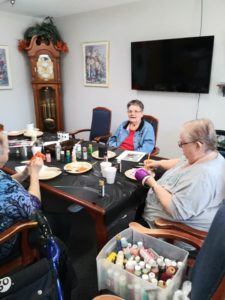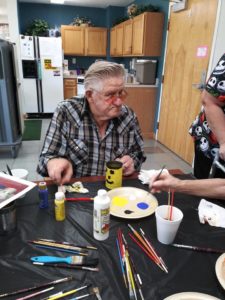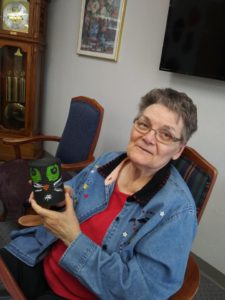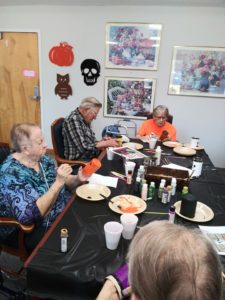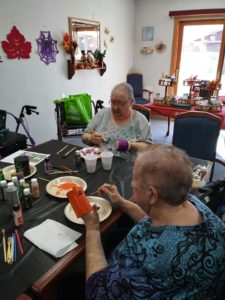 October Craft Time
For our October crafts we made Halloween door hangers!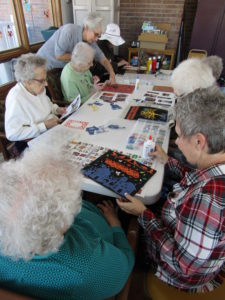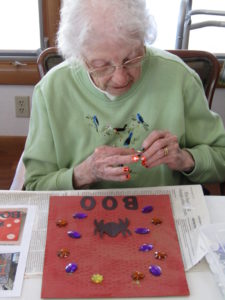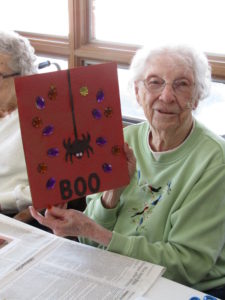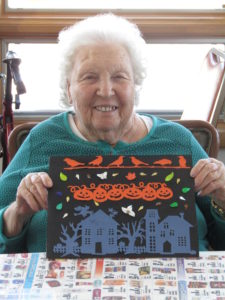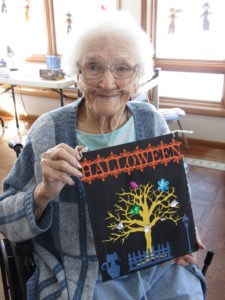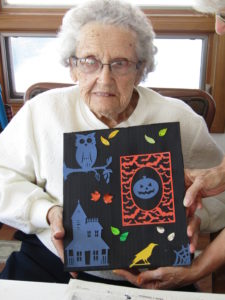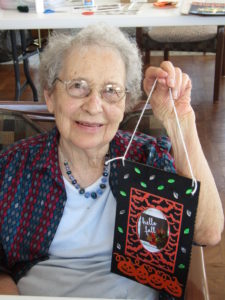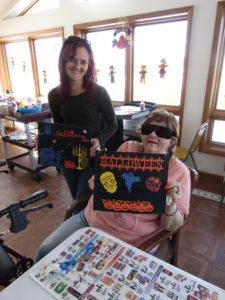 Handbells
Some of the residents came out to play the handbells! The music was wonderful!!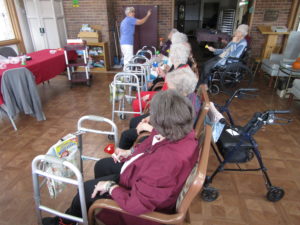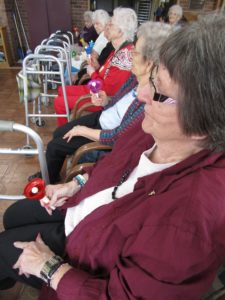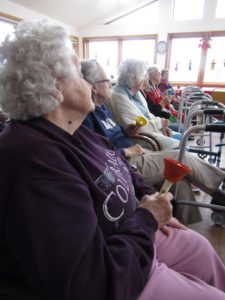 Happy Hands
Every other Thursday the ladies enjoy getting pampered with new nail polish!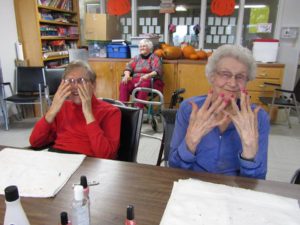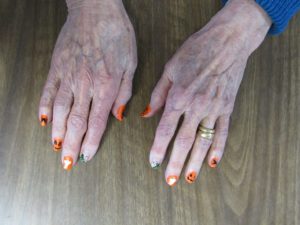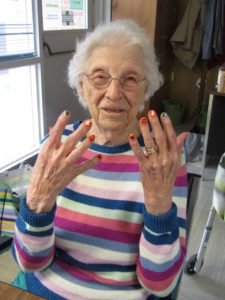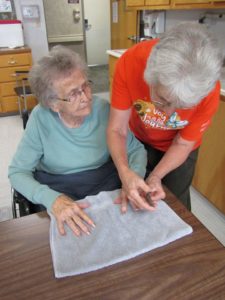 October Employee of the Month
Congratulations to Miranda Irons for being our October Employee of the Month!
Congrats to Miranda "Mimi" Irons for being Kimball County Manor's October Employee of the Month!!
Mimi works in the Dietary Department and is recognized for 'always providing service with a smile, being dependable and responsible, and for showing compassion for our residents'!
Thank you Mimi for all you do!!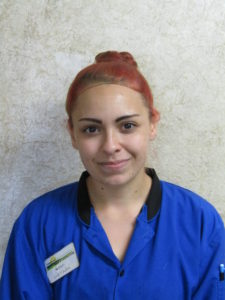 September Cooking Time
We made apple donuts for our 'cooking' time this month. We used slices of apples to frost and then topped with more goodies!!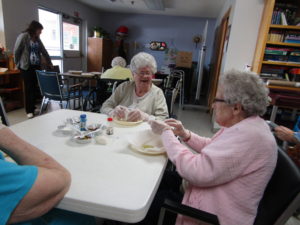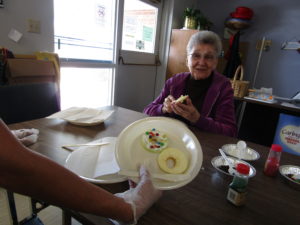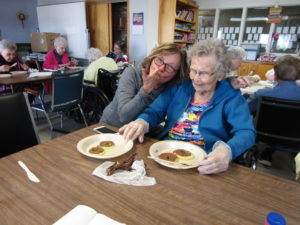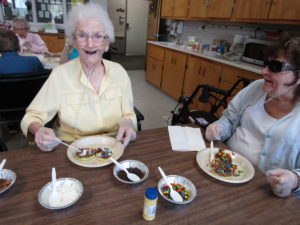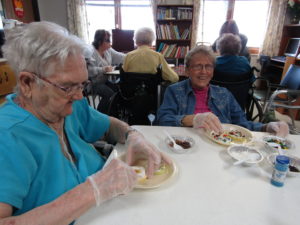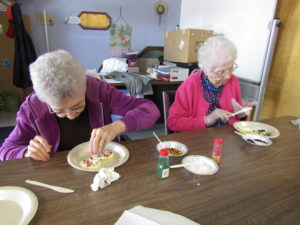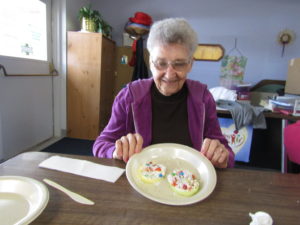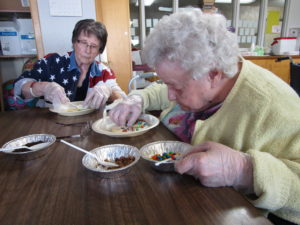 September Pet Therapy
Thanks to Eileen Merchant for bringing in some animals for us to cuddle with!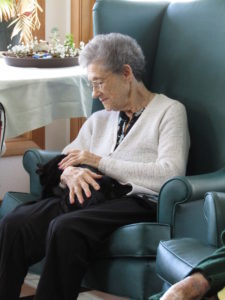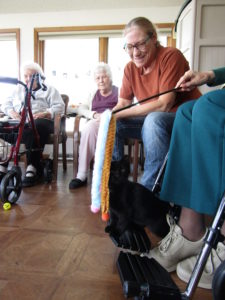 September Craft Time
We decorated trees with lots of fun little decorations for our fall craft. They all did a great job!!!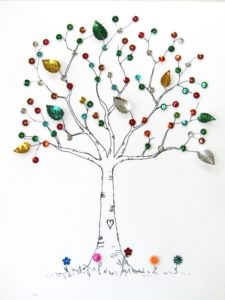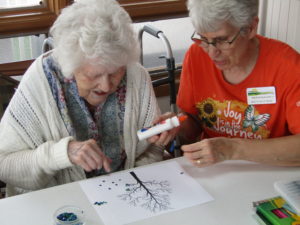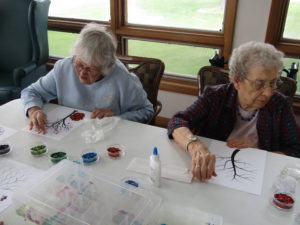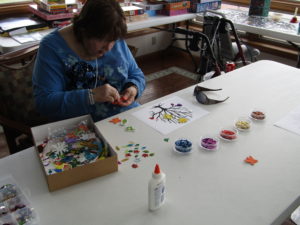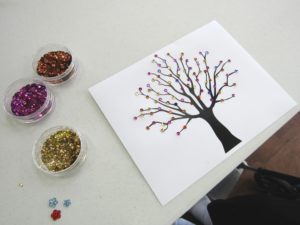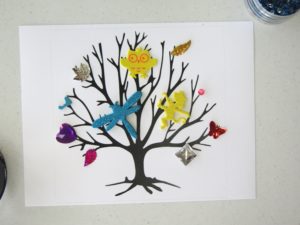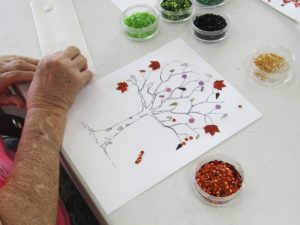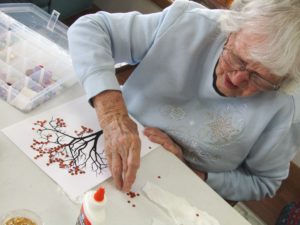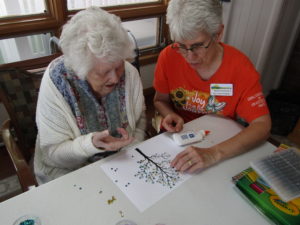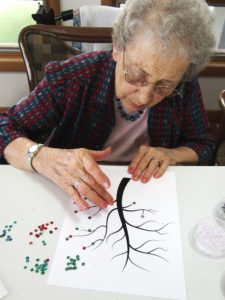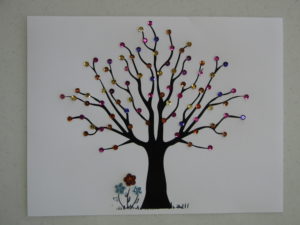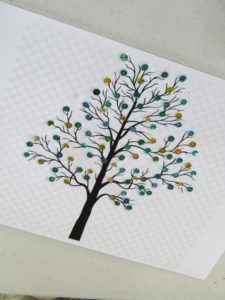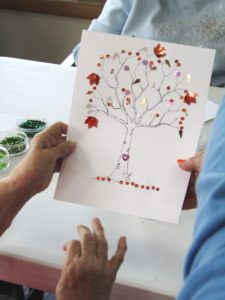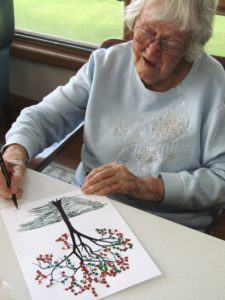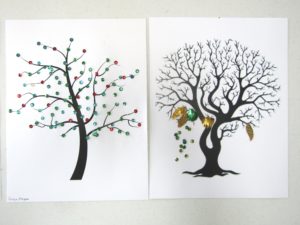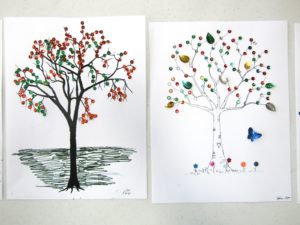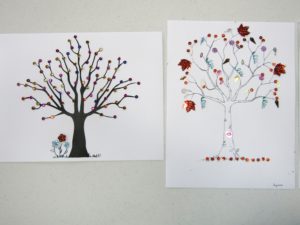 Assisted Living Week
Assisted Living Week was from September 9th – September 15th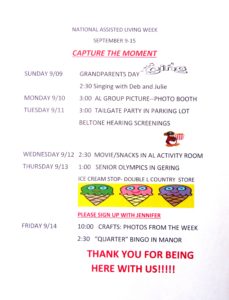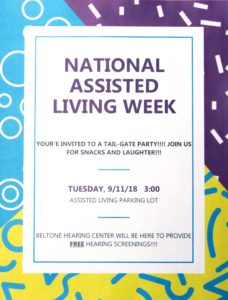 Sunday: Thank you to Deb Carpenter-Nolting and Julie Watts for singing for us yesterday on Grandparents Day!
Monday: We enjoyed taking new photos today!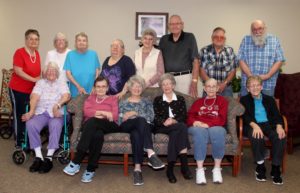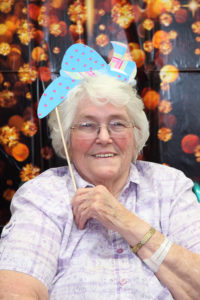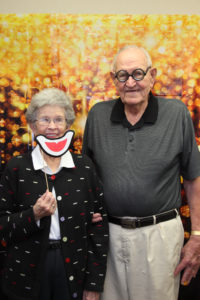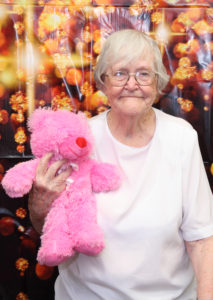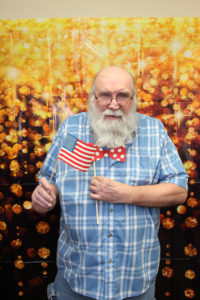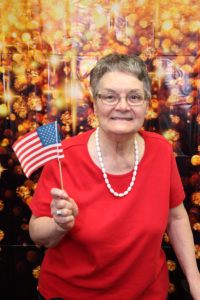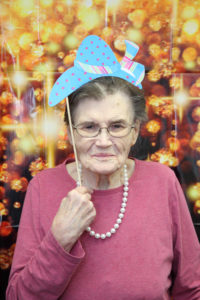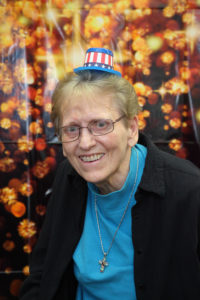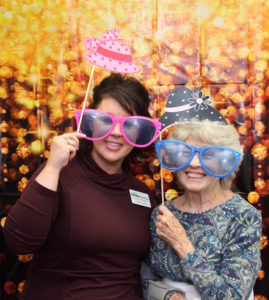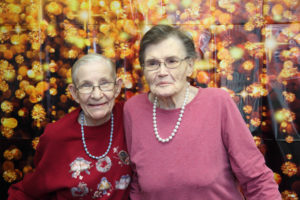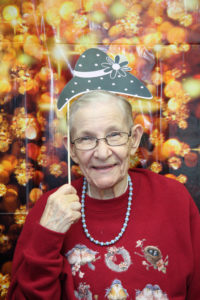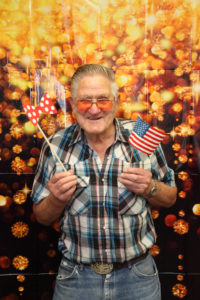 Tuesday: Tailgate Party!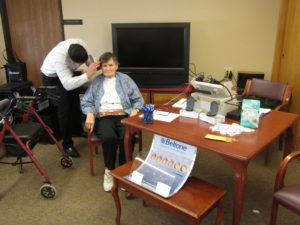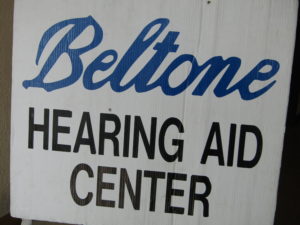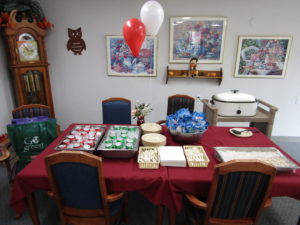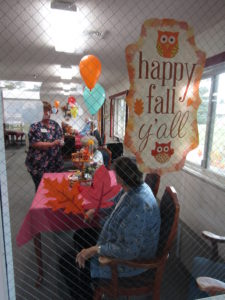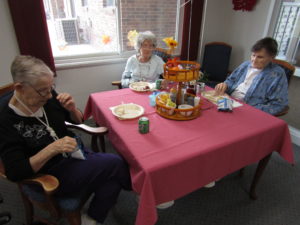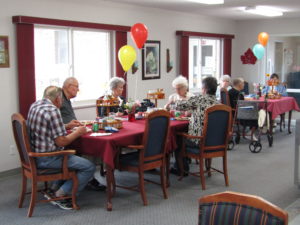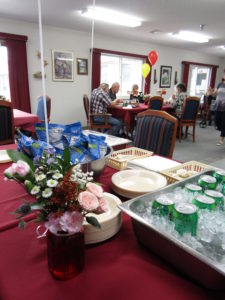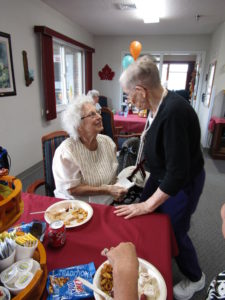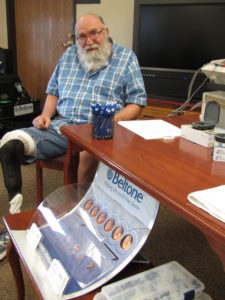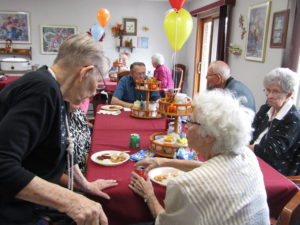 Wednesday: Movie & Snacks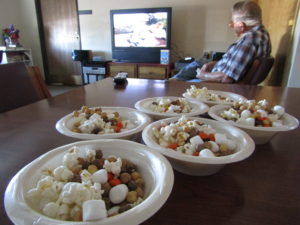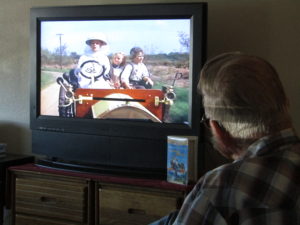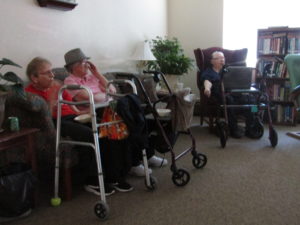 Thursday: Senior Olympics and Gering and a stop at Double L Cafe for ice cream/pie!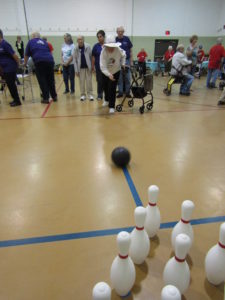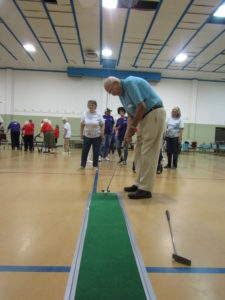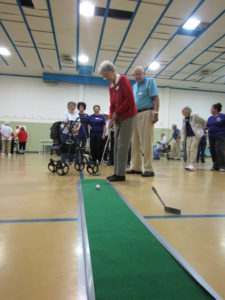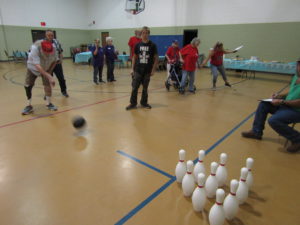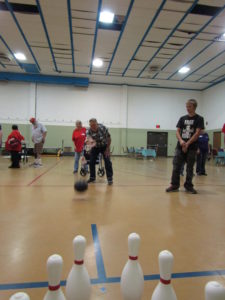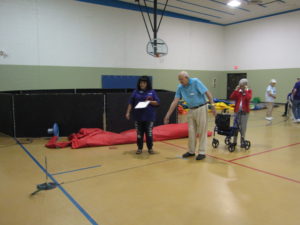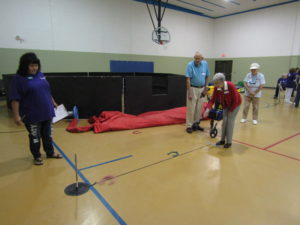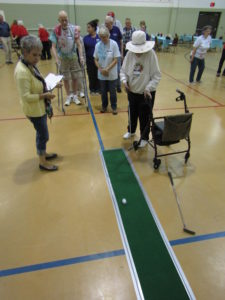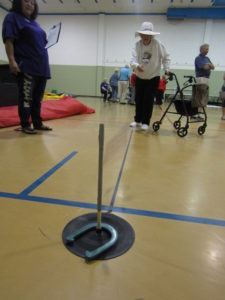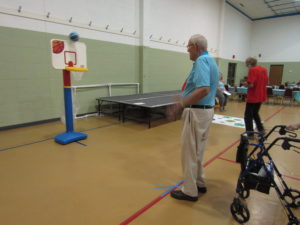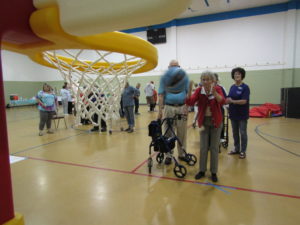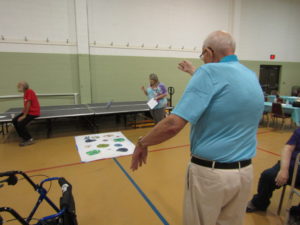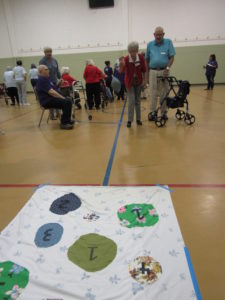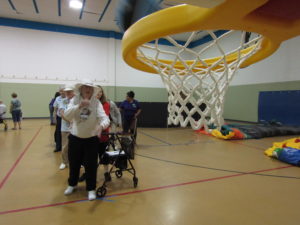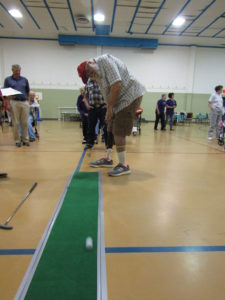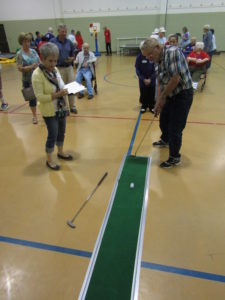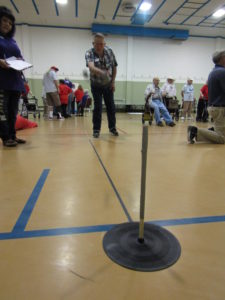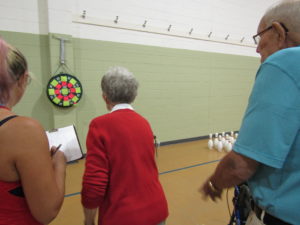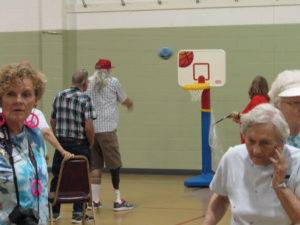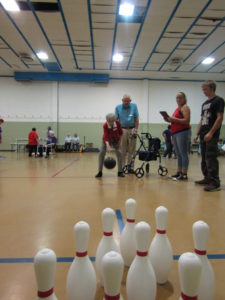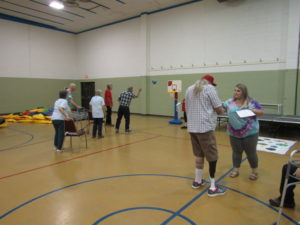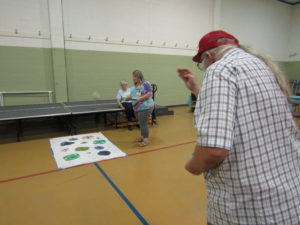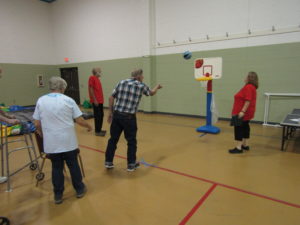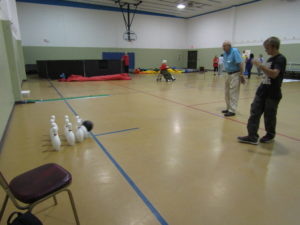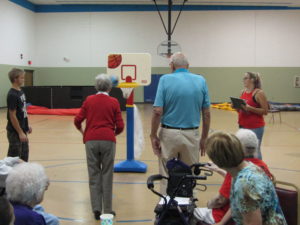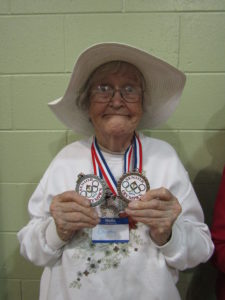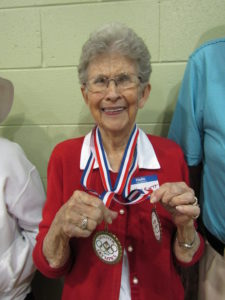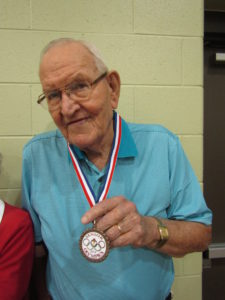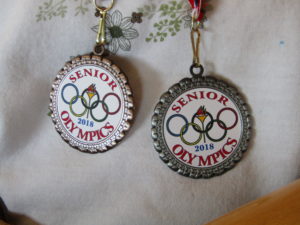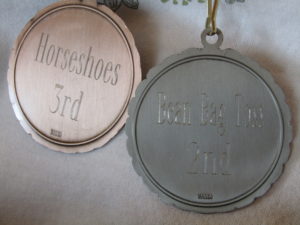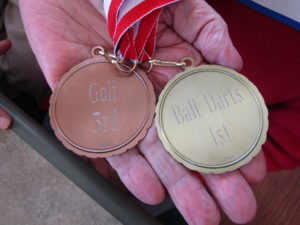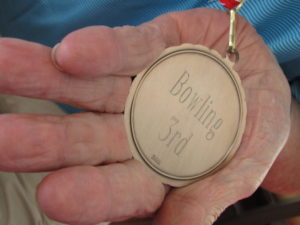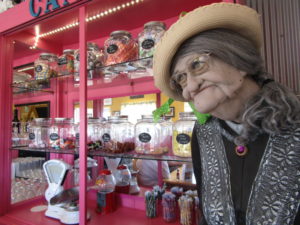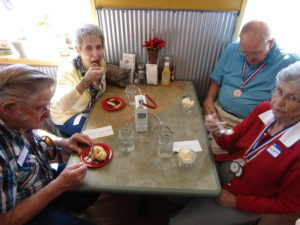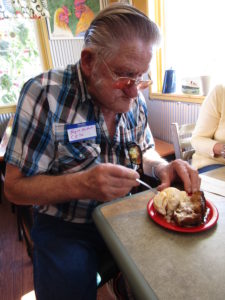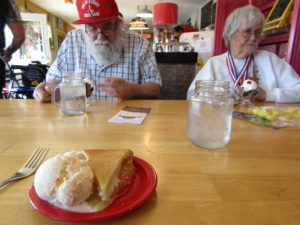 Friday: Crafts!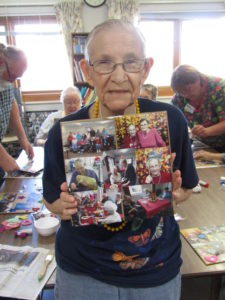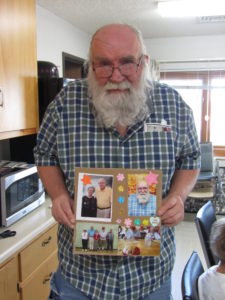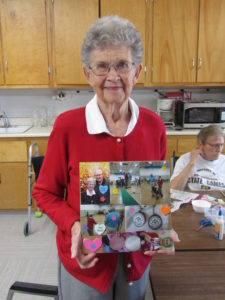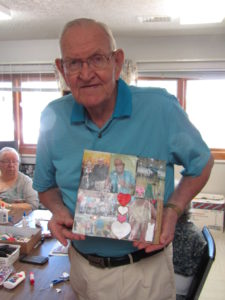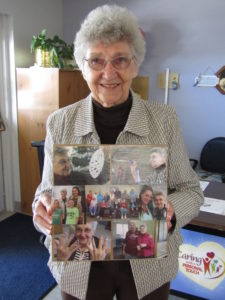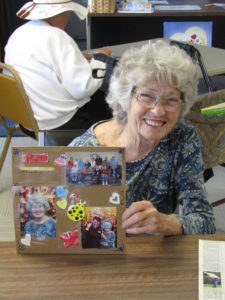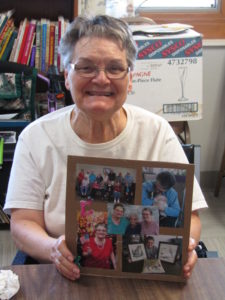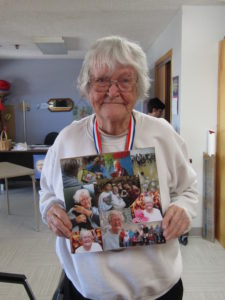 September Employee of the Month
Congratulations to Angie Culek-Schaeffer for being our September Employee of the Month! Angie is a med-aide here at the Manor and is recognized for going above and beyond her assigned daily duties and being very helpful to other staff. She is very patient and caring with all the residents! Thank you Angie for all you do!!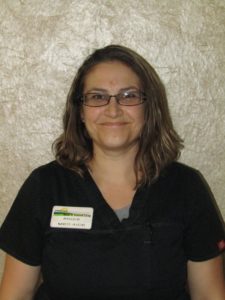 Ice Cream Social
Thank you to the police and county commissioners who came to join us for the ice cream social yesterday! We appreciate all you do for our community!!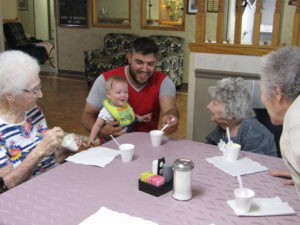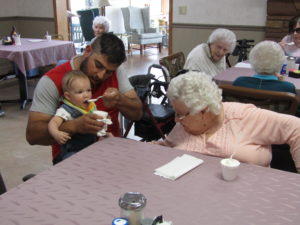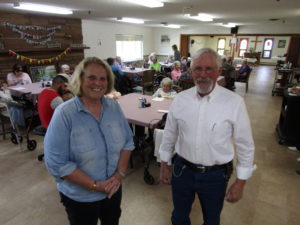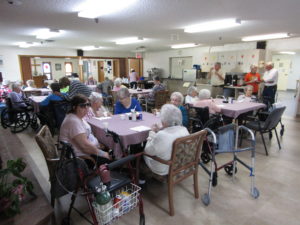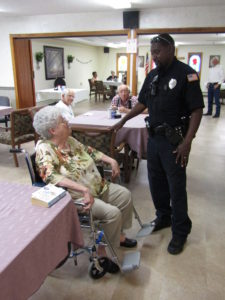 Around the World
Around the World yesterday with Carla Goranson! She showed photos and told about the trip to Washington, D.C. that she, Jerri Trippett, and Shannon Monheiser went on in June.
The photos of the passport pages show some of the places we have traveled in our Around the World presentations!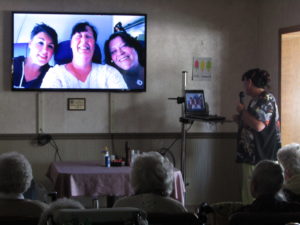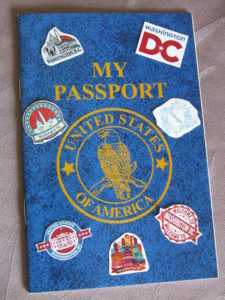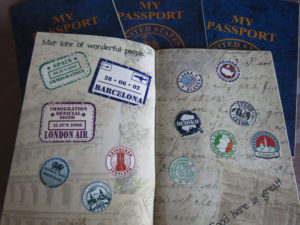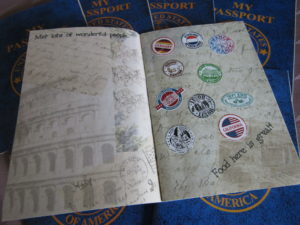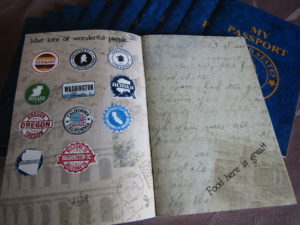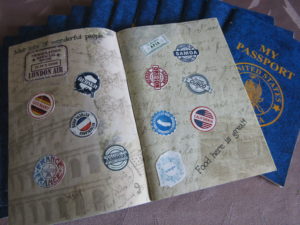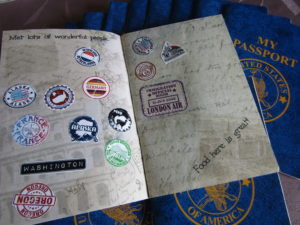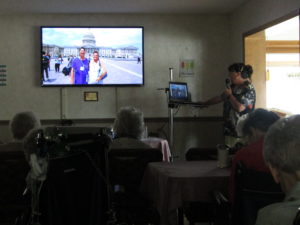 Balloon Animals
Thank you to Kayla Fennell for coming in this afternoon to make balloon animals for the residents! They absolutely loved it!!!!!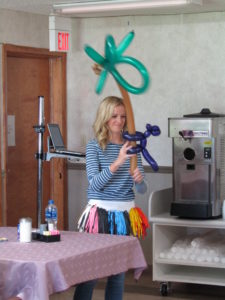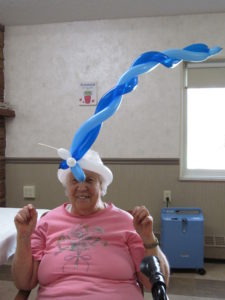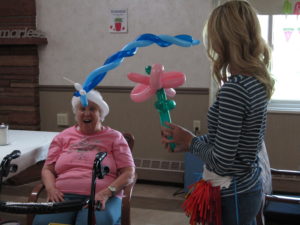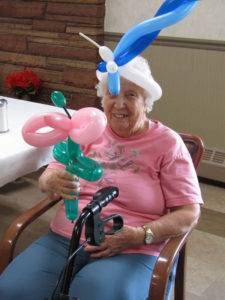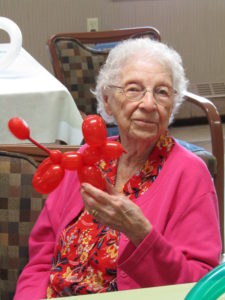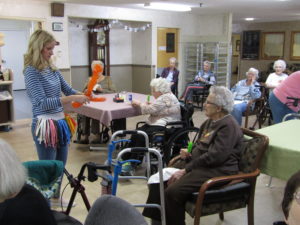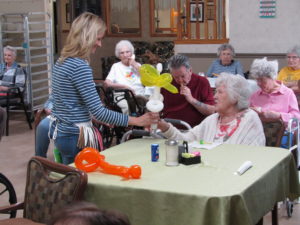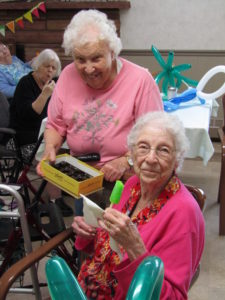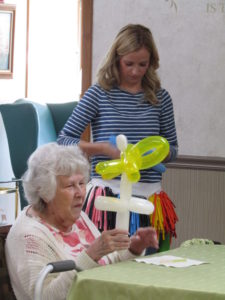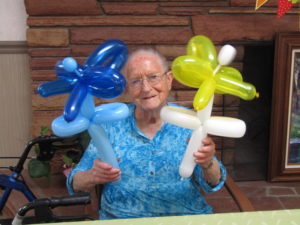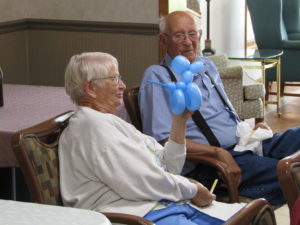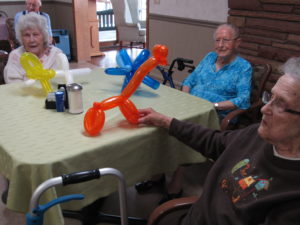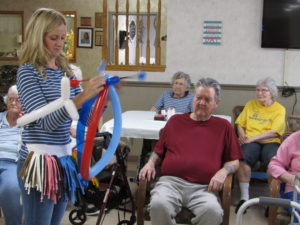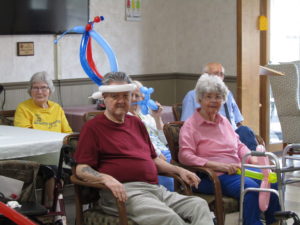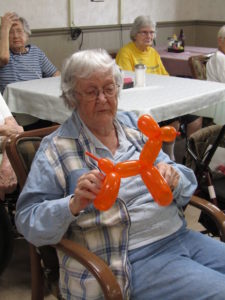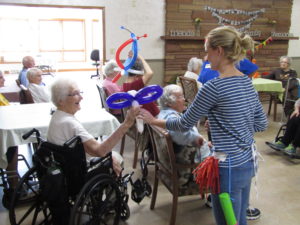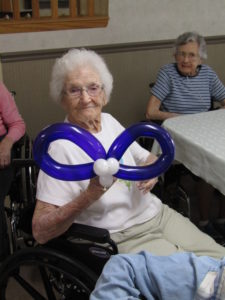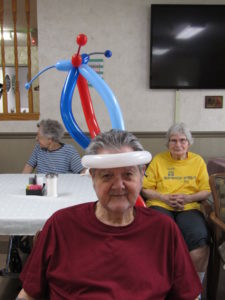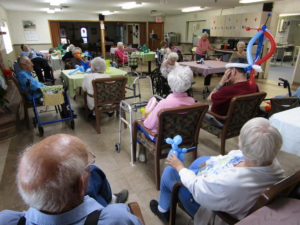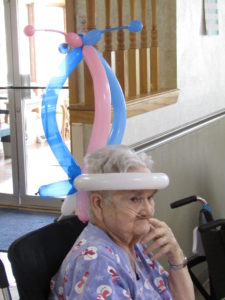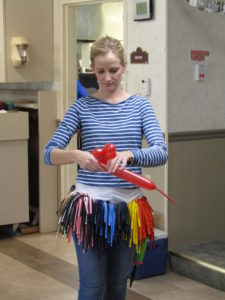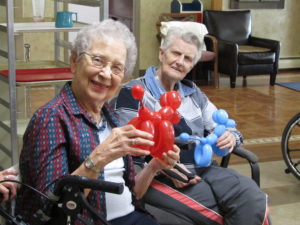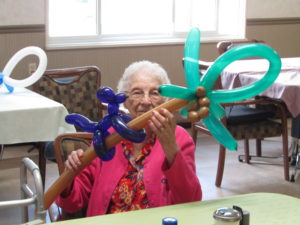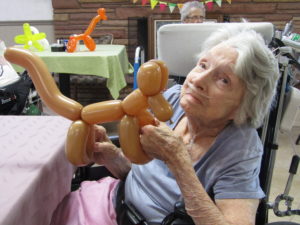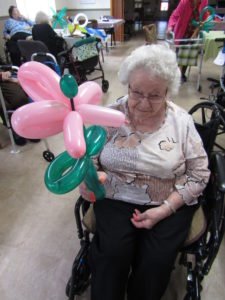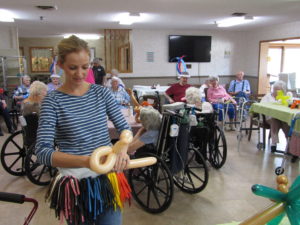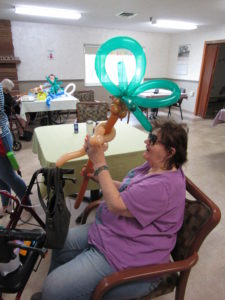 August Craft Time
Craft day! We had a good time making flowers out of little paper cups!!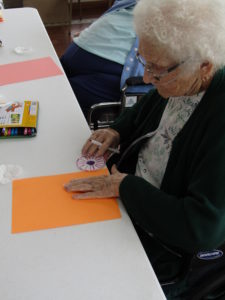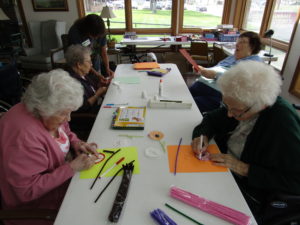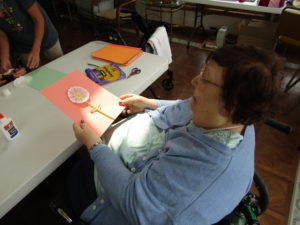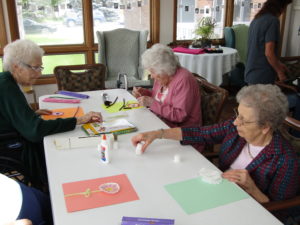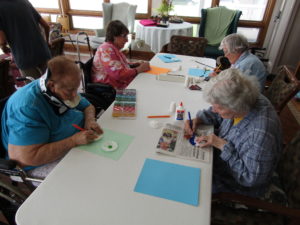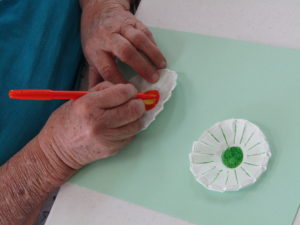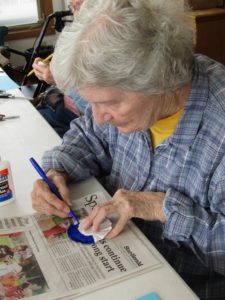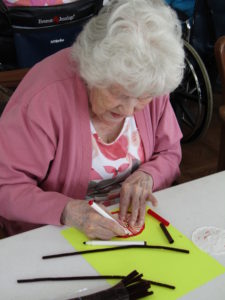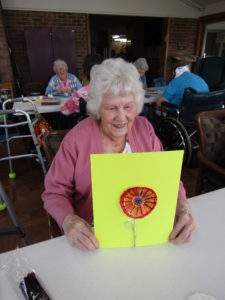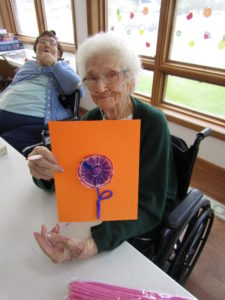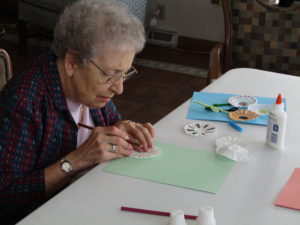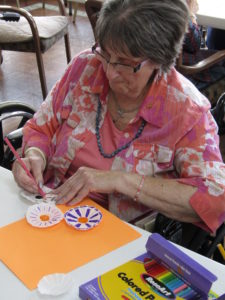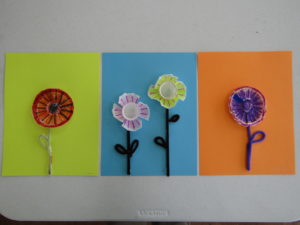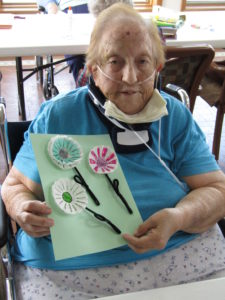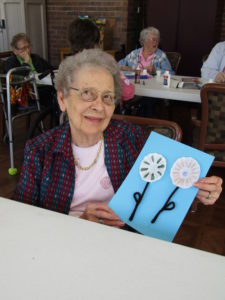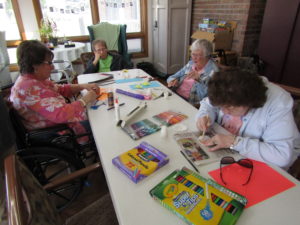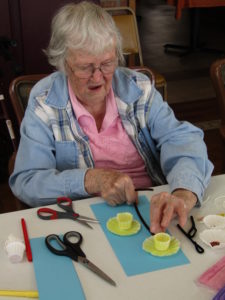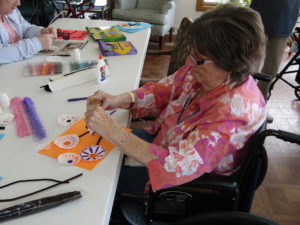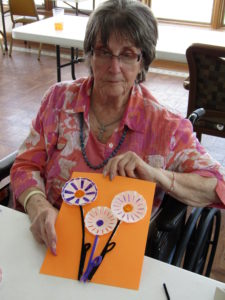 Assisted Living Open House
Old friends getting together for great conversation and laughter!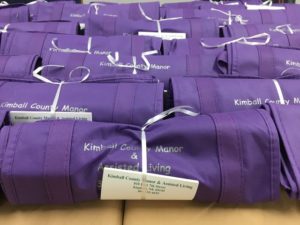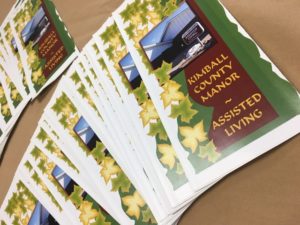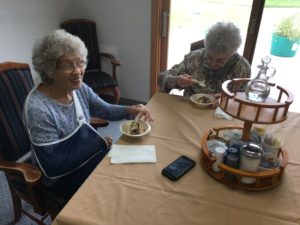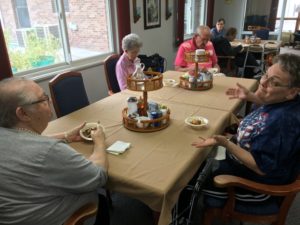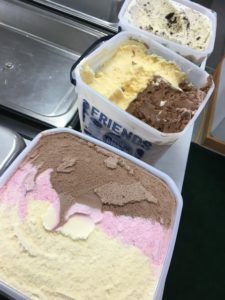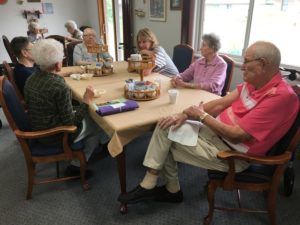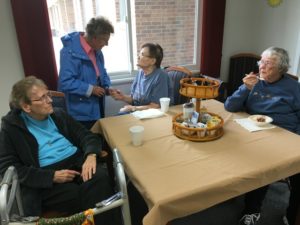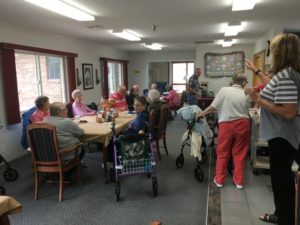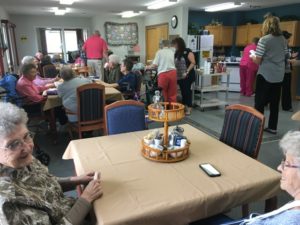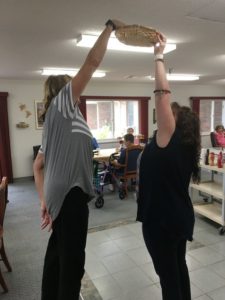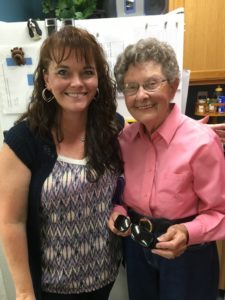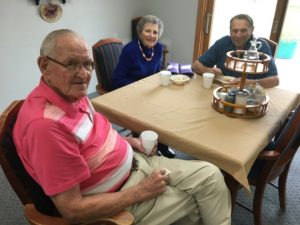 First Day of School Donuts!
Thank you to the students and teachers who came by the Manor Friday morning for donuts and juice! We hope you all had a "sweet" first day of school!!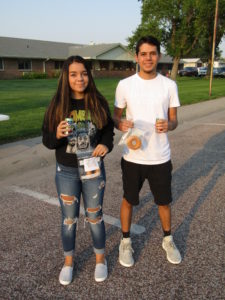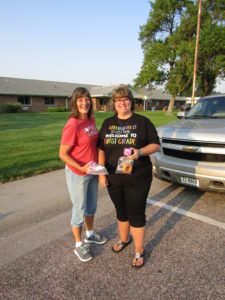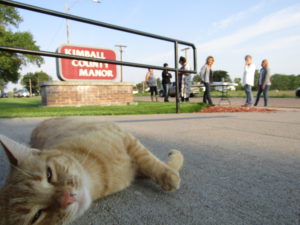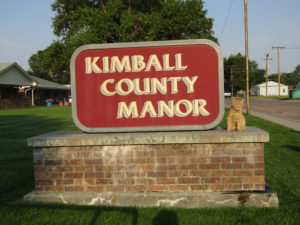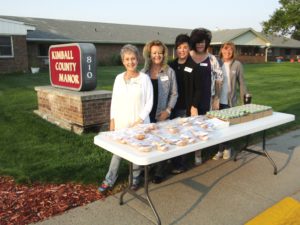 Carnival
The residents enjoyed a Carnival on the 16th. We had ring toss, tin can crash, and fortune telling among the activities. The photo booth area was a lot of fun as well! Watermelon and mini cupcakes were served for snacks.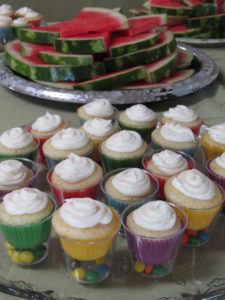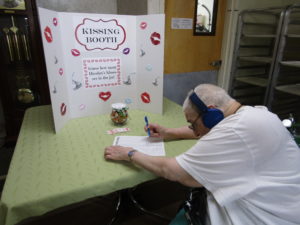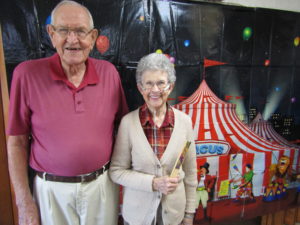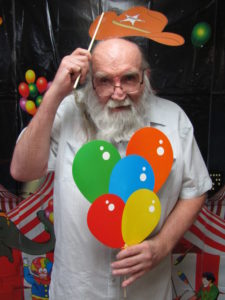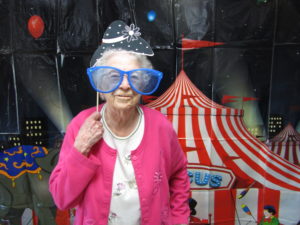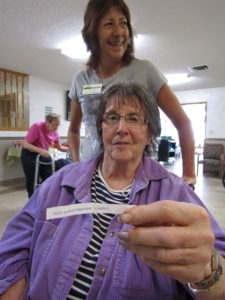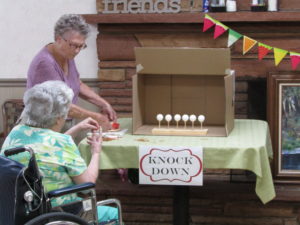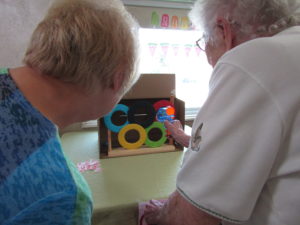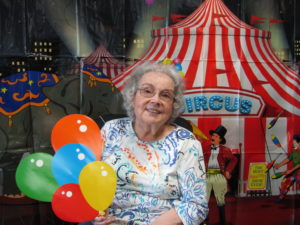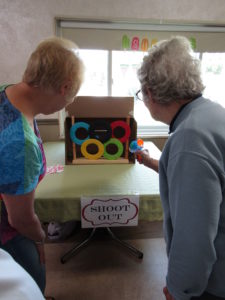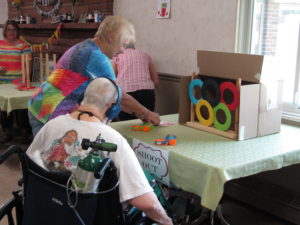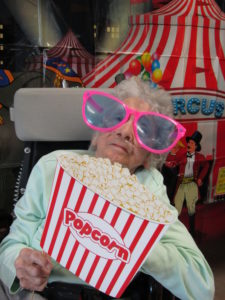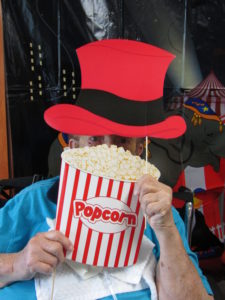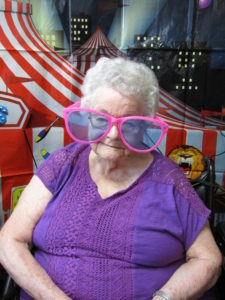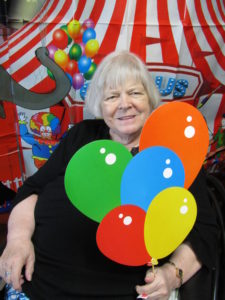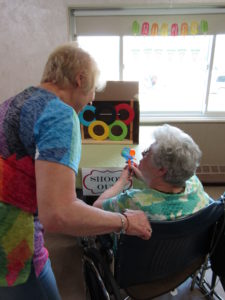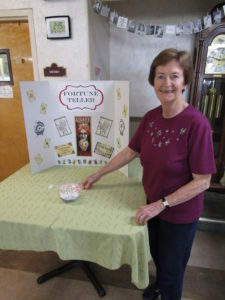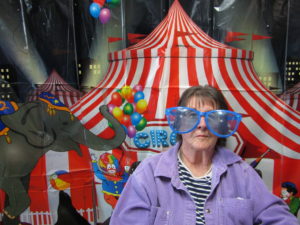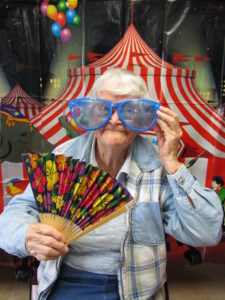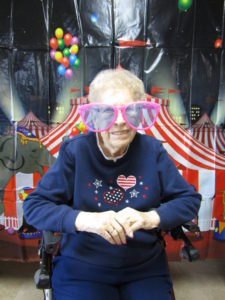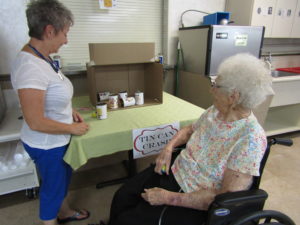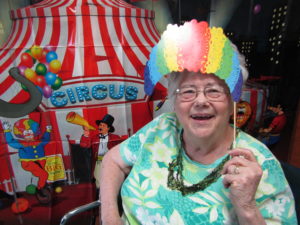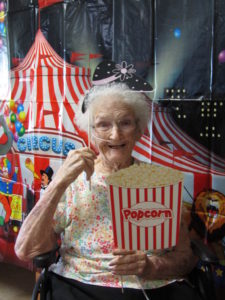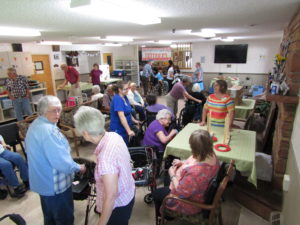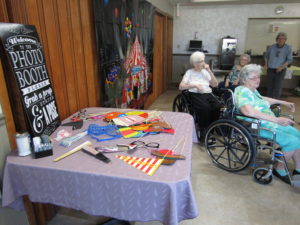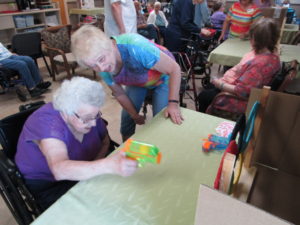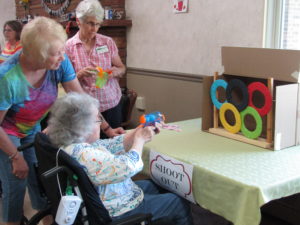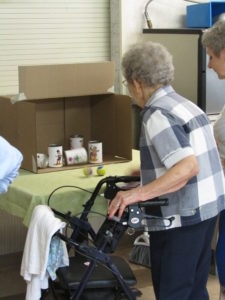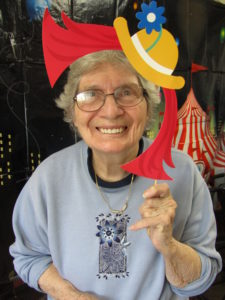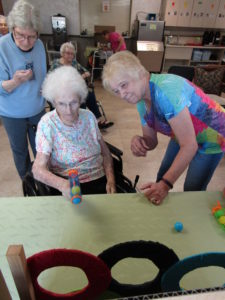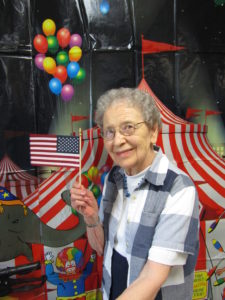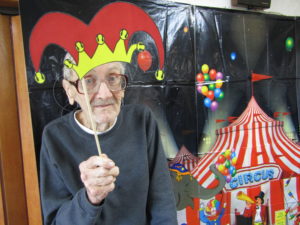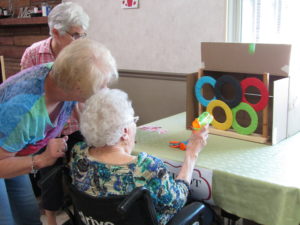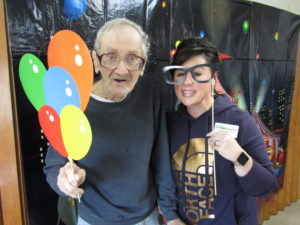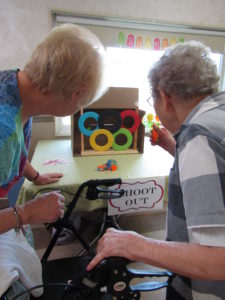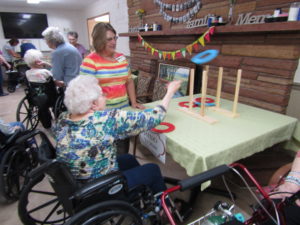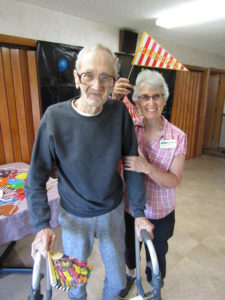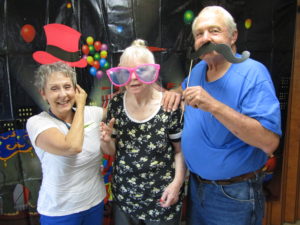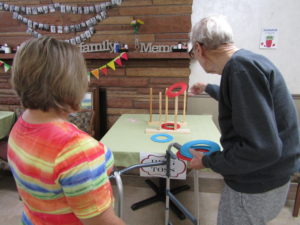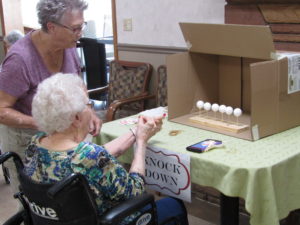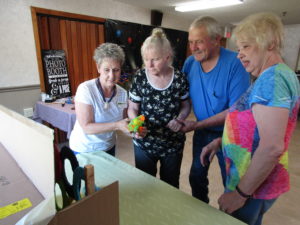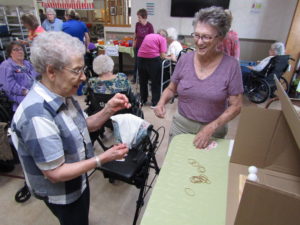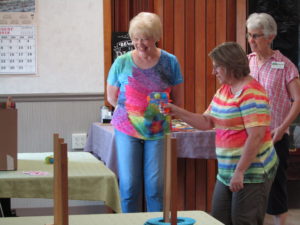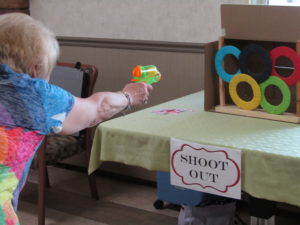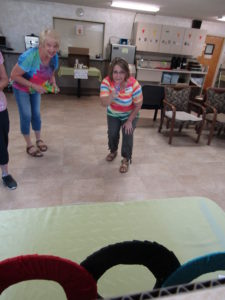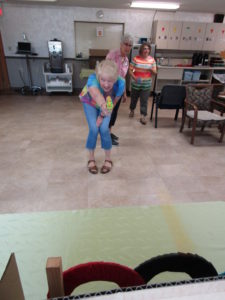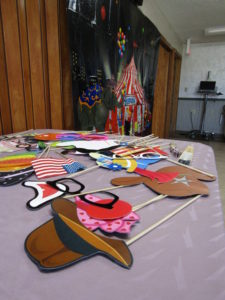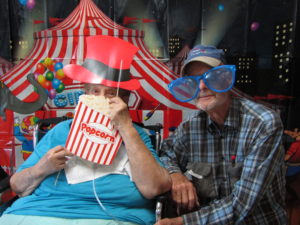 August Birthday Party
We celebrated our August birthdays on the 15th! Thank you to all the family and friends who joined in the fun!! We even had some visitors from Park Terrace. We were blessed with the presence of two centenarians at our party!!!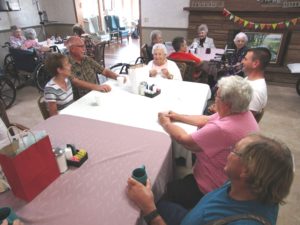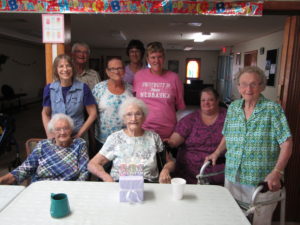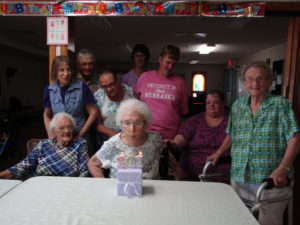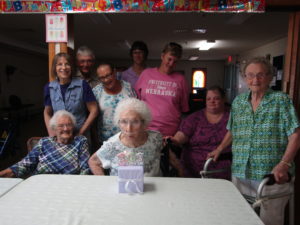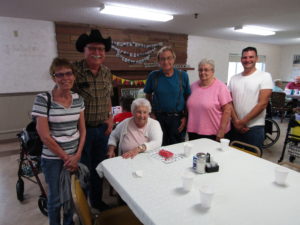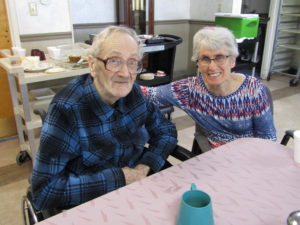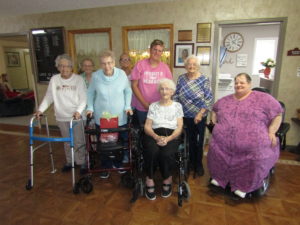 Cooking
The residents had a good time making individual pizzas for cooking last week!  We used canned biscuits for an easy crust and then added pizza sauce and cheese and pepperoni before baking. They turned out yummy!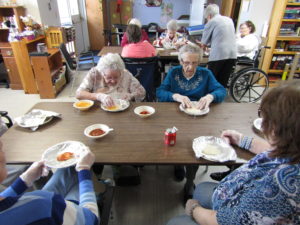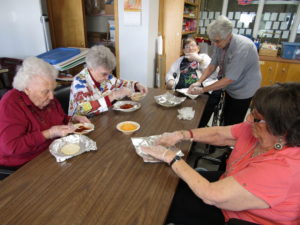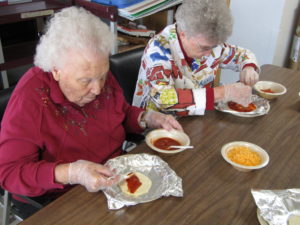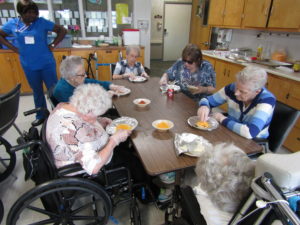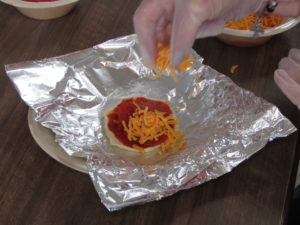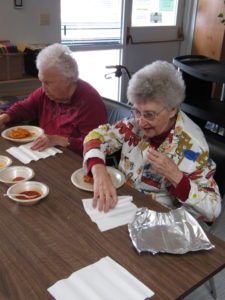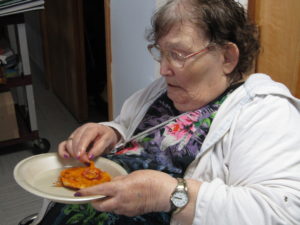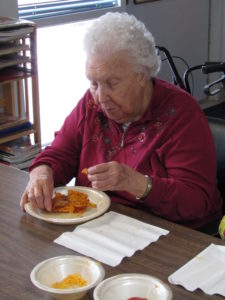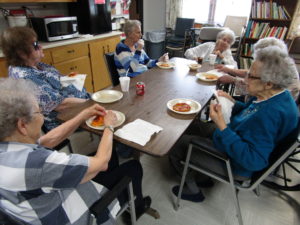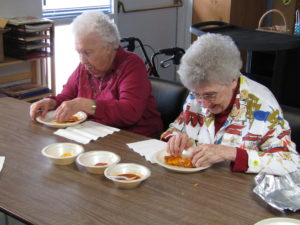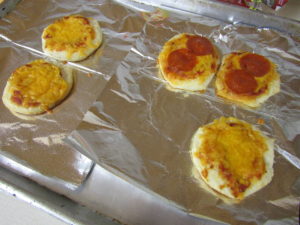 August Pet Therapy
Another thanks to our volunteer Eileen for coming in with her doggies! The residents had a great time!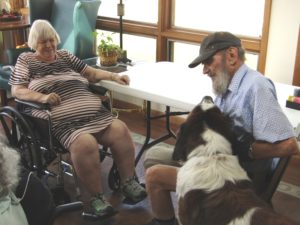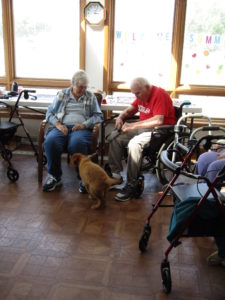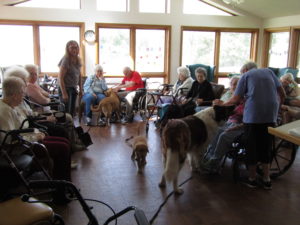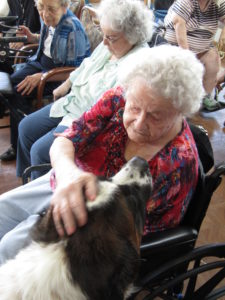 4H Kids and Animals
We had some wonderful visitors last week! Some of the 4H kids came to show off their animals!! Riley Jones and rabbit Peabody, Mycala Jones and rabbit Pedro, Aubrey Culek and sheep Rocky, Britton Culek and sheep Daisy, Cashlyn Culek and calf Tomato, Brynlee Culek and horse Gigi, Nicole Delaplane and goat Fawn and black lab Franny. We appreciate the kids coming in and the help from the parents as well! The residents had a lot of fun!!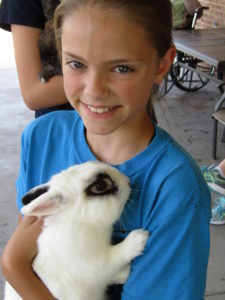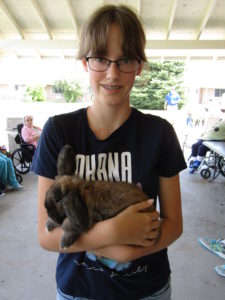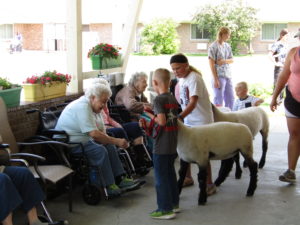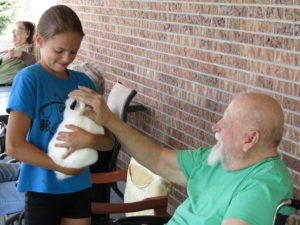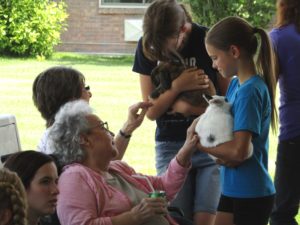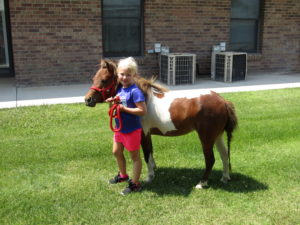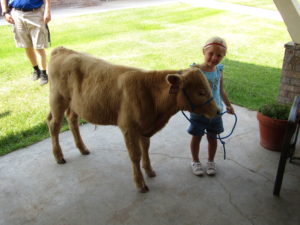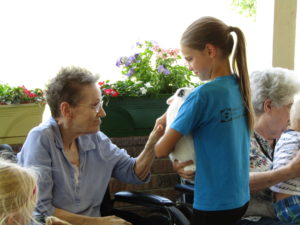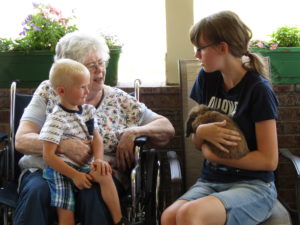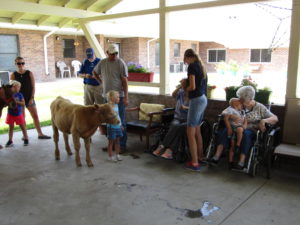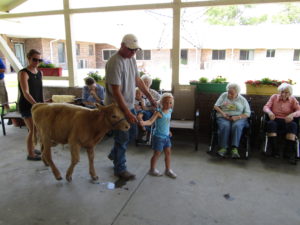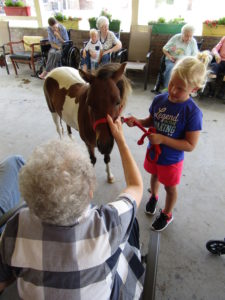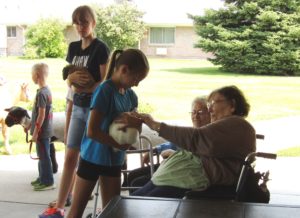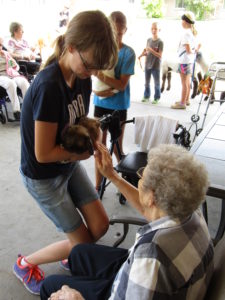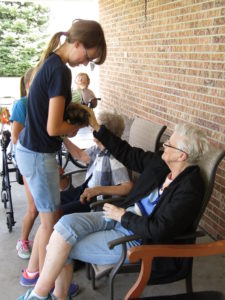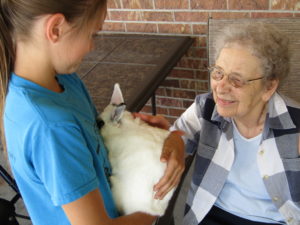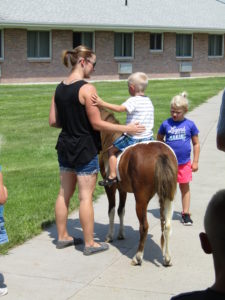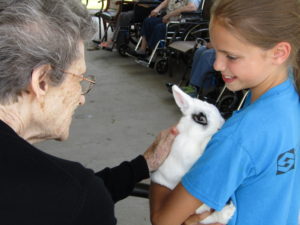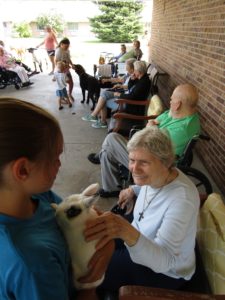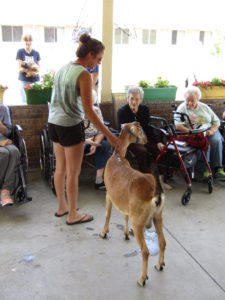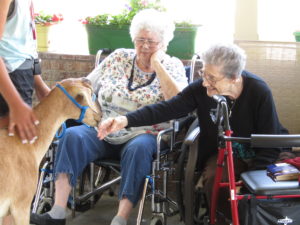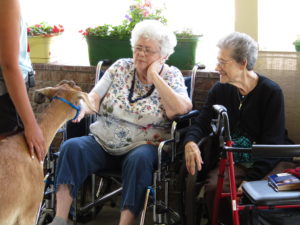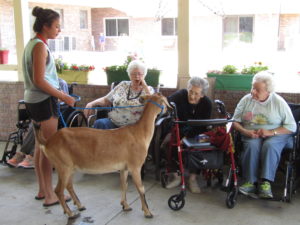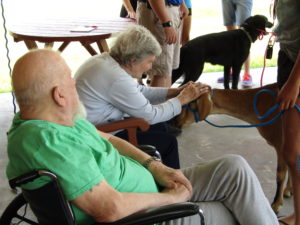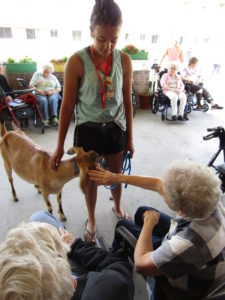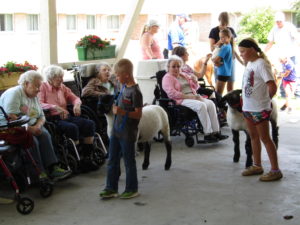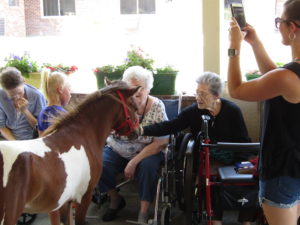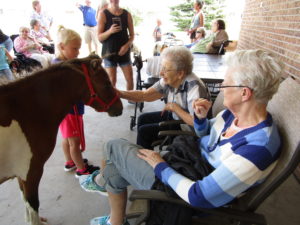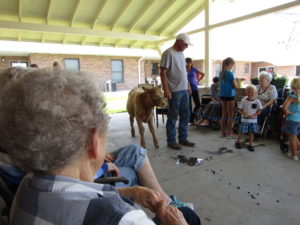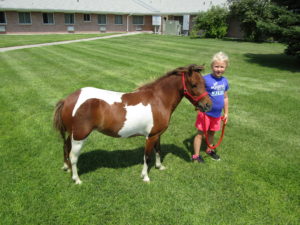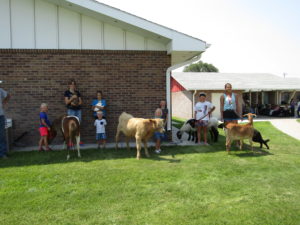 August Employee of the Month
Our August Employee of the Month is Tahlia Paniagua!!
Tahlia is a Med Aide who is recognized for her sense of humor and calming effect on the residents! We appreciate all she does for the Kimball County Manor! Congrats Tahlia!
Patio Time
We enjoyed the nice weather yesterday by spending time out on the patio! We blew bubbles and made sun prints (cyanotypes) and also had a couple special visitors.. the Kimball/Banner County Rodeo Queen and Princess!! Thank you to Nicole Delaplane, Rodeo Queen, and McKynna Deeds, Rodeo Princess, for spending the afternoon with us!!!!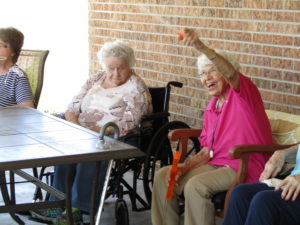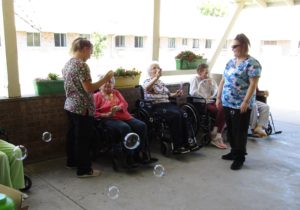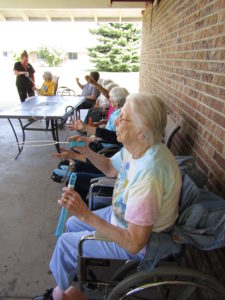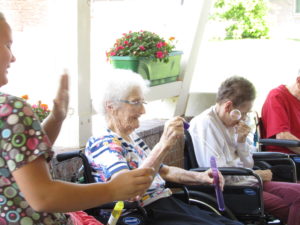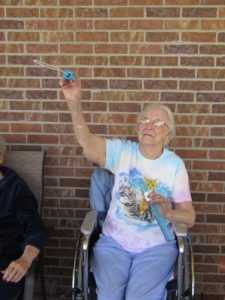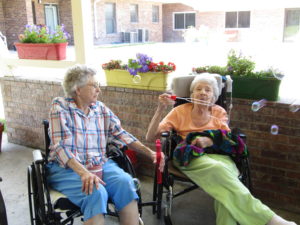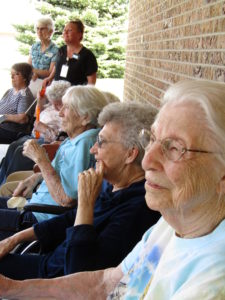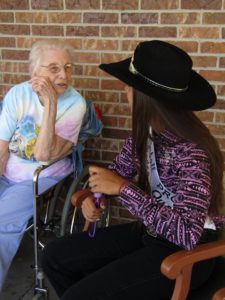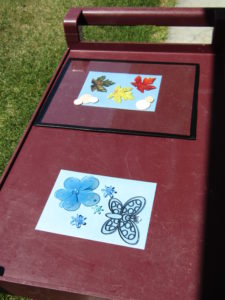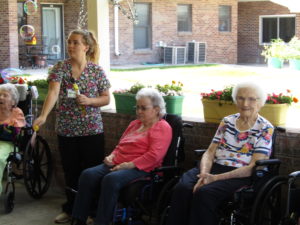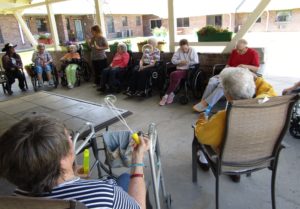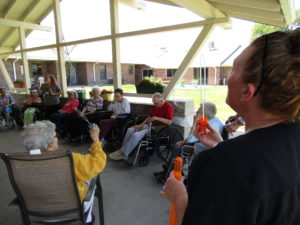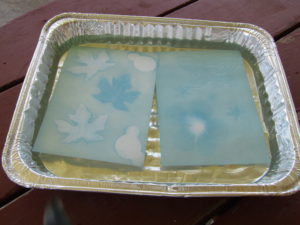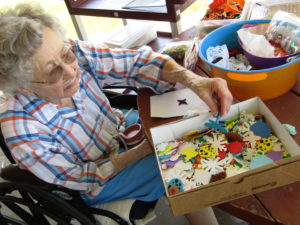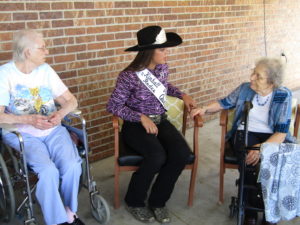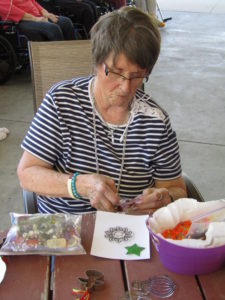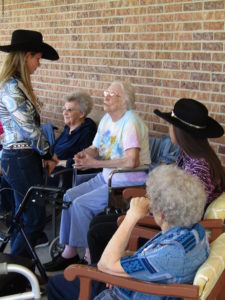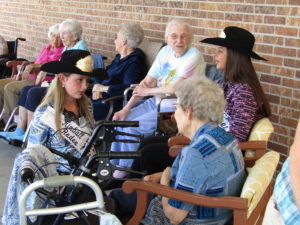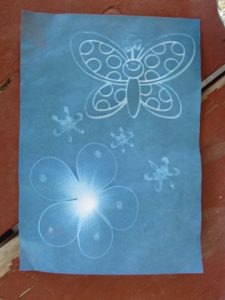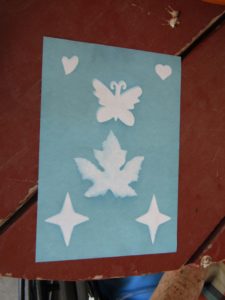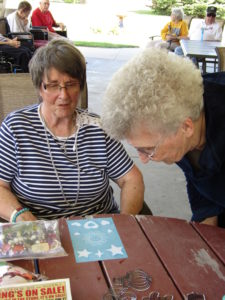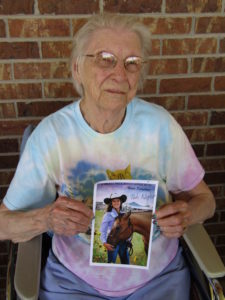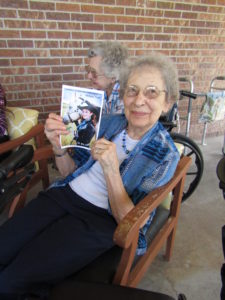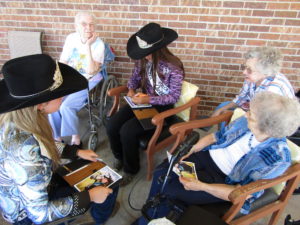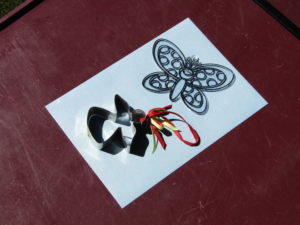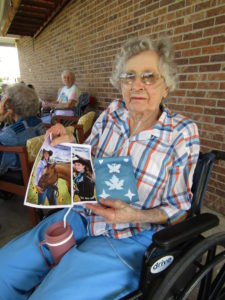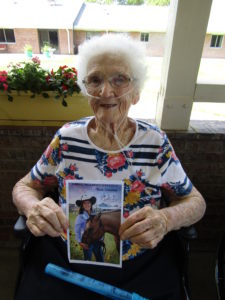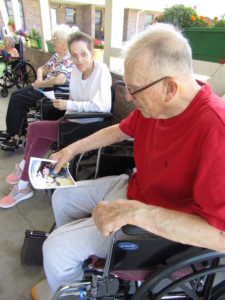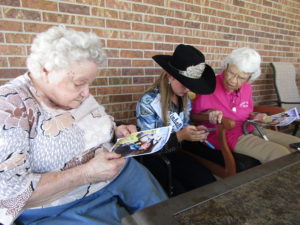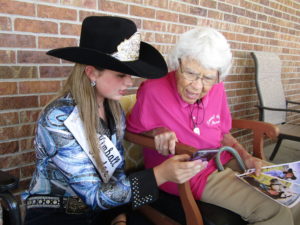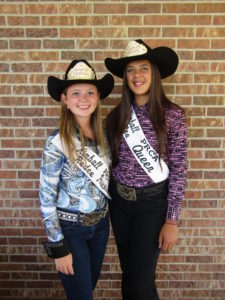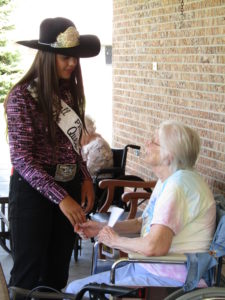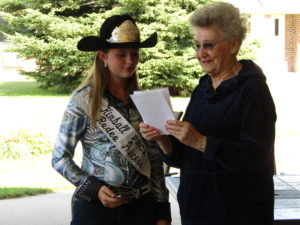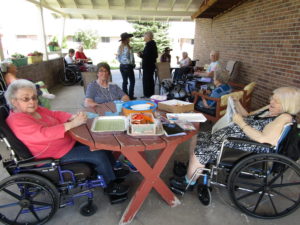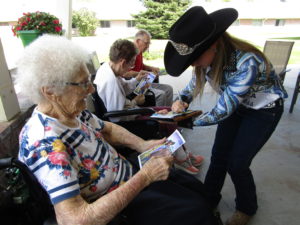 Birds
We got some new birds this week! The red-headed birds are called Star Finches. We also have some babies!!!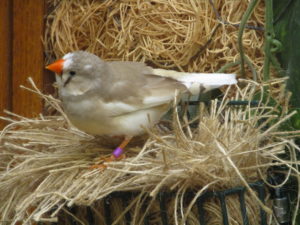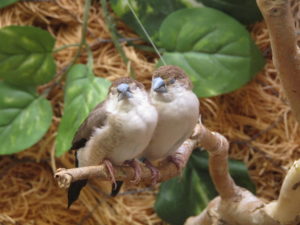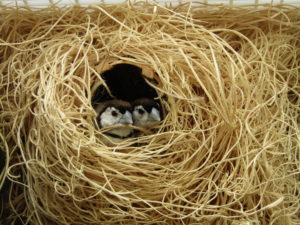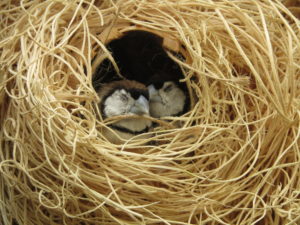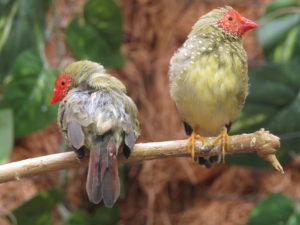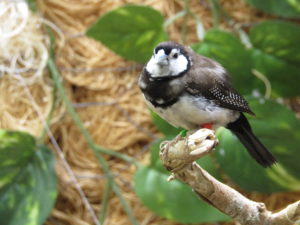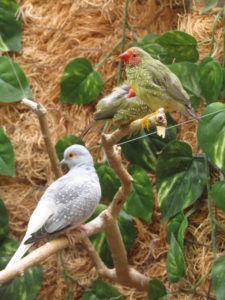 Basketball
The residents enjoyed playing basketball on Monday!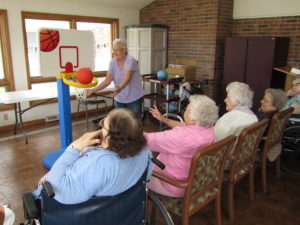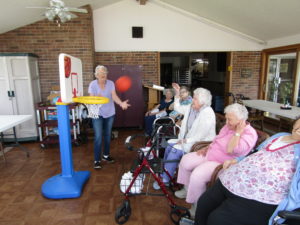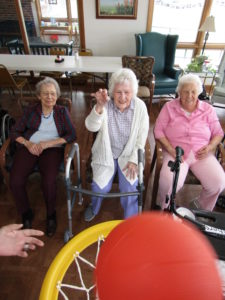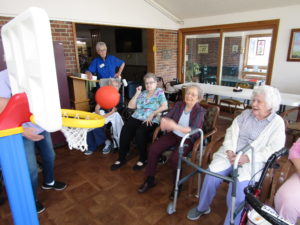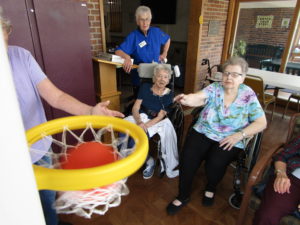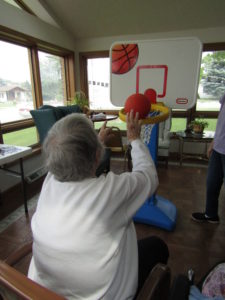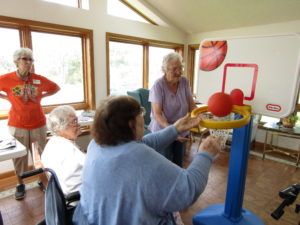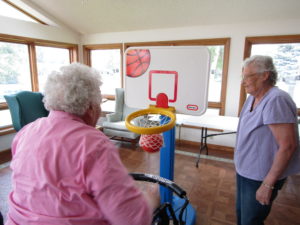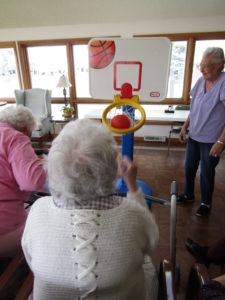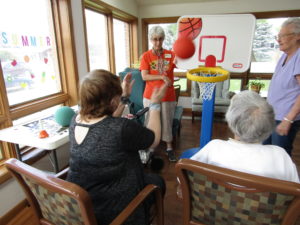 Ice Cream Social
Ice Cream Social yesterday! We were honored to have Linda Williams and Stacie Schadegg join us! We all appreciate everything the County and City Police force do for our community!!!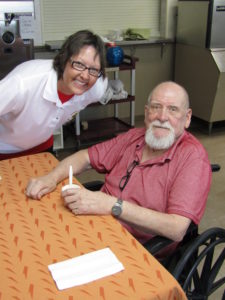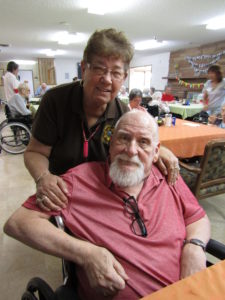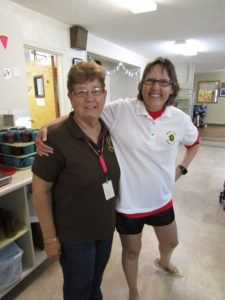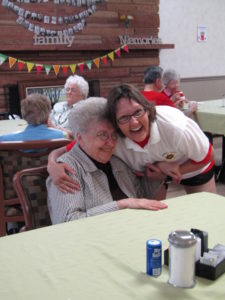 July Birthday Party
Thank you to the Eastern Star group for hosting the July Birthday party! The ice cream floats and cookies were wonderful and the residents always love bingo!!!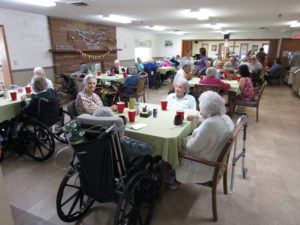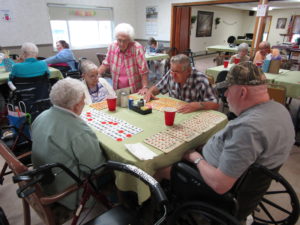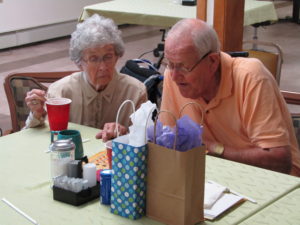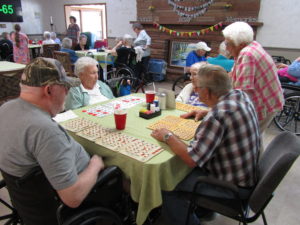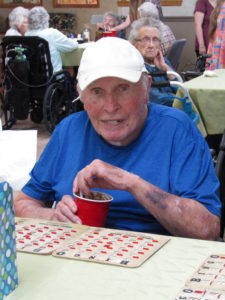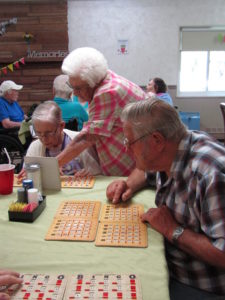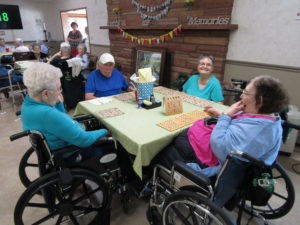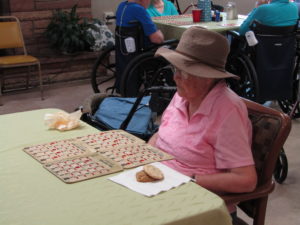 Pet Therapy
Pet therapy in July! Thanks Eileen Merchant for bringing in your babies!!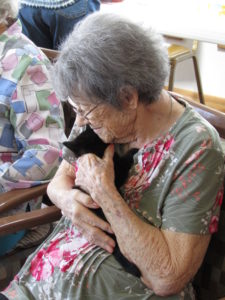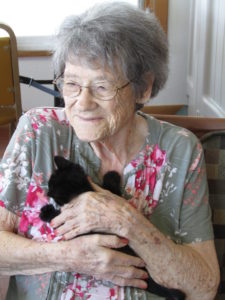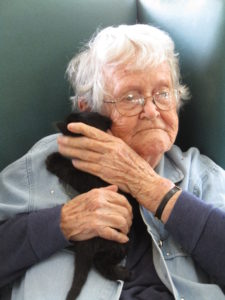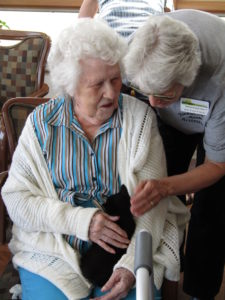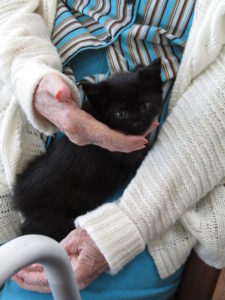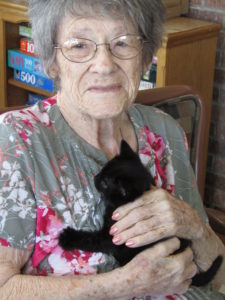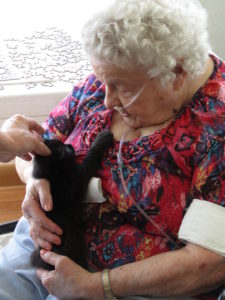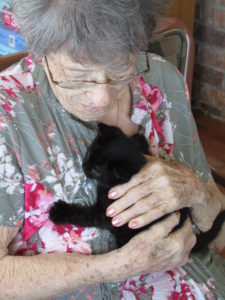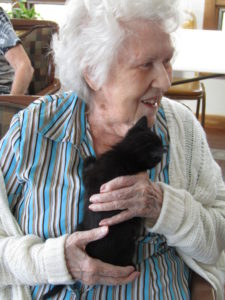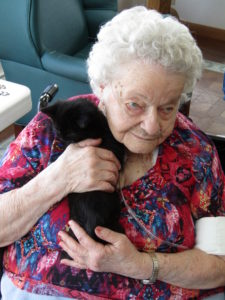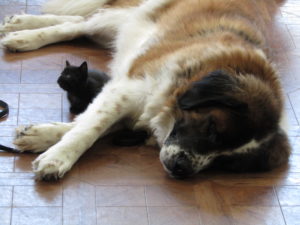 Games
We played games yesterday – Yahtzee, Chinese Checkers, and Dominoes!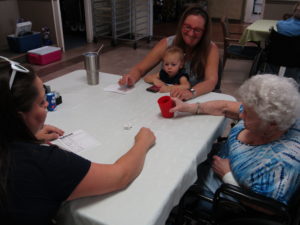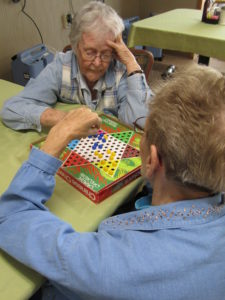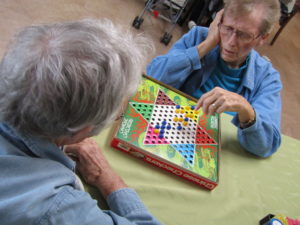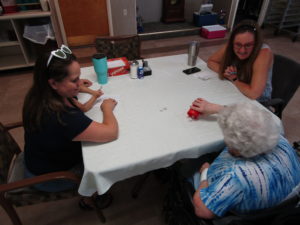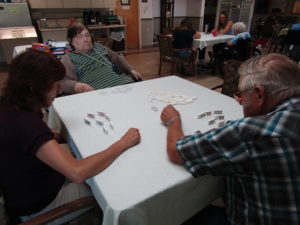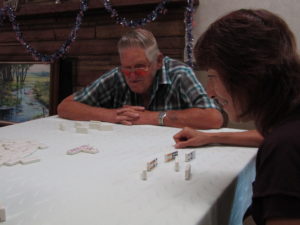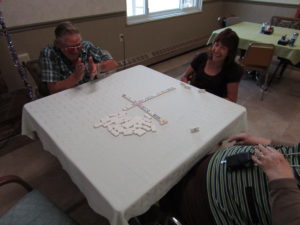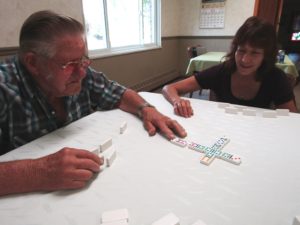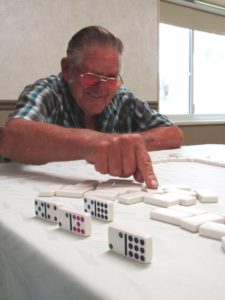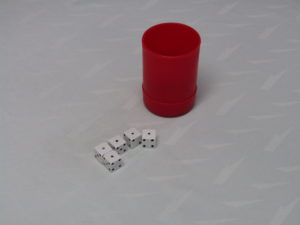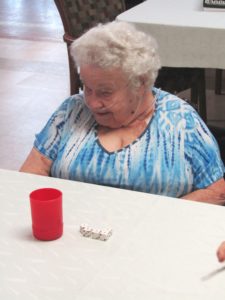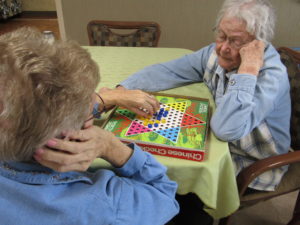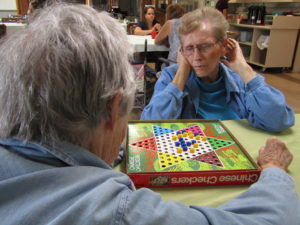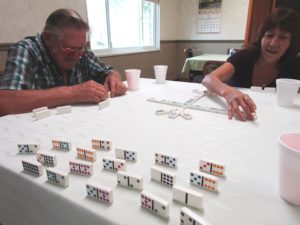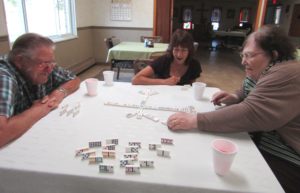 Assisted Living Van Ride!
Assisted Living went on a van ride up to Laura Lee's Double L Country Store and Cafe yesterday! The pie and ice cream was amazing!! They have a little General Store inside as well as the cafe and a lovely garden outside. Great food and great fun!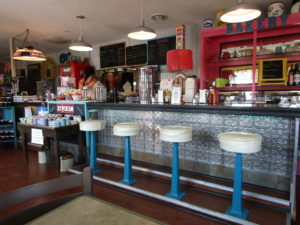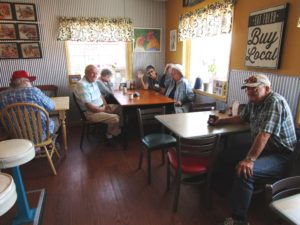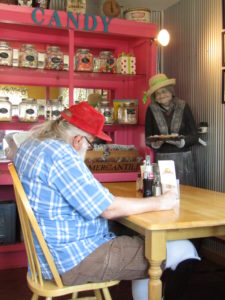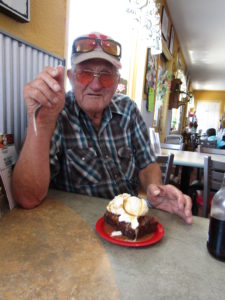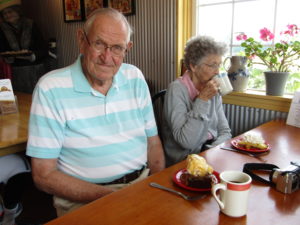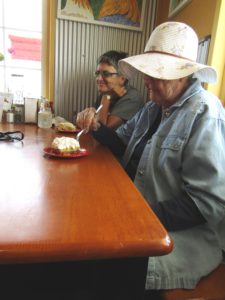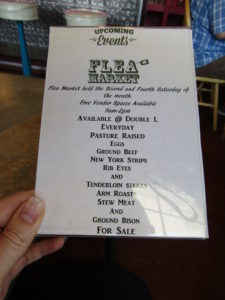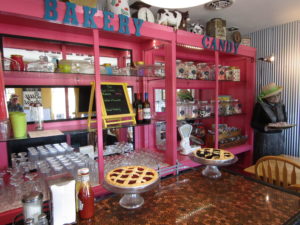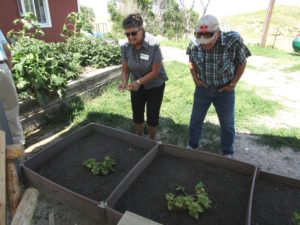 July Craft Time!
The residents made patriotic ribbon wands for our July craft. The weather was so nice that we decided to have our craft time out on the patio!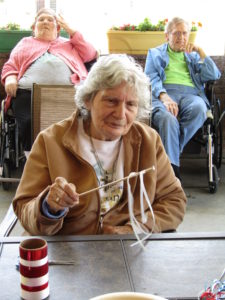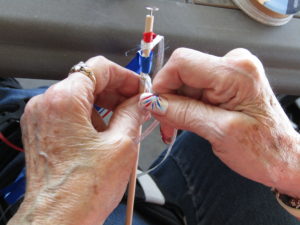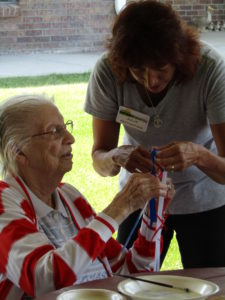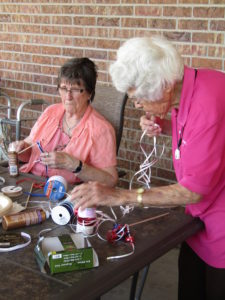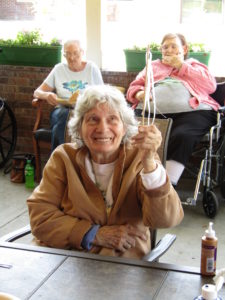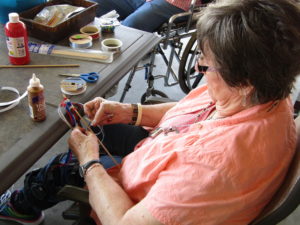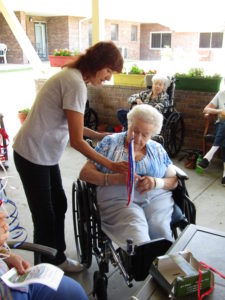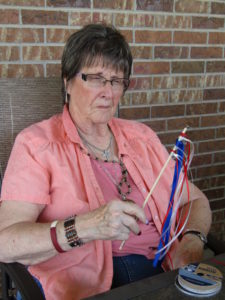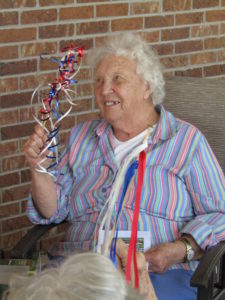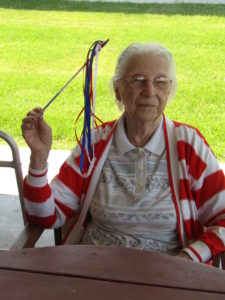 July Employee of the Month
Our July Employee of the Month is Jo Dietz!
Jo is recognized for her positive attitude and an energy that makes everyone happy. She is professional, efficient, accommodating, and is always ready for a task to be handed to her.
Thank you Jo for all you do for the Kimball County Manor!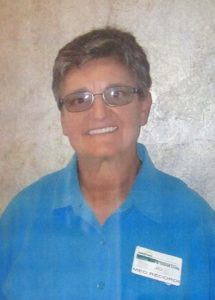 Luau
We celebrated the first day of summer with a Luau!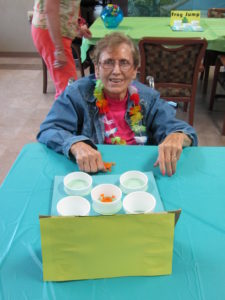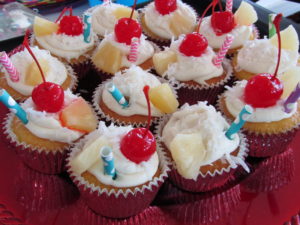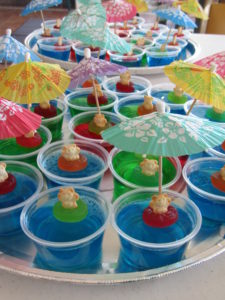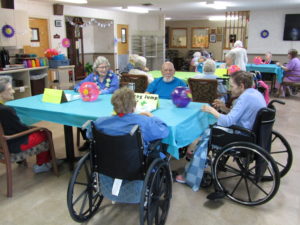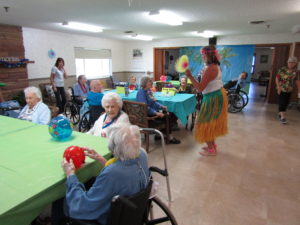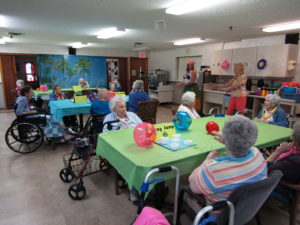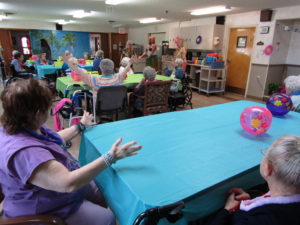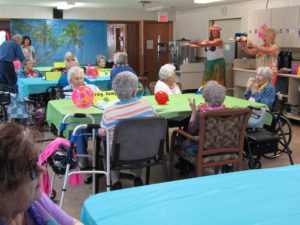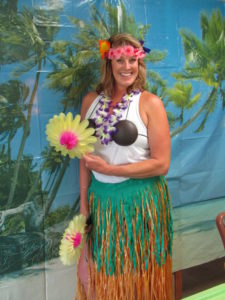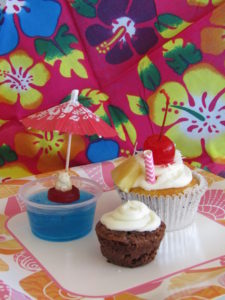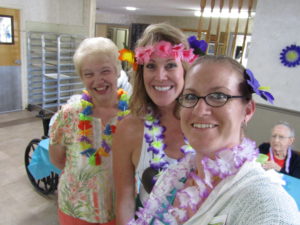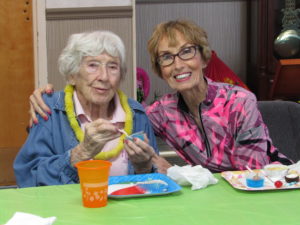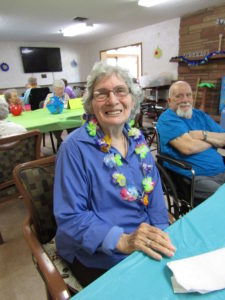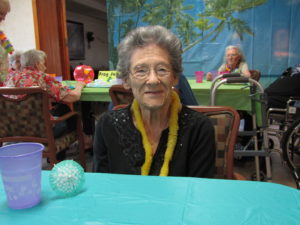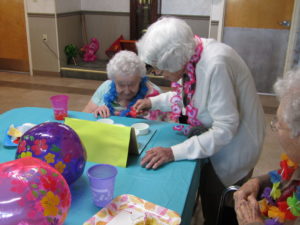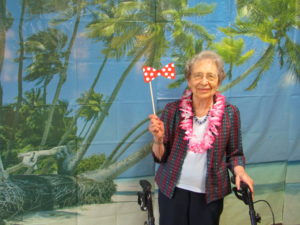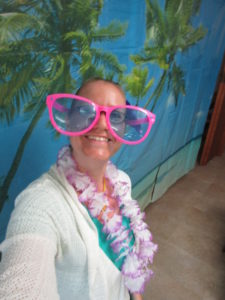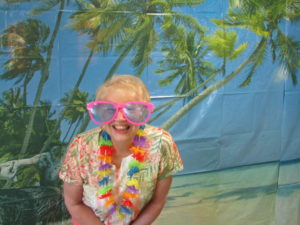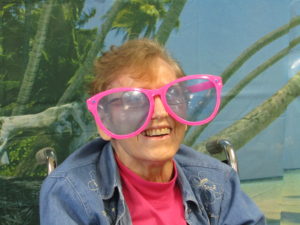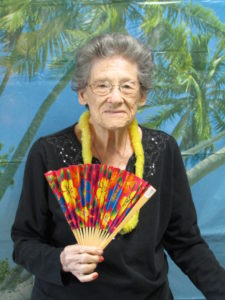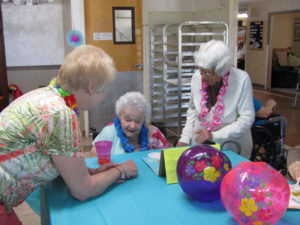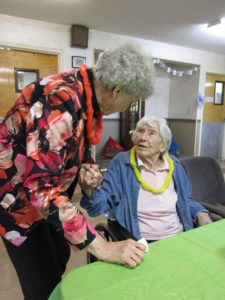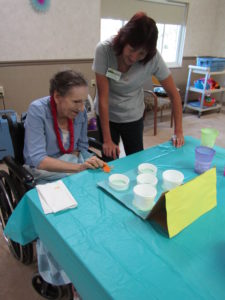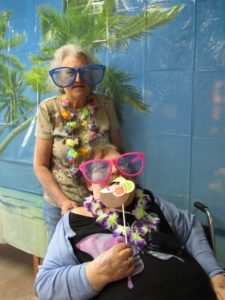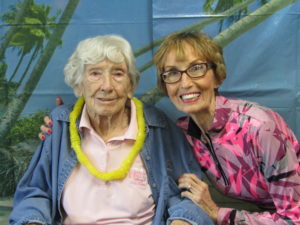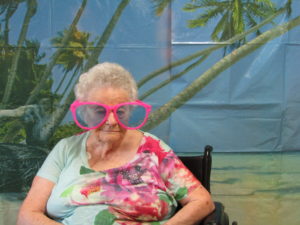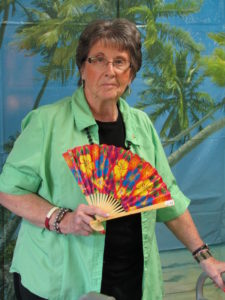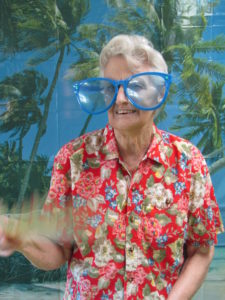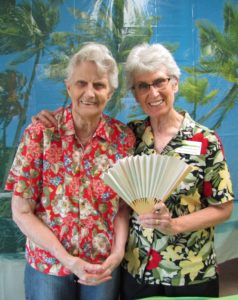 Puppy visit
The residents enjoyed a visit from six lab puppies today!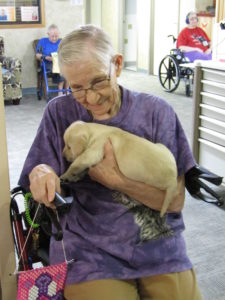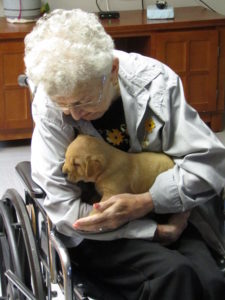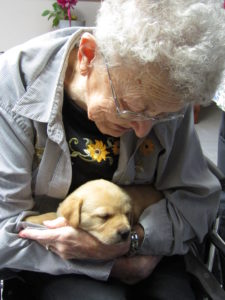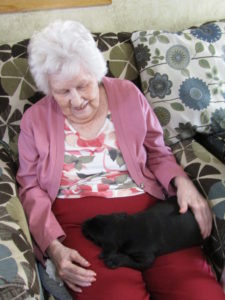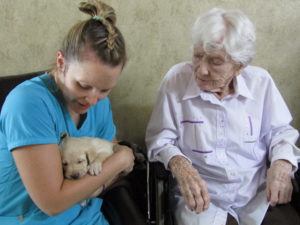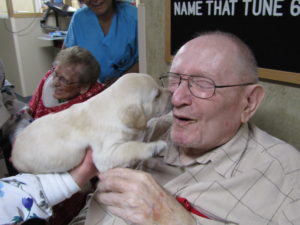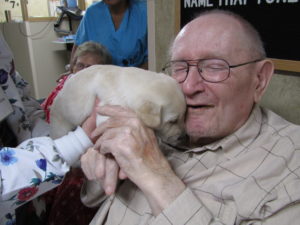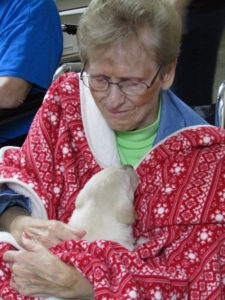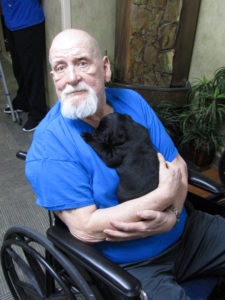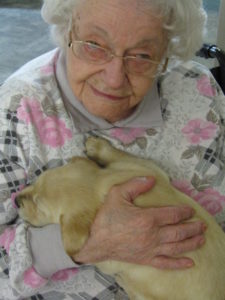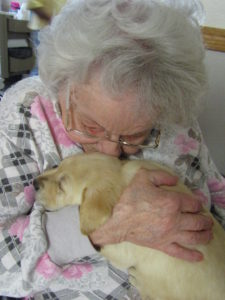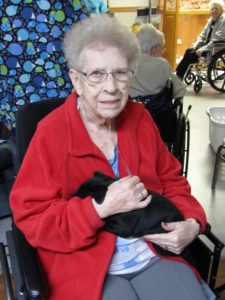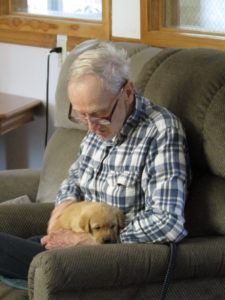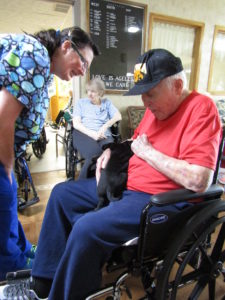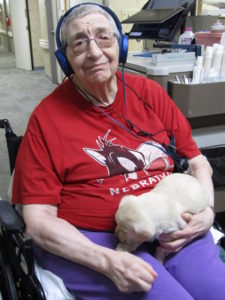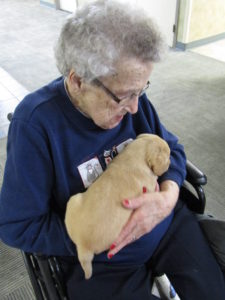 June Crafting!
Our June craft was to make popsicle stick American Flags! The residents painted the popsicle sticks then glued them together and added glitter for the stars.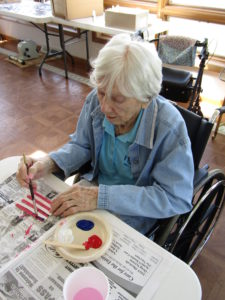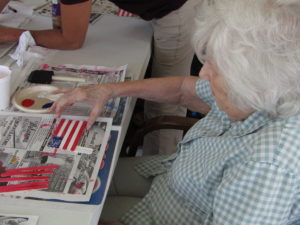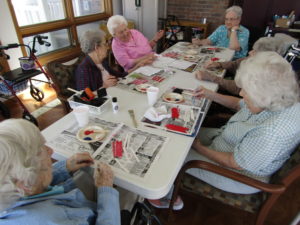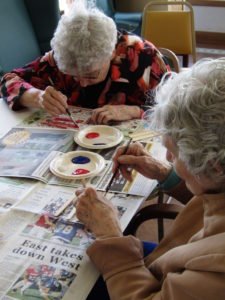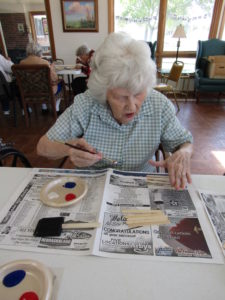 Resident & Family Picnic
Our Annual Resident and Family Picnic was held on June 12th. The Manor grilled hamburgers and brats and served baked beans, potato salad, macaroni salad, fruit salad and rice krispie treats while the families brought in wonderful desserts to share! A great time was had by all!!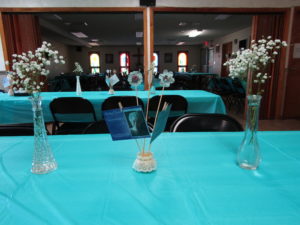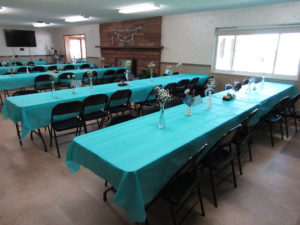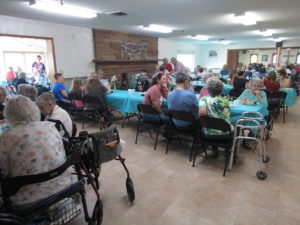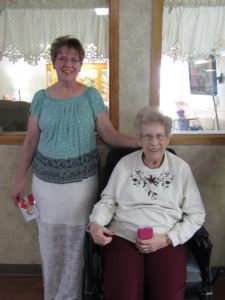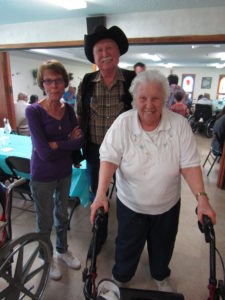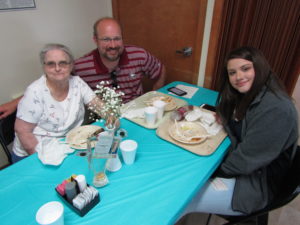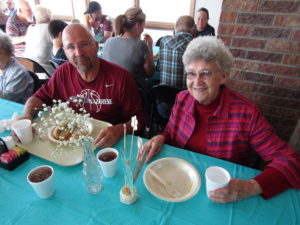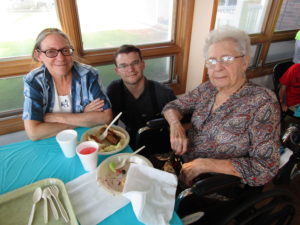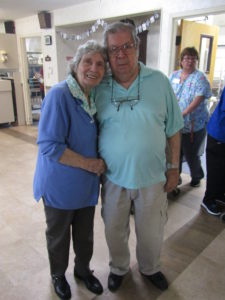 June Employee of the Month
Our June Employee of the Month is Barb Michael!
Barb is recognized for being kind, compassionate, and cheerful with residents and employees at all times.
Thank you Barb for all you do for the Kimball County Manor!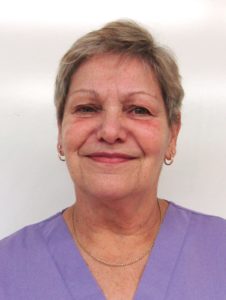 National Skilled Nursing Care Week
National Skilled Nursing Care Week began on Sunday May 13, 2018. This year's theme was 'Celebrating Life's Stories'.
We celebrated Mother's Day with a Tea Party! The residents enjoyed a variety of herbal teas and some little apple pies.
Monday May 14th, we had a Portrait Session. The residents even had their hair and makeup done by a local hairdresser! We really appreciate Holli Bohac from A Shear Touch of Downtown Studio coming in to get our residents all dolled up! Holli also had little help from our Dietary Manager, Kim Christiansen. Thanks Kim!
Tuesday May 15th was our Volunteer Luncheon. We celebrate our many volunteers each year with a luncheon during NSNCW. We can't thank them enough for their dedication to our residents. There is no way that the Activity Department could do everything without them!!! The volunteers enjoyed a fried chicken meal, provided by the kitchen. After the luncheon, residents had a great time playing Bingo!
Wednesday May 16th was a Senior Social in Mitchell, NE. Staff went along with some residents up to Mitchell Fairgrounds to listen to the music of Freddie Marquez. We enjoyed the music, yummy snacks, and loved watching everyone dance! The residents who stayed home were entertained by Bernita Brown reading some of her stories!
Thursday May 17th was Happy Hands! The residents love coming in to get their nails painted and listen to the latest gossip. There was also an Honor Flight for Korean War and WWII Veterans that came through Kimball in the afternoon. A couple of the residents from Assisted Living went to thank the Veterans for their service to our country.
Friday May 18th was Bingo!! We celebrated this week with quarters!
Saturday May 19th was a special Around the World with Jamie and Matt Bright presenting their recent trip to Europe! We all loved to see the amazing photos and hear about the details of the trip.
May Crafting!
For our May craft time, we did printmaking! We used Styrofoam plates to draw a design into, then painted it, then pressed it onto paper. Most of them worked pretty well, but it took a few tries to get the right amount of pressure and the right amount of paint for the design to stand out best. It was a lot of fun though!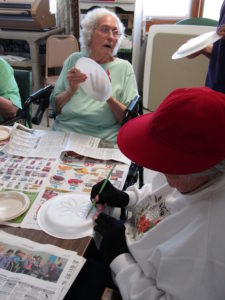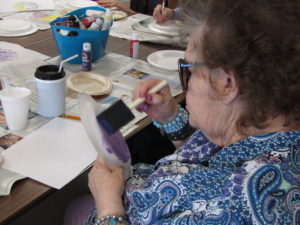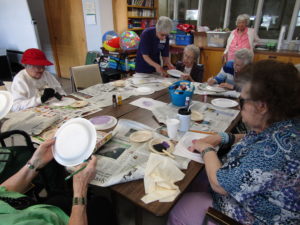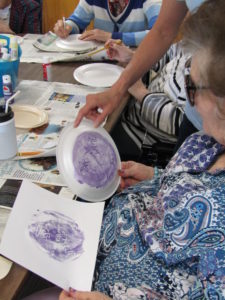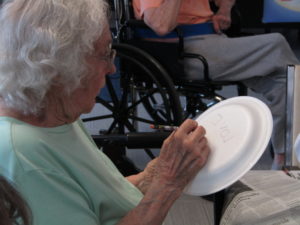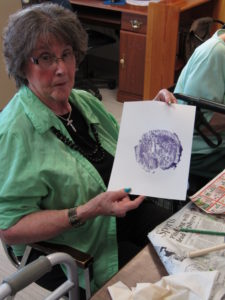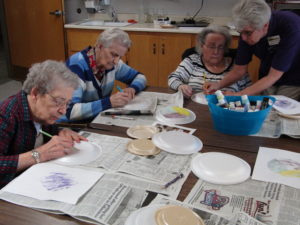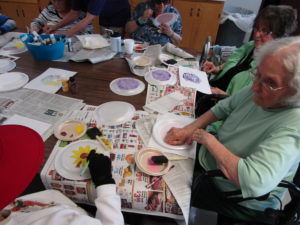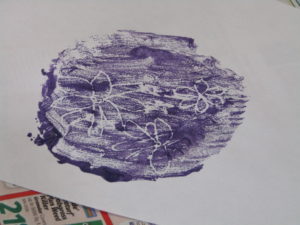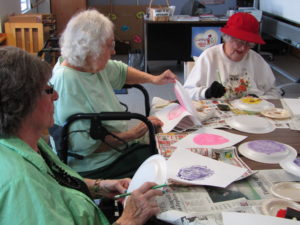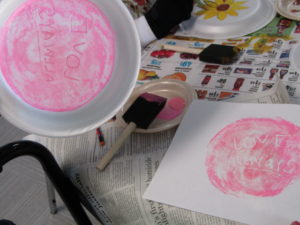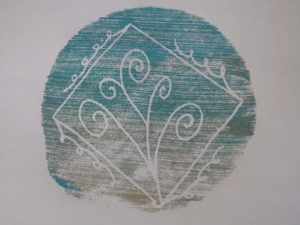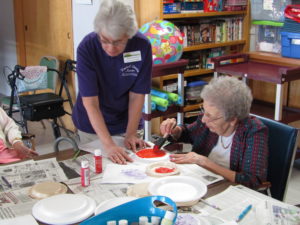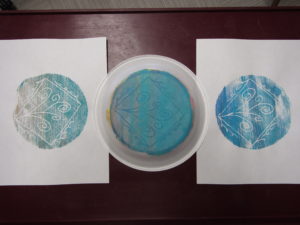 May Employee of the Month
Our May Employee of the Month is Helen Vandewater! Helen is the Kitchen Manager.
Helen is a wonderful asset to the Kitchen and KCM. She not only cares deeply for the residents, but the staff, too. Helen goes above and beyond to keep the kitchen running as smoothly as possible so the residents are taken care of. She is also doing extra schooling outside of work to better her knowledge. Helen is always there when we need her for mental support or to fill in shifts. We all love her!
Scholarships Awarded to the Nursing Staff
Three of our employees recently applied for and received scholarships.
Jerri Trippet and Carla Goranson won the Congressional Briefing Scholarship and will go to Washington D.C. on June 4-5.
Carla Goranson won the National Association of Health Care Assistants Conference and will go to Little Rock, Arkansas August 21-22.
Jo Johnson won the LPN Scholarship of $750.
Nebraska Heath Care Foundation recognized Carla, Jerri, and Jo at the NNFA Spring Convention awards luncheon on 4/25/2018 in Kearney.
All three applied on their own.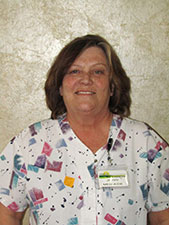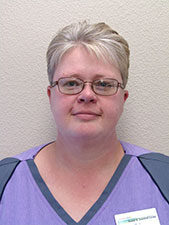 Kimball High School Prom Walk
The residents gathered after supper on April 21st to see many of the Kimball High School students all dressed up and headed to prom. The students received '50s cars and record sugar cookies for coming in, and three lucky students (Madison Wynne, Kate Reader, and Christian Van Pelt) won larger door prizes, including $10 worth of Chamber Bucks and a KCM canvas camping chair and backpack!
Thank you to all the high school students who came in to show off their beautiful dresses and fancy tuxes!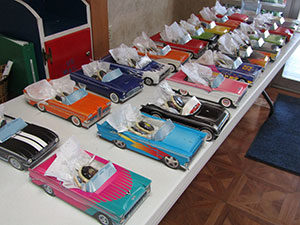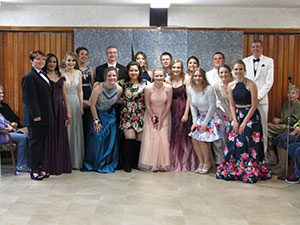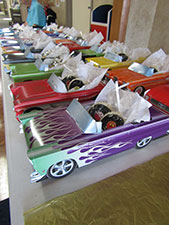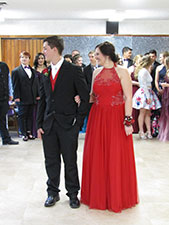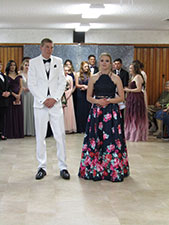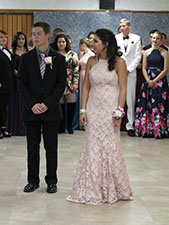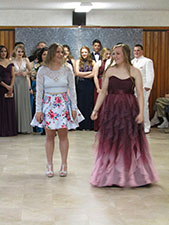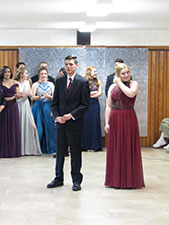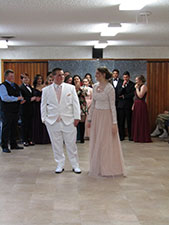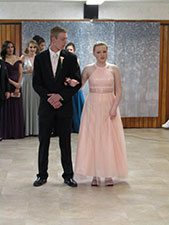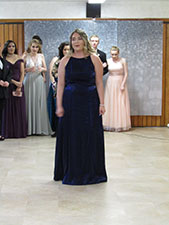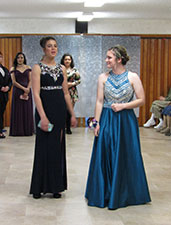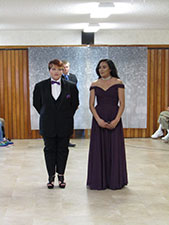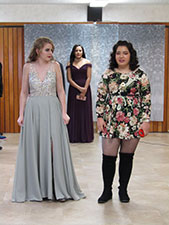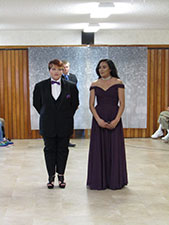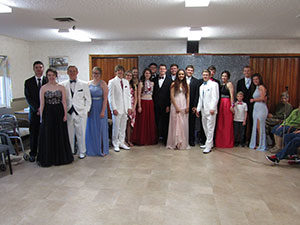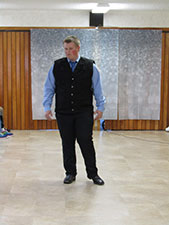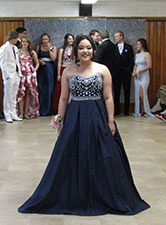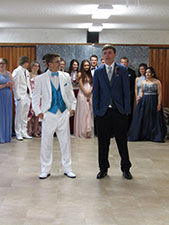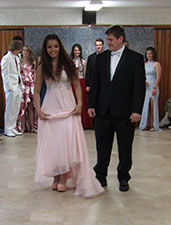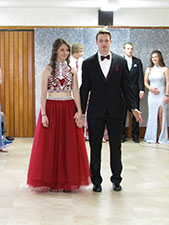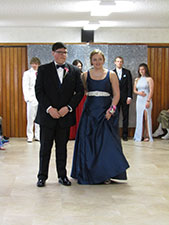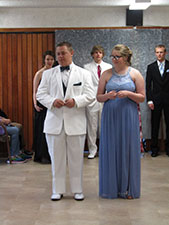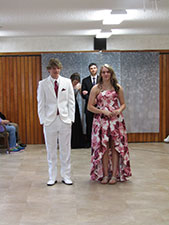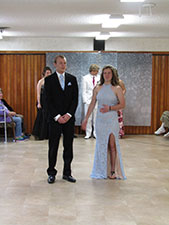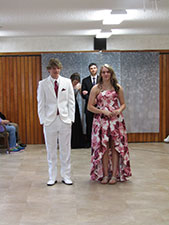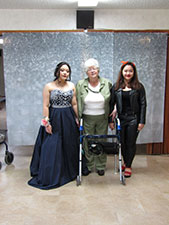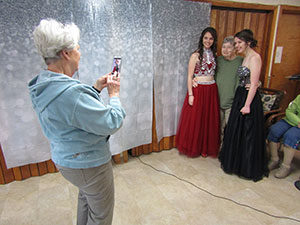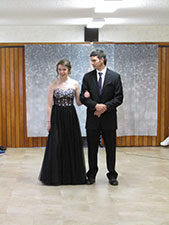 April Crafting!
For our April craft time, we made 'stained glass' butterflies! We used clear contact paper to stick a butterfly cutout to, and then filled in the spaces with pieces of tissue paper. Finally, we put another piece of clear contact paper over it to seal it all together! They all turned out beautifully!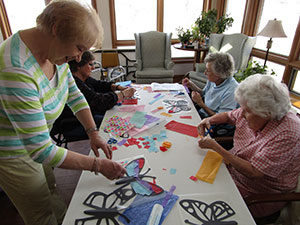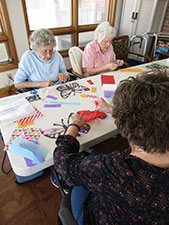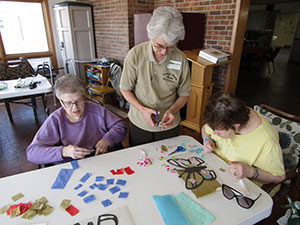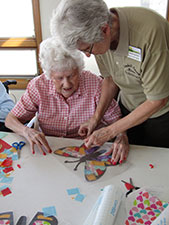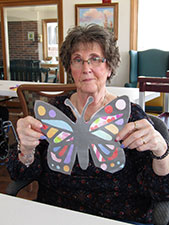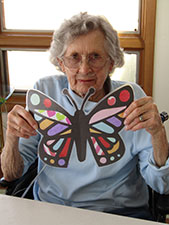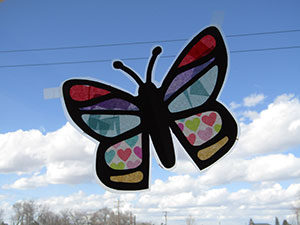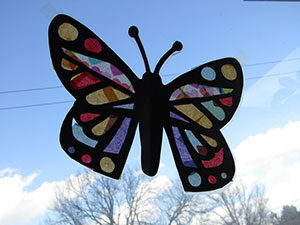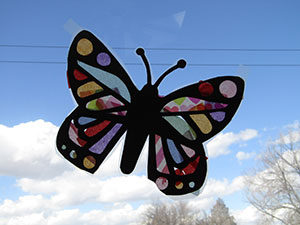 1950's Party!
Kimball County Manor was rockin' for the 1950s party on April 12th. The residents enjoyed '50s music and snacks! We had banana split bites, milkshake cupcakes, and hamburger cupcakes. They also showed off their knowledge of '50s trivia. Everyone had a great time!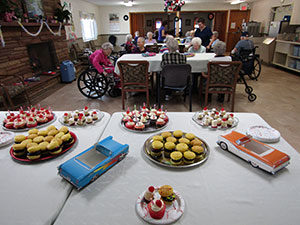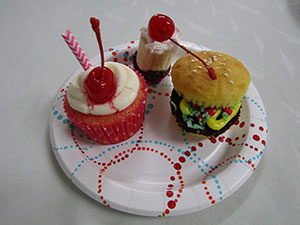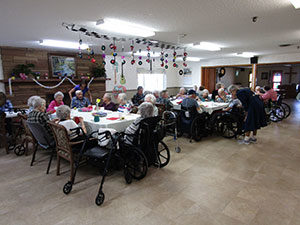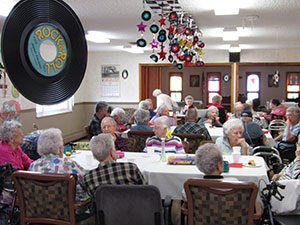 April Employee of the Month
Our April Employee of the Month is Crysta Opalinski! Crysta works in Housekeeping.
Crysta is always very cheery throughout her workday. She is always very willing to drop what she is doing and help when asked.
March Employee of the Month
Our March Employee of the Month is AJ Roberts! AJ works in the Kitchen.
AJ has shown that he is able to step up and make sure that all the residents are well fed. We appreciate his hard work and dedication.
February Employee of the Month
Our February Employee of the Month is Monica Rosililia! Monica is a CNA.
Monica is one of those quiet church mice that come to work and does a wonderful job. She is so gentle and patient with the residents. She always has a smile on her face. Monica is a pleasure to work with!
January Employee of the Month
Our January Employee of the Month is Shelly Dennis! Shelly is a CNA.
Shelly is very dedicated to her job and our residents. She is dependable and is always at work when she is scheduled. Shelly is very helpful to everyone.
Resident & Family Soup Supper
All of the staff at Kimball County Manor & Assisted Living want to thank our residents and their family members. We appreciate the opportunity to take care of the residents as part of our family. Each and every one is so special to us!
The supper is a time for us all to get together and celebrate another great year.
A huge shout out to Margaret Williams and Pam Heidemann for playing piano for us as well as Katie Hansen for singing for us! Also, we want to thank Santa (AJ Roberts) and his daughter for bringing candy canes around for everyone.
Merry Christmas to all!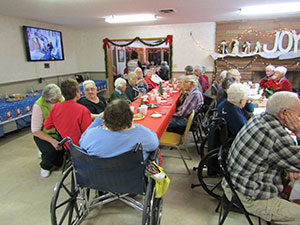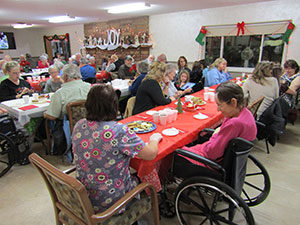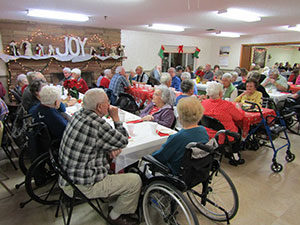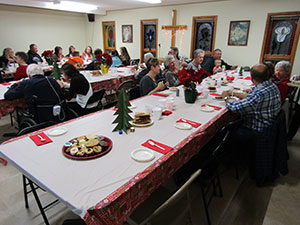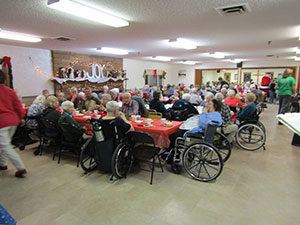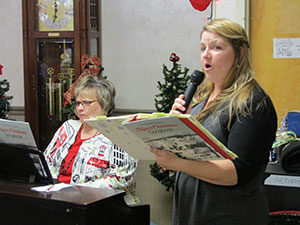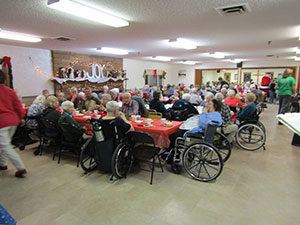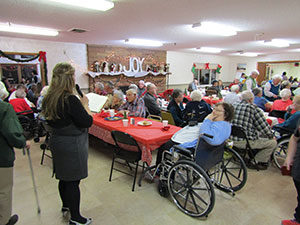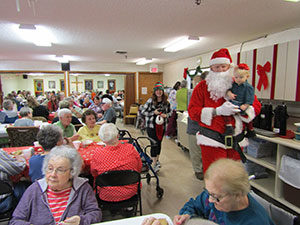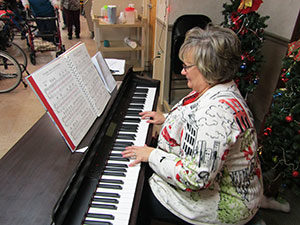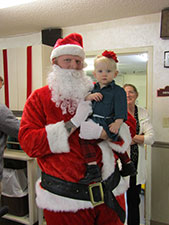 KIMBALL COUNTY MANOR & ASSISTED LIVING COPYRIGHT. ALL RIGHTS RESERVED
810 E 7TH ST, KIMBALL, NE 69145 | TEL. 308-235-4693