About Us
Our facility was designed to meet the physical, mental, emotional and spiritual needs or our residents. Combine this with the support of our amazing staff and your loved ones will find that this is a great place to live. Please stop by and take a tour of our facility, we are sure you will love it.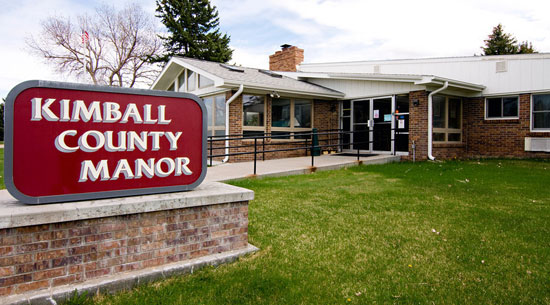 Our team provides quality care for all of our residents, your loved ones. Come by for a visit, and we are sure you'll agree that it is a wonderful place to live.
The Manor was established in 1964 when a group of citizens realized the need for such a facility in our community. The privately owned nursing home opened its doors on February 12, 1968 with a total of 5 residents. On January 1, 1971 the financially troubled business was purchased by the county.
Our facility expanded by 15 rooms, 2 dining areas, and another nurse's station as the need grew for this type of facility in our area. This expansion was financed by a bond issue put before the taxpayers totaling $350,000.00. Although we are a County owned facility, we are completely self sufficient and do not use tax dollars for our operations.
We added a Memorial Chapel in the summer of 1985. Funding for the chapel came from donations, memorials and Manor money. In 1994 a utility building was constructed to be used as a garage and maintenance shop. This project was made possible by a memorial gift from Jim Ledbetter in memory of his wife Madelyn. A solarium became a reality in 1995. This was made possible by a donation from Carl Gross.
On August 14, 2000 the Kimball County Manor Assisted Living addition opened. This addition consisted of 18 apartments, a remodeling of the west end of the Manor, the kitchen area, and the laundry area. This was funded with a grant from the State of Nebraska and a $280,000.00 bond issue from Kimball County. This addition now allows us to be licensed as a 49-bed nursing facility and an 18-bed assisted living facility.
In April of 2001 a garage addition was built to house a new 10-passenger van that was purchased to transport our residents to medical appointments and for social outings.
Addition to facility 2016 provides modern amenities and offers 10 new private rooms. This was made possible with bond financing.
KIMBALL COUNTY MANOR & ASSISTED LIVING COPYRIGHT. ALL RIGHTS RESERVED
810 E 7TH ST, KIMBALL, NE 69145 | TEL. 308-235-4693